Free WordPress themes are often very flawed because they are not supported by the designer, or sometimes they are designed by amateur developers. In some ways, this is true, so it is very important for you to make sure that your free WordPress theme has a well-supported, high-quality design.
However, some free WordPress themes are just too perfect to ignore. Some of these not only look great but also offer better features than some of the themes you have to pay for.
And that's what we have today: a set of 30+ free WordPress themes that you can proudly call your own without paying a dime.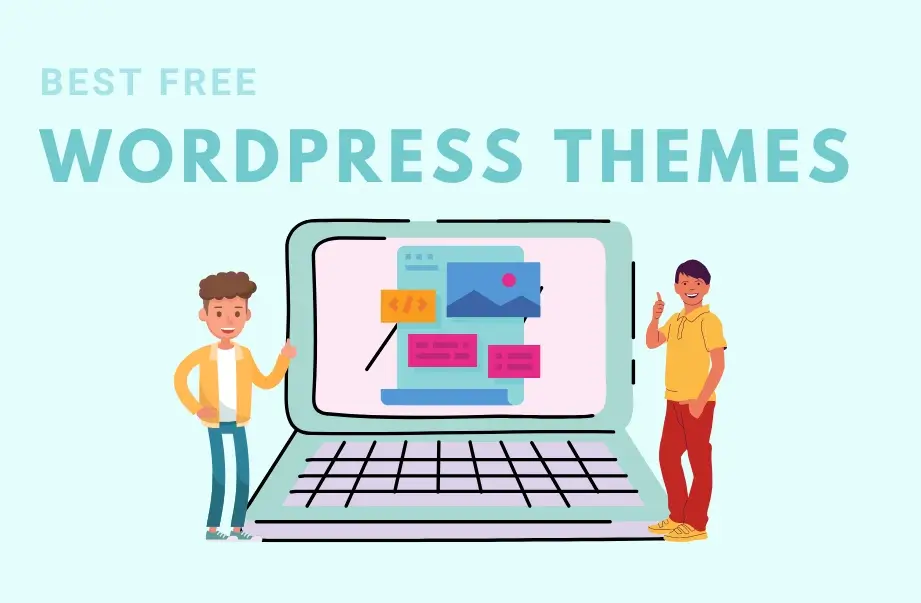 Summary of Best Free WordPress Themes
The list is pretty long, so we're giving you a preview of the WordPress themes we think are the best.
| WordPress Theme | Type | Ratings | Active Installations |
| --- | --- | --- | --- |
| Astra | Multi-purpose | 5 star | 1 million+ |
| GeneratePress | Multi-purpose | 5 star | 500.000+ |
| Neve | Multi-purpose | 5 star | 300.000+ |
| Storefront | WooCommerce | 4.5 star | 200.000+ |
| Sydney | Business | 5 star | 100.000+ |
| Hestia | Business | 5 star | 100.000+ |
| Blocksy | Multi-purpose | 5 star | 100.000+ |
| OnePress | Business | 5 star | 90.000+ |
| ColorMag | Magazine, News | 5 star | 90.000+ |
| Zakra | Multi-purpose | 5 star | 60.000+ |
| Vantage | Multi-purpose | 4.5 star | 60.000+ |
| Ashe | Blog | 5 star | 60.000+ |
| Phlox | Multi-purpose | 5 star | 50.000+ |
| Hueman | Magazine, Blog | 5 star | 40.000+ |
| Virtue | Multi-purpose | 5 star | 30.000+ |
| Flash | Multi-purpose | 5 star | 20.000+ |
| Radiate | Blog | 5 star | 10.000+ |
| NewsMag | Magazine, News | 4.5 star | 10.000+ |
| Make | Business | 4 star | 10.000+ |
| Cream Magazine | Magazine, News | 5 star | 10.000+ |
| Bard | Blog | 5 star | 10.000+ |
| Cenote | Blog | 5 star | 9.000+ |
| Olsen Light | Blog | 5 star | 7.000+ |
| Ample | Multi-purpose | 5 star | 7.000+ |
| eStore | WooCommerce | 4.5 star | 6.000+ |
| Tracks | Magazine, Blog | 5 star | 5.000+ |
| Pinnacle | Multi-purpose | 4.5 star | 5.000+ |
| Foodica | Blog | 5 star | 5.000+ |
| Allegiant | Multi-purpose | 4 star | 4.000+ |
| Vega | Business | 5 star | 3.000+ |
| Modern | Blog, Portfolio | 5 star | 3.000+ |
| JustWrite | Blog | 5 star | 2.000+ |
| Ignite | Blog | 5 star | 2.000+ |
| Fascinate | Blog | 5 star | 2.000+ |
| Madd Magazine | Magazine, News | 3 star | 1.000+ |
| Rosa2 Lite | Multi-purpose | 5 star | 700+ |
The statistics above, particularly the number of active installations, may help you decide which WordPress theme is best. If you want to learn more about the above WordPress themes, check out our detailed analysis.
36 Best Free WordPress Themes
The list below contains all of the free WordPress themes that have a gorgeous look and run extremely well, especially when combined with the plugin page builder, allowing you to effortlessly construct your website.
Astra
Astra is a multipurpose WordPress theme that gained popularity rapidly and continues to dominate sales.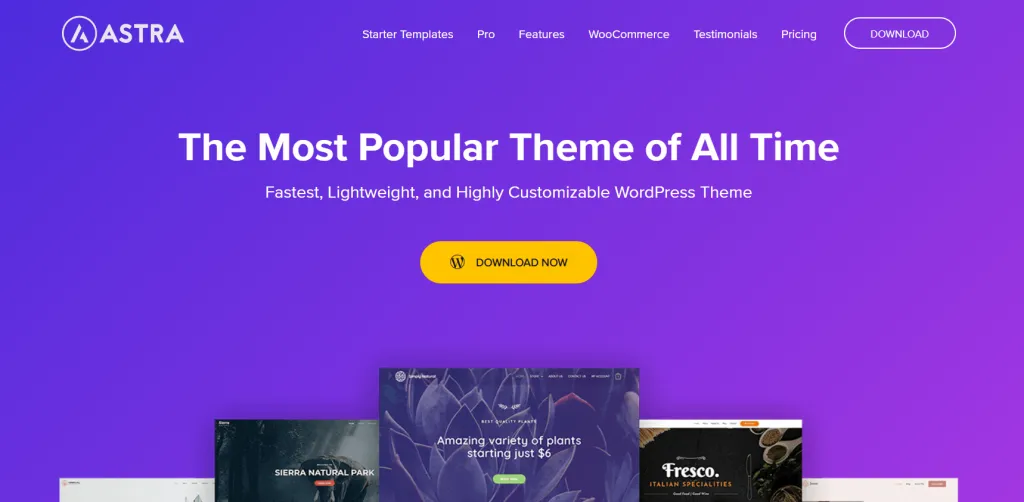 It's appealing because it meets up to the expectations. It's quick and very configurable. This WordPress theme is strong and includes various pre-built websites from you to pick and launch rapidly.
You can change it without altering a line of code. You can also use it with a variety of page builders.
Astra also has layout settings, header choices, color and typography modification options, amazing efficiency because it does not rely on jQuery, and a 0.5 second load time.
Another thing to be aware of is the extensive number of accessible integrations. Astra works with WooCommerce, Beaver Builder, Elementor, Toolset, Yoast, and LearnDash, to name a few.
Finally, this WordPress theme is user-friendly, SEO-friendly, employs hooks and filters, is translation-ready, and has a comprehensive knowledge base for getting started.
GeneratePress
Users and bloggers all around the internet agree that GeneratePress is one of the most fantastic WordPress themes, especially when combined with a drag-and-drop editor like Elementor.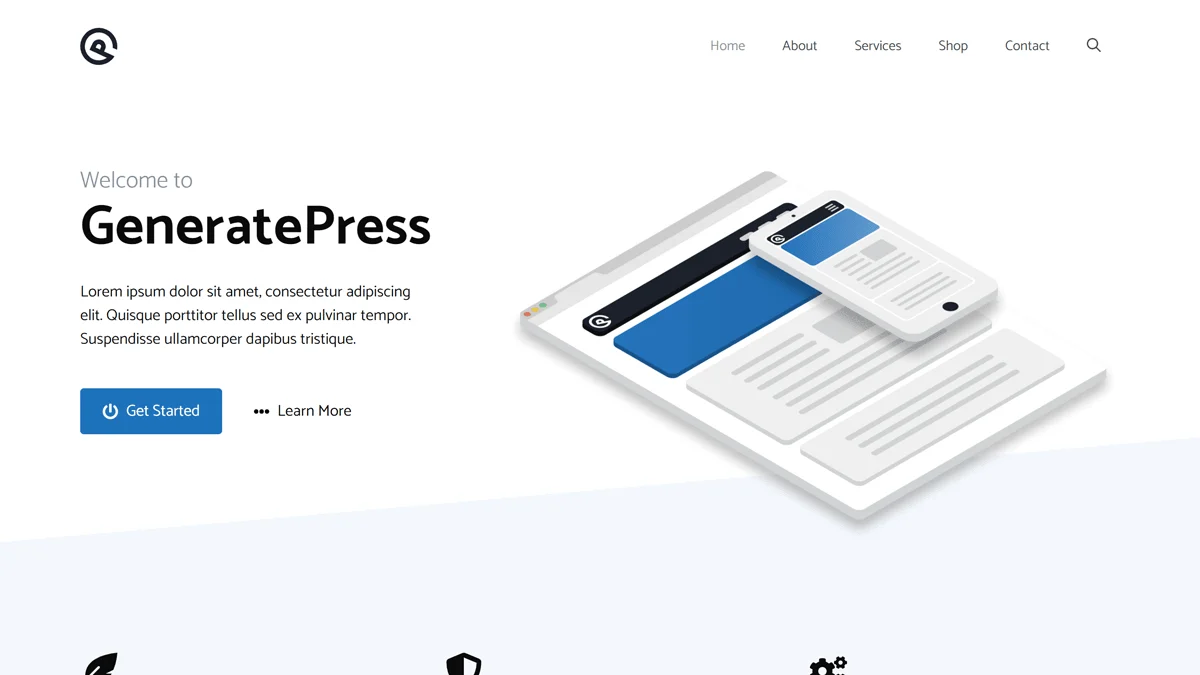 It's easy, sleek, and contemporary, and practically anyone with any degree of experience can hop right in and start customizing.
The amazing thing about GeneratePress is how simple it is to set up and how quickly you can start blogging. It's a fast, lightweight, and highly adjustable free WordPress theme for more advanced developers.
It is, as previously stated, a lightweight theme (less than 1 MB gzipped). This is impressive for any WordPress theme and comes into play when you want to make your site load quickly.
GeneratePress also includes clean coding that adheres to WordPress coding standards. As a result, it is compatible with all well-coded plugins, eliminating long-term concerns.
This WordPress theme can be translated into over 20 languages and has nine widget sections for you to get creative with. There are also five menu navigation points, drop-down menus, and a variety of sidebar styles.
Furthermore, the premium edition is reasonably priced and features everything from gorgeous fonts to WooCommerce support, sections, and fancy menus.
Give it a shot since it might be one of the most amazing free WordPress themes on the internet.
Neve
Look no farther than the Neve if you want a sleek and speedy theme that works with your chosen website builder. This WordPress theme is not only compatible with page builder plugins like Site Origin, Divi, Elementor, and Brizy, but it is also Gutenberg compatible.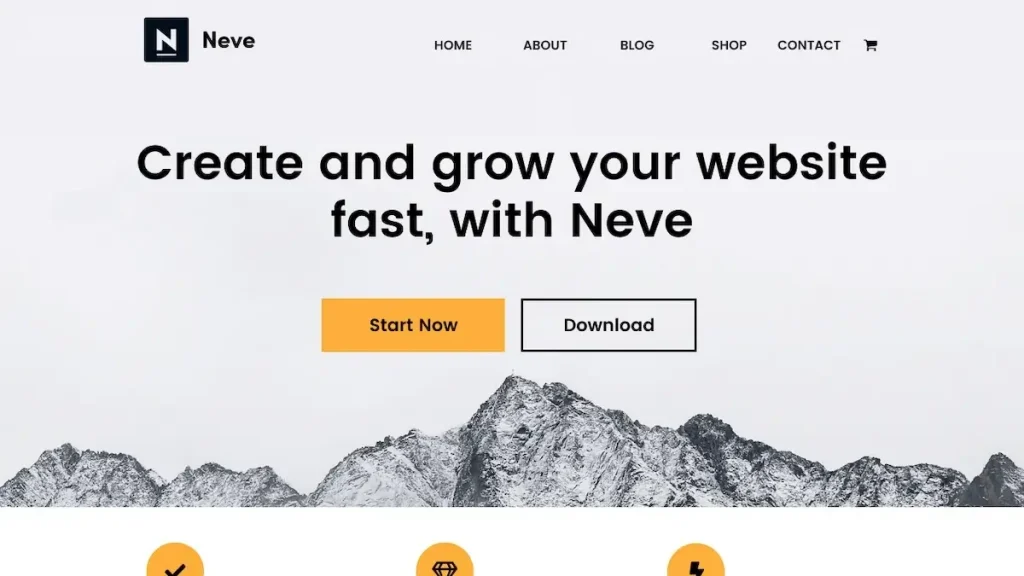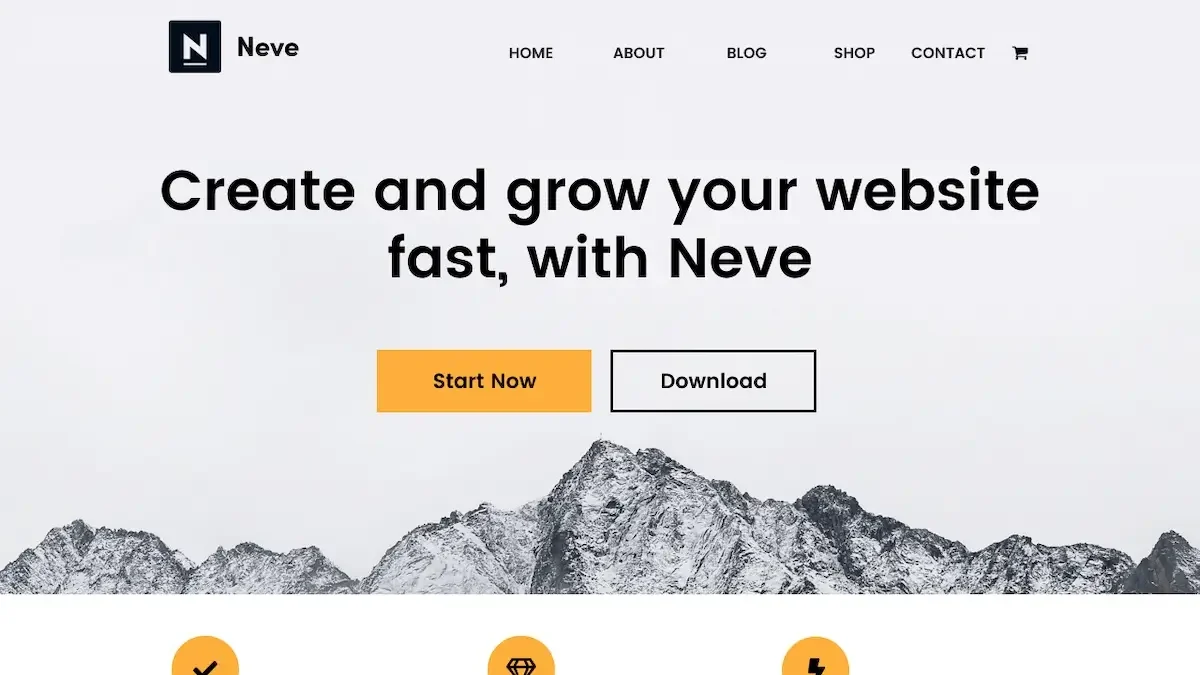 In terms of style, Neve theme has a clean design that makes your content stand out, making it ideal for small businesses, freelancers, and agencies trying to maximize conversions. You can change the colors, fonts, and other aesthetic aspects, as well as the backdrop options, which include sliders, photos, videos, and more.
Neve also includes a large menu, allowing you to easily organize your navigation and add an unlimited number of pages without overwhelming your visitors. This WordPress theme is also optimized to load quickly and be completely responsive.
The demo material can be installed with a single click, and if you need assistance setting it up, you can go to the help documents, forums, and video tutorials. What distinguishes the Neve from other free themes is that it includes author support in addition to support documentation.
Overall, if you want a quick, clean, easy-to-use WordPress theme that is also search engine optimized, Neve is well worth a look.
Storefront
Consider Storefront if you're certain you'll be selling things from your website. This is one of the best options for folks who are going to use WooCommerce since it not only looks excellent but also comes directly from the WooThemes business.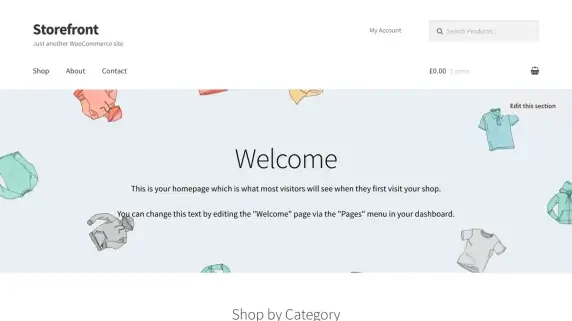 There are various layout and color options to create your store, and the download includes multiple widget spaces for simple maintenance with a clear interface.
Furthermore, the entire Storefront is responsive, so your customers won't have to worry about purchasing anything from your store on a regular computer. All they need for quick transactions is a phone or tablet.
This WordPress theme also includes useful features for thread comments, logo uploads, color adjustments, and language support.
Sydney
Sydney is a WordPress theme created specifically for businesses and freelancers that want to establish a powerful online presence.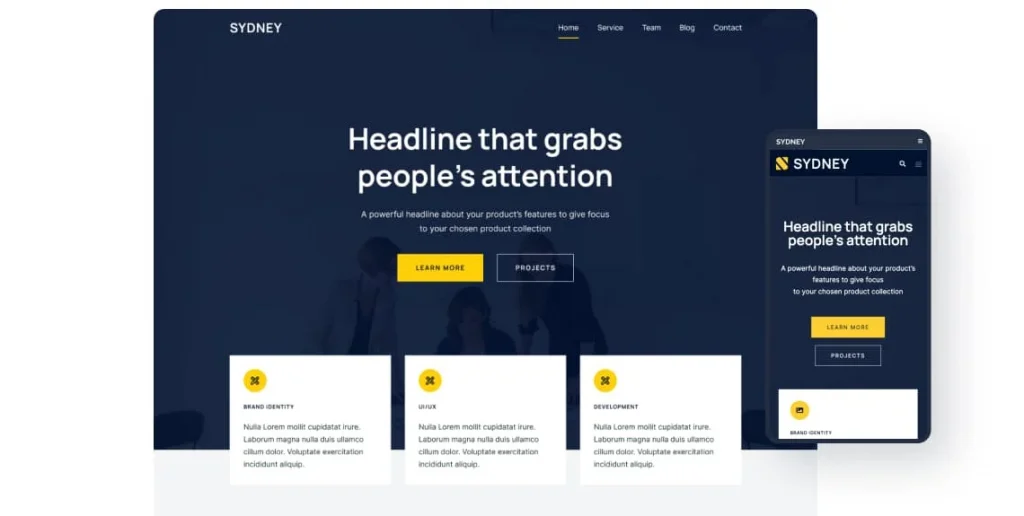 The customization possibilities are extremely broad, including choices for Google Fonts, logo upload, and other features.
Full-screen sliders are ideal for displaying huge photos or advertising banners, while full-color controls create the ultimate branding environment.
Sticky navigation makes it easier for visitors to explore your website, and homepage blocks function as a drag-and-drop interface for a professionally designed, clean interface.
This WordPress theme is ideal for customers who wish to browse their website on mobile devices, and it includes 600+ Google fonts to help you customize your typography.
Sydney is well prepared to communicate with individuals who do not understand your language, and parallax backgrounds provide a unique touch to your website.
You can use static photos or sliders, and social icons can direct clients to your Facebook and Twitter profiles.
Hestia
When looking at free WordPress themes, make a note of all the features you'd expect to find in a paid solution. The advanced characteristics of Hestia are pretty astounding. You can, however, download Hestia and install it on your WordPress site for free.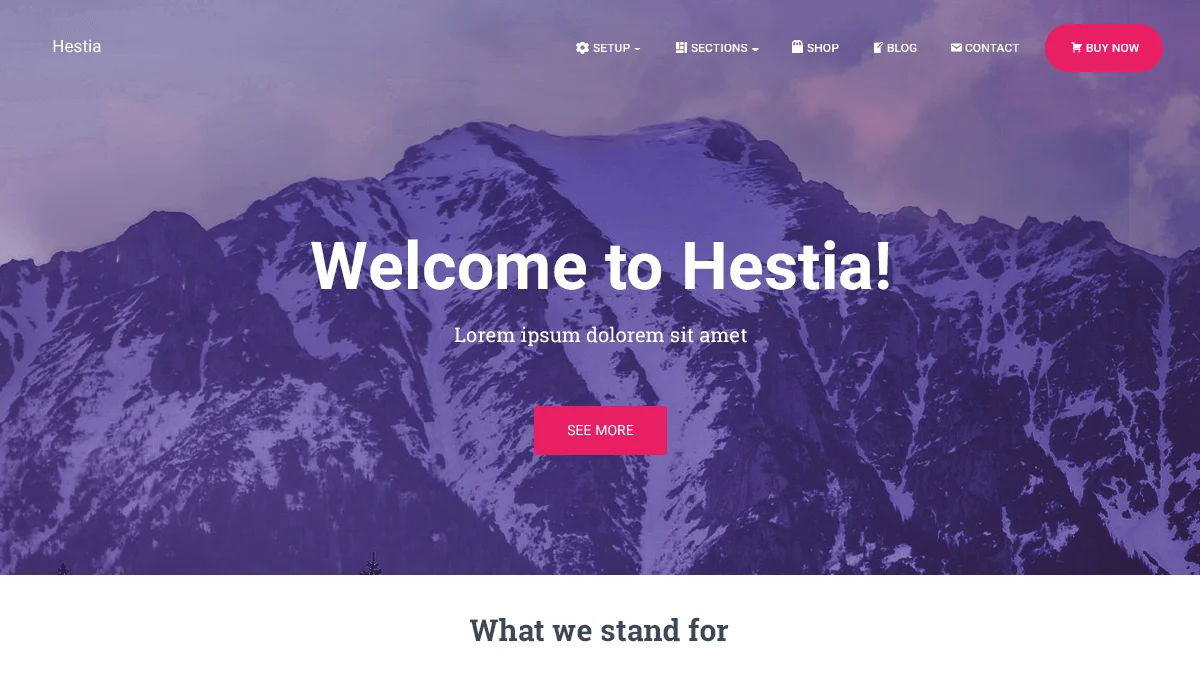 This WordPress theme starts with a minimal material design for quick setup and attractive user interactions. The responsive layout looks fantastic on all mobile devices, and the versatile features make it suitable for organizations of all sizes.
We would recommend Hestia to startups and small companies since it has a beautiful slider space for promotions and defines what your company is about. You can also talk about your staff and testimonials to create a more friendly atmosphere.
WooCommerce integration is the major reason you might use the Hestia WordPress theme. This results in elegant and interesting product lists with a focus on galleries.
The drag-and-drop content builder is intended for developers of all levels of experience. Beginners, obviously, do not want to deal with code, but expert designers want to speed up their process.
This WordPress theme includes basic translation options as well as unique background settings for branding your website with your own photos. One-click installations are a plus, and mega menus are a terrific way to direct visitors to hundreds of additional pages on your website.
Overall, the Hestia theme has a lot of potential, and we highly suggest it.
Blocksy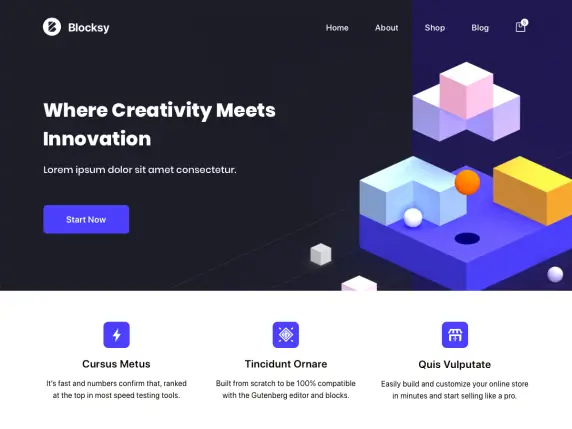 Blocksy is a free multipurpose WordPress theme with a completely responsive style and adjustable features. It works well with the majority of page builder plugins and even suggests adding one upon activation.
Blocksy has a lot of customization features for a free WordPress theme. This theme customizer allows you to access all of them.
OnePress
Because of its simplicity and professionalism, OnePress is by far one of the greatest free WordPress themes.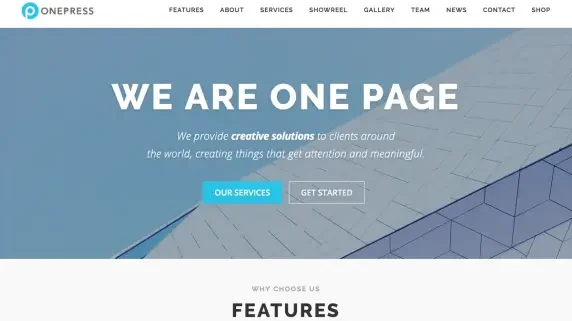 This theme is intended to assist both large and small enterprises. This is the industry standard for how you portray your business online, whether you're selling mobile apps or gardening services.
First, the WooCommerce plugin interacts with OnePress, making it an excellent choice whether you intend to sell physical or digital things on your own website.
Moving on, this WordPress theme has a lovely responsive style with a plethora of backend and frontend functionality. 
OnePress is a totally one-page layout that includes a responsive framework. With this design, you can assure that your users will be able to navigate your website more effortlessly, since they won't have to stroll around and click a bunch of buttons to get what they're looking for on smaller devices.
ColorMag
ColorMag is one of the most popular magazine WordPress themes.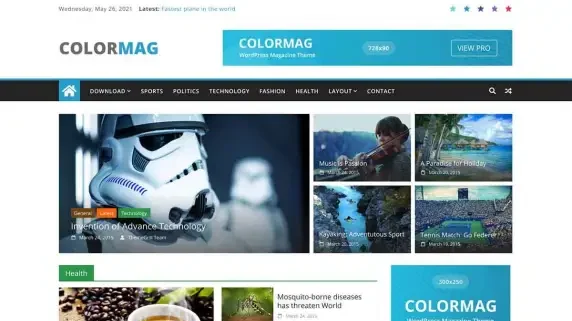 First and foremost, it is the perfect option for creating a professional magazine website. It's packed with areas to post your own ads, allowing you to make money for your efforts.
You also receive access to a variety of social networking buttons, which is uncommon among free WordPress themes. As a result, your magazine readers can now follow you on social media platforms such as Facebook and Twitter.
Much of the homepage is created with widgets, allowing users with WordPress familiarity to swiftly move and manipulate site elements. So, if you want to include a gallery or a list of recent articles on your homepage, you won't have to wait long.
ColorMag, in addition to allowing you to change the colors and headlines, combine with practically every plugin you can think of. So, if you wish to install a WooCommerce plugin, you won't have any trouble setting up an online store.
Overall, the ColorMag WordPress theme's functionality is quite simple. If you're not an experienced developer, you should be fine, but more expert designers will find it astounding. The straightforward backend is ideal for engineers, and you should be able to manage several authors writing for your magazine with ease.
Zakra
Zakra is a modern, attractive, and flexible theme that can be utilized in a wide range of industries. This WordPress theme includes a variety of demos, spanning from business to eCommerce. Zakra can also be used to establish a personal or business blog.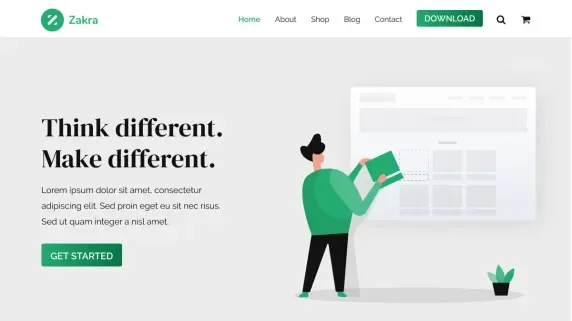 This WordPress theme is very customizable, with a stunning header space where you can insert a background picture as well as a call to action to drive visitors to your most essential sites.
There's also plenty of space to show off your company's offerings, as well as the opportunity to display staff members, testimonials, client logos, and elegant counters.
Zakra is compatible with the Elementor page builder plugin and the Gutenberg editor.
You can specify custom branding colors and select from a variety of header designs. Seven widget spaces, general layout settings, and rich font options are among the many customization possibilities.
Zakra is SEO-optimized, which means it will help you rank higher in search engines, load quicker, and include demo material to speed up the design and setup process.
Vantage
Vantage is one of the WordPress themes that appears to be an excellent match for any sort of business, particularly those in the technology sector.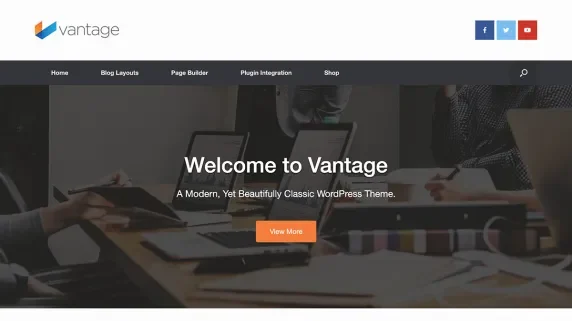 To begin, Vantage provides a responsive style for individuals who wish to visit your website while on the go. It also works nicely with some of the more popular WordPress plugins, such as page builder and WooCommerce.
This free WordPress theme is popular for creating a portfolio since it supports high-resolution photographs and allows you to construct a filterable grid with thumbnails and links to some of your greatest work.
Not to mention, personalized backgrounds and custom menus provide excellent branding options, while threaded comments aid in the development of a community in which people can interact with you and other followers.
Ashe
Ashe WordPress theme is an excellent choice for a wide range of sites. It is appropriate for fashion, photography, health, cooking, baking, travel, beauty, personal, and a variety of other specialty blog themes.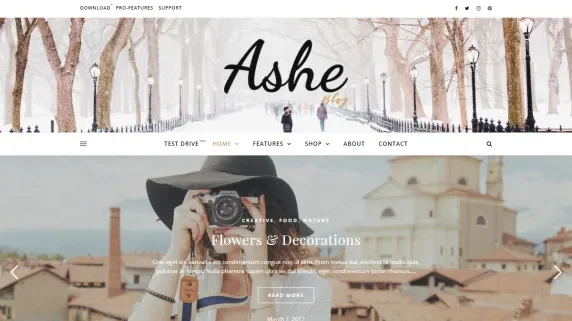 You may be wondering why it is so adaptable. Simply put, its minimalist design is beautiful and refined, making it an excellent choice for individuals who want their content to be independent of themselves.
Mobile-friendly design, WooCommerce compatibility, excellent documentation, responsiveness, and more features are available. This WordPress theme is also meant to be quick and compatible with a wide range of other popular plugins. It is translation-ready, RTL-ready, SEO-friendly, and customizable.
Logos, header pictures, fullscreen sliders, Instagram sliders, footer menus, and other elements may all be customized. It's also compatible with the majority of drag-and-drop page builders, such as Beaver Builder, Visual Composer, Elementor, Divi, SiteOrigin, and others.
Phlox
Phlox has a variety of features, such as huge sliders, overlay header text, call-to-action buttons, and social networking links. This WordPress theme provide a low-cost website alternative for photographers, bloggers, and travel writers alike.
One of the primary reasons we enjoy Phlox so much is the comprehensive demonstrations available on the sales site. This provides you with an excellent understanding of what this theme is capable of and how you should develop it in the future.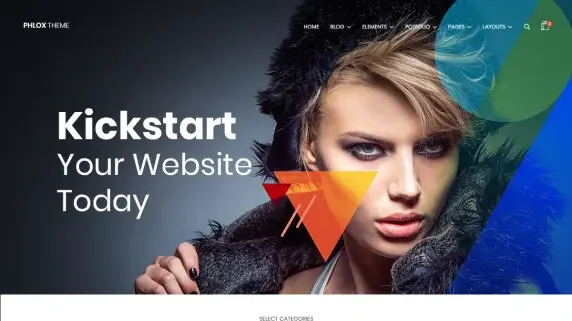 This WordPress theme includes a number of layouts, components, and shortcodes, allowing you a great deal of flexibility and control.
You can also make a lovely portfolio in a current and elegant style. Portfolio layouts include filters and plenty of white space to maintain the spotlight on your work. There are various layouts for travel bloggers, general bloggers, food writers, and others.
You won't have to spend hours looking for the correct font because the typography is standard and easy to understand. The typography, including headers and paragraph sizes, complements the entire design.
Hueman
Hueman is a highly rated free WordPress theme that can be downloaded directly from the WordPress theme library.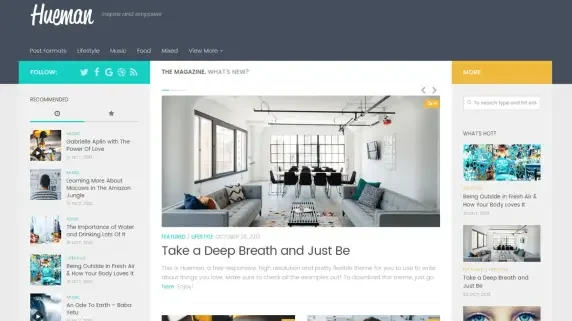 The completely responsive theme is appropriate for all blogs and magazines, and it has headers and footers for easy widget installation.
Unlimited accent colors and widget sections enhance the construction experience, and 10 post styles give diversity to your site as visitors scroll through it.
Localization support is provided to help you translate your content, and social links inform clients about the platform you're using to interact with your followers.
In addition, this WordPress theme has a terrific facility for uploading your logo, and threaded comments allow you to keep in touch with your clients.
Virtue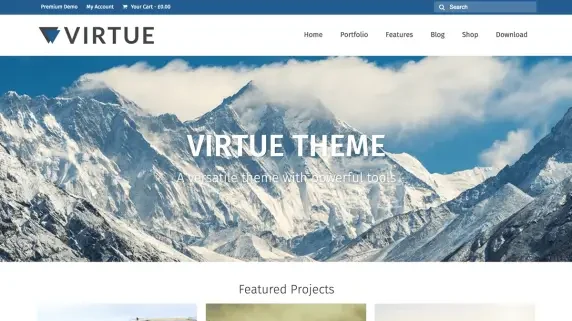 Virtue is a WordPress theme that provides fantastic possibilities and a modern appearance for any commercial website.
The strong design is entirely adaptable for mobile browsing, and the option to link with WooCommerce means you can begin selling real or digital things from your site.
Flash
Flash WordPress theme is completely free, adaptable, and suitable for your multipurpose needs. Responsive themes appear to be the best answer for any business interested in a current and professional website.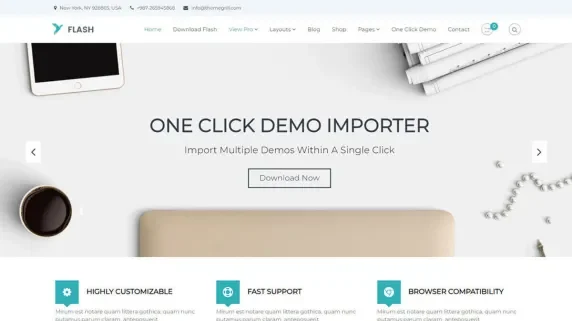 One of the standout features is the built-in drag-and-drop page builder, which is uncommon among free WordPress themes.
Flash Toolkit plugin works wonderfully with the six widget areas since they all allow you to organize widgets and other website elements for a more pleasant experience. This is a free WordPress theme with premium features.
You receive over 11 custom widgets, for example, and an About page is available for you to fill in details about your organization. The Services widget displays your services using symbols and photos, and logos may be simply submitted.
This theme contains a section for displaying testimonials and another for displaying information about your team members, including images and bios for those working behind the scenes.
Radiate
Radiate is a responsive blogging WordPress theme with a parallax header picture that is clean, artistic, and light.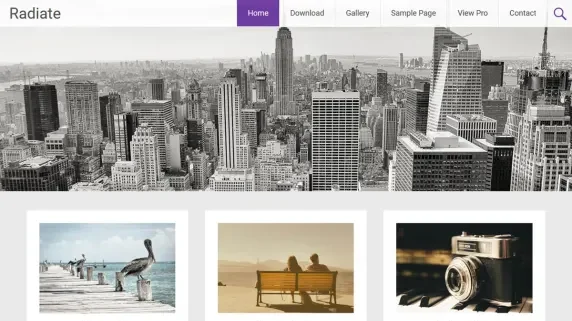 The header area allows for the display of stunning photographs, while the grid-based structure below the header is ideal for connecting to blog entries or creating a portfolio website.
This clean and innovative WordPress theme has eye-catching parallax titles, and language support allows you to reach a global audience.
Sticky articles are wonderful for navigation, and threaded comments are always a good way to start a dialogue with your most devoted fans.
When viewing the theme on a mobile device, select the number of columns you want to see on the homepage and watch the responsive modules snap into place.
NewsMag
Whatever industry you write about, Newsmag will stand out when it comes to a newspaper or magazine-style theme.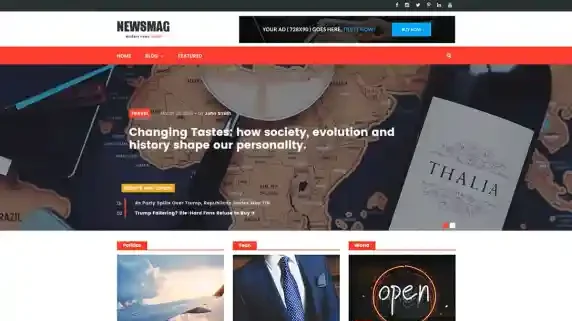 This WordPress theme features social networking buttons, which is uncommon among free themes. You can also generate money from your operation by posting banner advertising.
Widgets split each of your categories, and the menu is completely customized.
This modern and clean magazine has four blog page designs that are compatible with all mobile devices.
Make
Make has a modern design with a huge title section for promotional banners and product photos.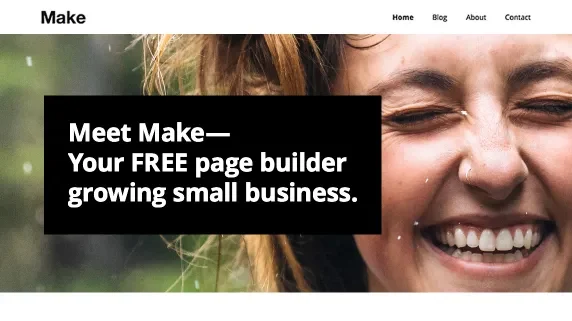 The adaptable style is a good touch, and the social integration allows you to send visitors to your favorite social networks via buttons.
The drag-and-drop page builder is a fantastic tool that allows you to easily move things across your site.
Make integrates well with Woocommerce to bring some benefits to your company. Also, there are several other top plugins that work well with the theme such as Gravity Forms , Contact Form 7 and Jetpack.
Cream Magazine
This is another free WordPress theme designed for magazines. Because of its clean and modern appearance, Cream Magazine can be customized for any sort of magazine you can imagine.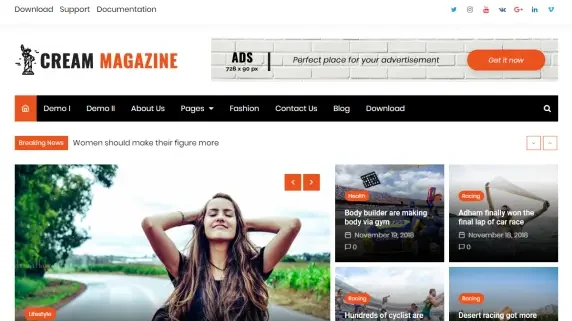 You can use the customizer to give a custom front page to your publication and make most adjustments. This implies that you can observe the progress you're making.
Cream is SEO-friendly, responsive, and optimized for load times and overall site performance. It also includes lazy-loading pictures and ad spots to help fund your magazine.
Bard
Bard is an excellent WordPress theme for blogs with multiple authors. It is suitable for any style of blog, from health and wellness to cooking to fashion and politics. Its design is simple yet elegant, putting your photos front and center.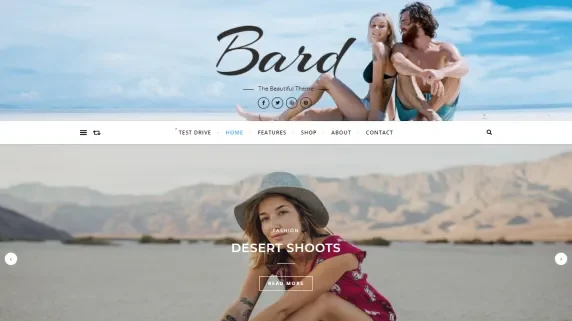 This WordPress theme is mobile-friendly, responsive, retina-ready, and WooCommerce-compatible, making e-commerce integration a breeze.
Other features include a full-screen slider, a header picture, an Instagram widget, a footer menu, and SEO compatibility.
Finally, Bard is compatible with the majority of popular page builder plugins, such as Elementor and Visual Composer, making site customization much easier.
Cenote
If you want to present your blog to the world in a clean and eye-catching manner, the Cenote WordPress theme is a must-have. This free theme is created specifically for bloggers and is very simple to use. The setup is straightforward, and it has various features that make blogging a bit easier.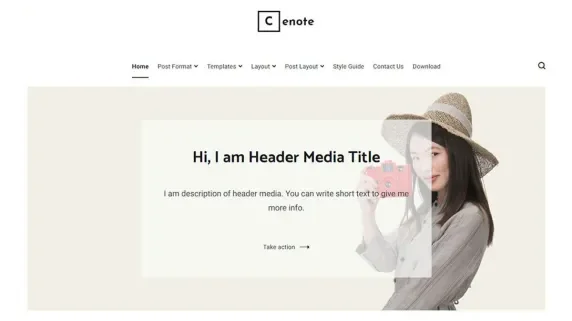 This WordPress theme has a handful of demos that can be used for a range of blogging types, including cuisine, travel, business, fashion, and others. This simplifies the process of getting your blog up and running. Simply select a demo, import it, tweak it, and add your content.
Olsen Light
With Olsen Light, you get more than simply a free WordPress theme. That's the great thing about today's free options: many of them, like Olsen Light, are closer to premium solutions than we've seen before.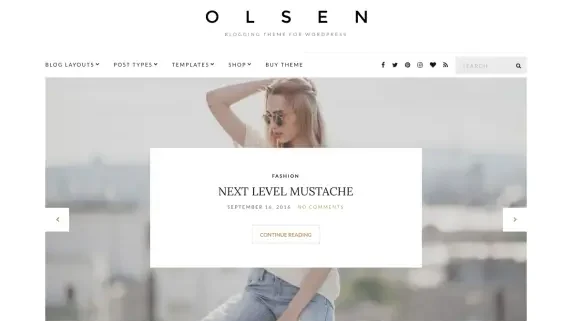 This is a blog WordPress theme that includes all of the necessary widgets and branding features for your site. For instance, social media buttons can be used to interact with users on websites like Facebook and Twitter. Share some of your previous entries in a list manner, and identify yourself in a little sidebar module.
The header is straightforward, with enough white space, a beautiful logo placement, and a customizable menu to help visitors navigate the site.
After all, free WordPress themes this clean and beautiful are uncommon. Bloggers, as you might expect, aren't seeking for the most complex backend and frontend interfaces. The Olsen Light theme does an outstanding job of making content easy to grasp.
Furthermore, the blog feed takes center stage on the site. As a consequence, consumers see amazing featured photos, compelling headlines, descriptions, and so on to persuade them to click.
Ample
Ample is a free WordPress theme that can be used for a variety of purposes. Its adaptable structure guarantees that clients can read it on mobile devices, and the professional appearance is ideal for organizations like marketing firms and technology corporations.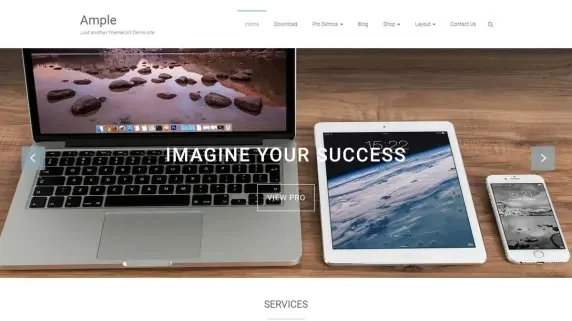 Ample provides a number of customization options, including unique menus and backgrounds as well as custom titles and colors.
Threaded comments establish a community-based structure in which you may interact with site visitors who have queries about your firm.
eStore
eStore is exactly what it sounds like: a WordPress theme created just for your own online store.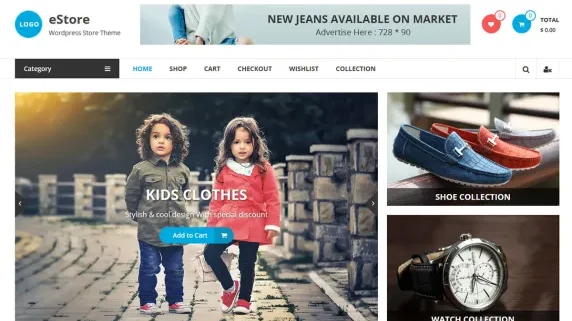 This WordPress theme is adaptable in every manner, allowing users to establish their own online store. It has almost everything you can think of: multilingual flexibility, multicurrency flexibility, ad placement possibilities, membership possibilities, and the ability to exhibit multiple items and categories on the homepage.
An e-commerce theme also allows your previous customers to display things they purchased on your website, establishing social proof that will undoubtedly lead to more sales for you in the long term.
Tracks
Tracks is a lovely blog WordPress theme with powerful custom headers and large font, so the focus is on your content.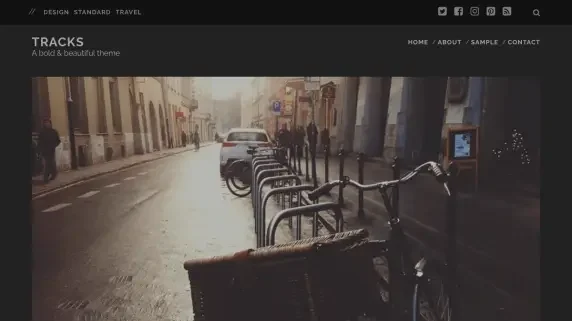 This WordPress theme is a one-column theme with a scrolling blog in the center of the page. You should have no trouble reading your material because the most recent postings are at the top, and a quick scroll will lead you to the next article.
Tracks is a responsive theme with mobile viewing capabilities and a logo uploader for simple branding. It also includes various social networking icons, which boosts the chances of others following you on sites like Facebook and Twitter.
This WordPress theme is a wonderful choice for bloggers since it has language-ready support, threaded comments, and a featured picture uploader.
Pinnacle
Pinnacle provides professional-looking layouts in a wide range of settings and styles. Its flat design is perfectly adaptable to mobile devices such as tablets and smartphones in terms of aesthetics.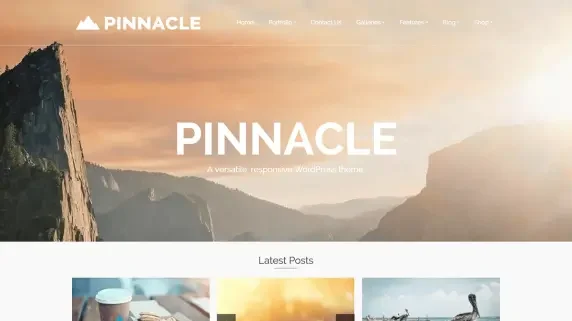 Not to mention, WooCommerce integration enables webmasters to establish a full-fledged e-commerce store to sell products and generate cash.
This WordPress theme is ideal for enterprises, online stores, portfolios, and personal blogs, and it has translation support to help you grow your clientele or audience.
Finally, there are various customizations available, such as custom headers, colors, and menus.
Foodica
Foodica is a great WordPress theme for food blogs, recipe websites, and cooking magazines. While a Pro edition is available, the free version provides a strong range of functionality and a consistent design that will easily meet your demands.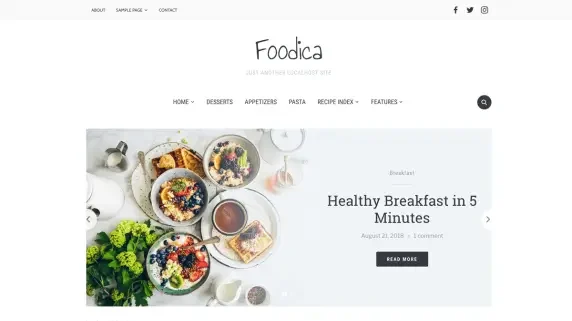 This WordPress theme has a featured slider for articles, configurable widgets, and a nice layout perfect for showing food photos. It also supports WooCommerce, which is useful if you want to monetize any aspect of your website.
Some other key features are responsiveness, retina-ready layouts, and Gutenberg compatibility.
Allegiant
Allegiant stands out among free WordPress themes for several reasons.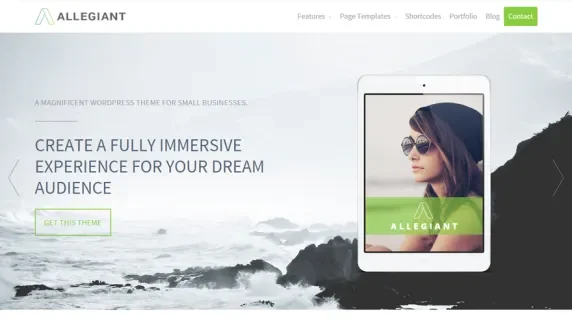 To begin, Allegiant has a lovely, contemporary style with wide header/slider modules and icons to emphasize your most popular services or goods.
This WordPress theme appears to be ideal for small enterprises, marketing firms, and other organizations with an interest in fashion websites.
A complete homepage slider is the first thing your consumers see, and you can customize it to highlight new specials, items, or features.
Furthermore, Allegiant WordPress theme integrates with some of the most popular free WordPress plugins, like WooCommerce (if you want to create an eCommerce store), Yoast SEO, WPML, and Contact Form 7.
Vega
The Vega WordPress theme has a professional appearance. It has a lovely, minimalist style that works well for both personal blogs and standard commercial websites.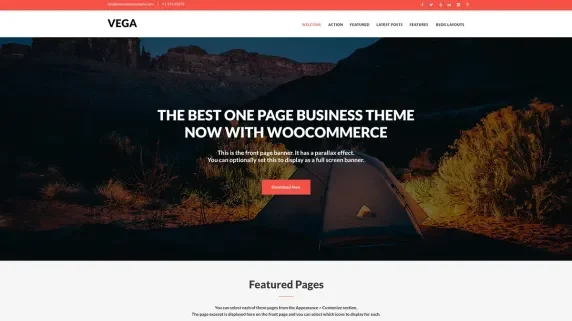 This WordPress theme focuses on removing clutter and offering information to clients in a clear way. As a result, you won't be bombarded with needless settings and design elements on the front end.
The fact that you can configure a single-page or multi-page website is a plus. You also receive a full-screen picture banner if you upload a high-resolution photo.
Animated content gives your website a more creative layout, and the pre-built color selections give you some branding diversity. Even the most inexperienced developer can customize several blog feeds, while custom CSS modules improve the appearance for skilled users.
This WordPress theme has been WooCommerce tested and can be used to sell both digital and physical items. Another thing to think about is the amazing parallax backdrop effect.
Modern
Modern is designed to be used as a portfolio or blog site and is totally responsive to mobile devices such as tablets and phones.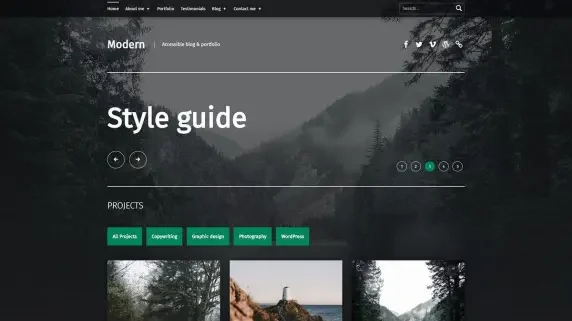 A personalized backdrop lies behind a grid-based style that allows you to include links to your posts and tiny thumbnails that tempt readers to explore more material. The title slide, which contains translatable code, works wonderfully for showcasing your greatest work.
JustWrite
JustWrite says it all, as this free collection of tools and settings allows for a clean and simple article-creating approach. This WordPress theme is suitable for both blogs and magazines, and it has clean modules for displaying your most recent content.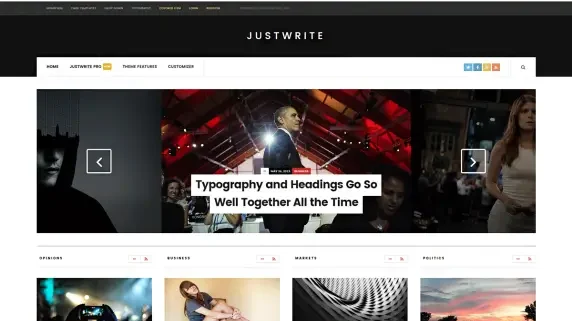 Custom colors and headers are available for usage, as are custom widgets for placement in the footer and sidebar regions.
Your download includes translation assistance, which is useful for reaching out to those who do not speak your language.
Furthermore, responsive layouts look excellent on mobile devices.
Ignite
Ignite theme is a good free option since it not only has a couple of nice-looking social network buttons, but the accent colors are interesting and the layout is quite clean and professional. Your major purpose for adopting this WordPress theme is to operate a blog, as it makes good use of the blog feed style.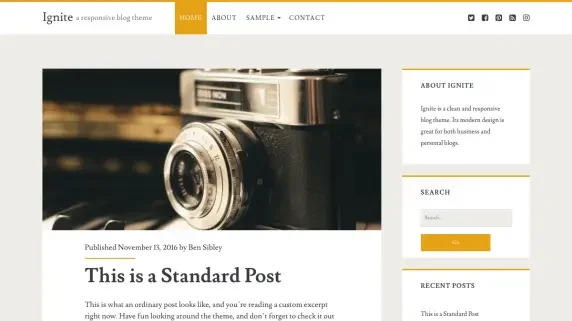 There is also the option to integrate sidebars with widgets for you to install on your site, such as modules for recent comments, recent articles, and a search bar.
Custom backdrop colors allow you to brand your website, while five typefaces broaden your options for standing out from the crowd. Ignite is entirely adaptable for mobile browsing, and threaded comments are ideal for interacting with some of your clients.
Fascinate
Fascinate is a free and modern WordPress theme with a minimalist style that will make your content pop. This theme is Gutenberg compatible, so you can easily update, edit, and customize it to your liking.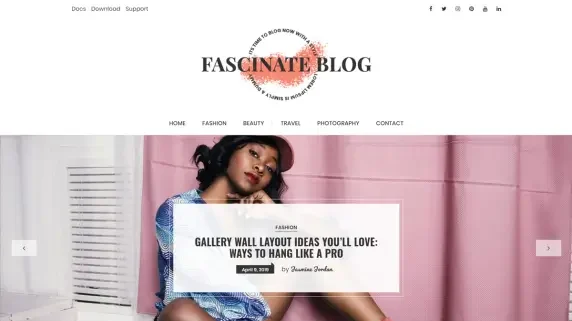 It's ideal for a blog or other personal website where your written material (accompanied by photographs) will take center stage.
This WordPress theme is responsive, mobile-friendly, and supports a variety of post types. This makes displaying multiple sorts of material easy.
Fascinate includes author widgets, social media integration, slow loading, SEO friendliness, and a customizer. It also works with a variety of other plugins, such as Contact Form 7, Jetpack, MailChimp, and Yoast.
Madd Magazine
Madd Magazine is a one-of-a-kind and completely responsive magazine, newspaper, or professional blog WordPress theme.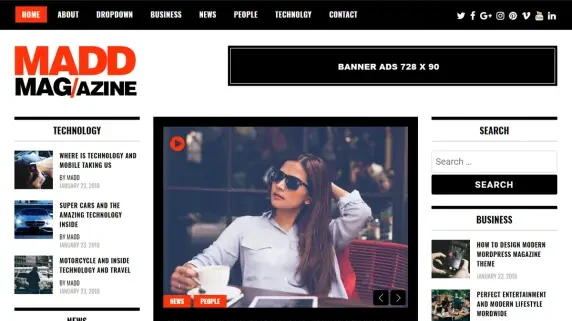 You can quickly share featured and popular stories from a variety of categories. You can also easily monetize the website with third-party advertisements due to its numerous advertising spots.
There are also several widgets that can be put in the site's sidebar or any other widgetized section. Madd Magazine's theme is SEO-optimized and built to load quickly.
Rosa2 Lite
Rosa2 Lite is a free restaurant WordPress theme built for Gutenberg, WordPress's new block editor.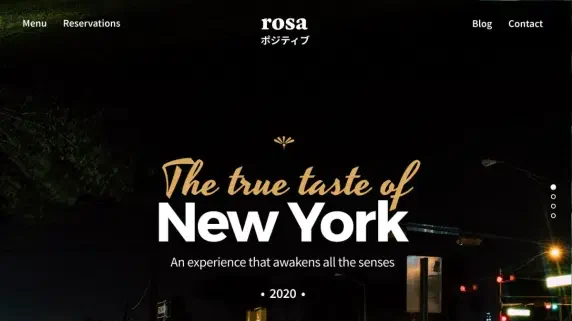 This WordPress theme has a hero block with space to exhibit your defining ideas, recent deals, or future events to help this critical component perform its job.
There's also an integrated menu function that allows you to simply highlight your greatest meals and current promotions. Between these options, persuading people to try your restaurant should be straightforward.
That ends our list of the 36 top free WordPress themes for you. We hope you've decided on what you'll use to develop your lovely website.