What is the Elementor pricing? Which plan should i choose?
They are some commonly asked questions if you've been using Elementor for a while and are considering upgrading to the Pro version. But what is the difference between the free and pro versions of Elementor?
Elementor is a famous website builder plugin for WordPress. This tool is intended to assist you in creating whatever website you desire using drag and drop.
Although Elementor is free, it does have certain limits. If you want more functions to diversify your website, you will need to purchase Elementor Pro.
In this post, we will write about Elementor pricing and help you better understand the plans that Elementor offers.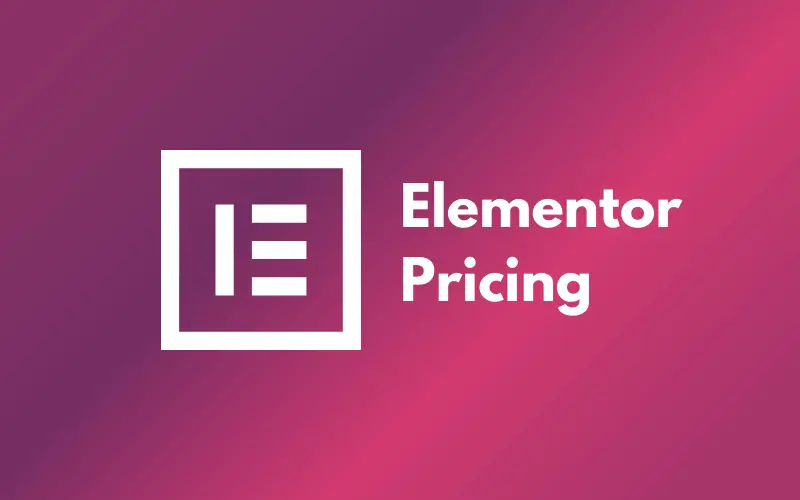 What Is Elementor Pro?
First you need to know what you are going to purchase.
The Pro version of Elementor gives users a lot of benefits compared to the free version. But what features of the Pro edition could convince you to upgrade? They actually enable a lot of cool stuff, which may be worthwhile depending on your needs.
For example, you may place any widget anywhere you want, as well as apply custom CSS and build global widgets. Furthermore, the Pop Up builder may be used anywhere and includes features such as after scroll, exit intent, and others.
Elementor Pro also comes with 50+ more widgets, 300+ demos, a theme builder, and a visual form builder. As you can see, the Pro version is not required, although it does provide additional possibilities. If you want to build a more complicated website, this is absolutely the way to go, and the end product may be pretty remarkable. That alone makes the effort worthwhile.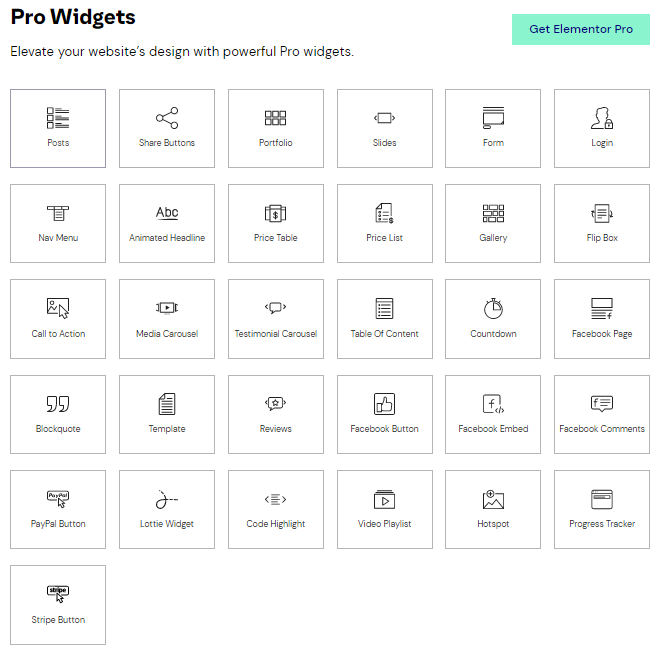 Elementor Pricing Plans
The free version of Elementor that is commonly used on WordPress is functionally restricted. Besides the free version of Elementor, there are other different plans available.
Elementor Pro
Elementor Pro has four plans to choose from, based on the intended purpose of each individual. The plans are functionally similar, with the biggest visible difference being the number of sites you may access.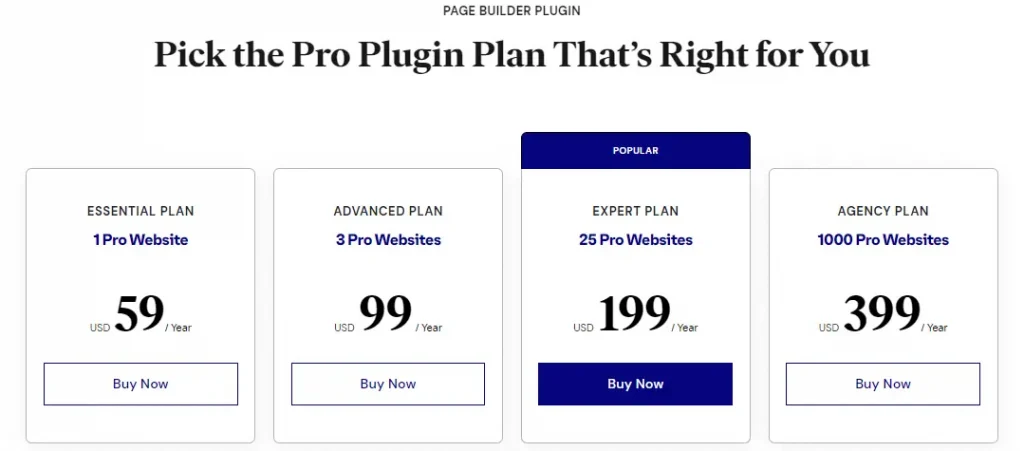 Besides the basic features given by the free version of Elementor, Elementor Pro offers the following:
Theme builder: When using Elementor Pro Theme Builder, you are no longer limited by the restrictions of your theme. Elementor allows you to visually create your header, footer, archive page, single posts, and any other aspect of your site. This works with any WordPress theme and does not require any coding. This approach is not available in any other theme or plugin. You can accomplish projects much faster than ever before by making the whole web design process visual and code-free.
Professional templates and blocks: Elementor Pro includes a variety of additional professionally designed templates and blocks that can be simply customized to build magnificent websites. The Pro widgets are integrated into the templates and blocks, allowing you to construct pages with sliders, animated headlines, forms, and other crucial Elementor Pro features.
More professional widgets and features: Elementor Pro contains certain essential widgets and functionality for every professional web designer. These include Animated Headlines for eye-catching headline design, the Articles widget for displaying blog posts beautifully, WooCommerce widgets, Slides, Media Carousel, and custom fonts.
Support: The Pro version of Elementor offers you support via mail or live chat.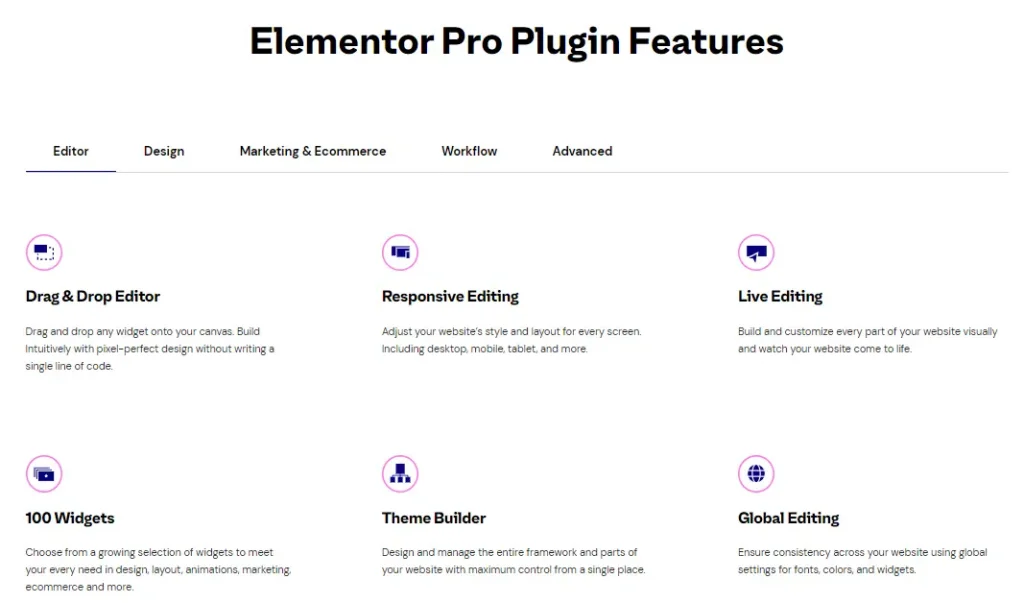 Essential plan
Elementor's first paid plan is the $59 per year Essential plan, which is limited to one website.
The Essential Elementor package includes 100+ Elementor widgets, 300+ Elementor Pro templates, 90+ full website kits, Elementor's Theme Builder, WooCommerce Builder, and Popup Builder, as well as Elementor's Theme Builder, WooCommerce Builder, and Popup Builder.
Elementor's Essential plan also includes a year of customer support and upgrades.
You can also purchase three Pro website activations for $99. This plan contains the same features as the Free and Essential programs.
Advanced plan
Advanced Plan provides similar functionality to Essential Plan but allows you to use Elementor Pro for three websites for $99 per year.
Expert plan
The next Elementor Pro plan is the Expert plan, which can be used on up to 25 sites for $199 per year.
The Elementor Expert plan includes all of the previous editions' features, as well as a new feature called Expert Profile. This feature will allow you to showcase your greatest work so you may get hired for your next project.
Agency plan
The last plan is Agency. This plan offers you 1000 website activations for $399 per year. It has all the features of those plans above.
Elementor Cloud Website
Elementor Cloud Website is a complete, cloud-base solution with the website builder and hosting included. If you purchase this plan, you will receive several perks for only $99 per year.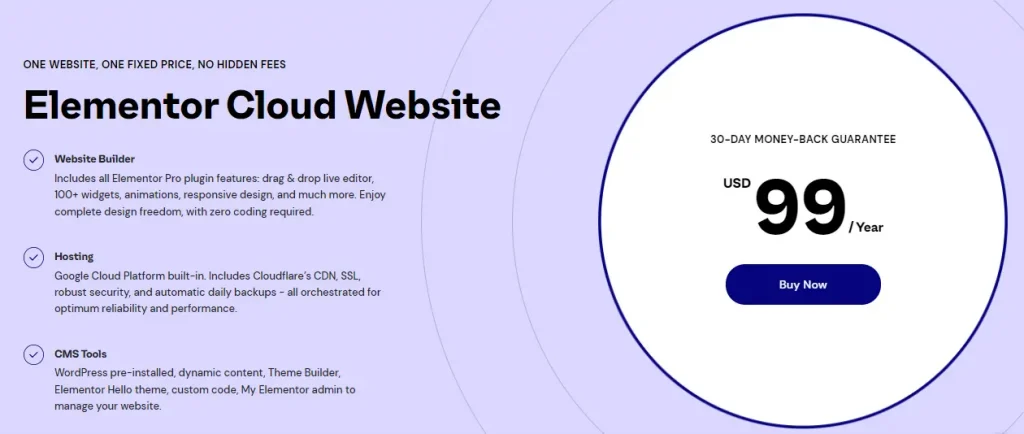 This plan offers all Elementor Pro plugin features including a drag-and-drop live editor, 100+ widgets, animations, responsive design, and much more. With no coding necessary, you may have total design flexibility.
The Google Cloud Platform is pre-installed. Cloudflare's CDN, SSL, comprehensive security, and regular daily backups are all included, all orchestrated for maximum uptime and speed.
This plan also pre-installs WordPress for you. And it provides you Elementor admin to manage your website.
FAQ About Elementor Pricing
Which payments method does Elementor offer?
Elementor accepts all major credit cards, PayPal, and Stripe.
Are there any hidden fees in Elementor plan?
The subscription is a fixed price charged annually and includes all of the above-mentioned features.
Does Elementor offer refund?
There is an unconditional 30-day money-back guarantee for all Elementor plan.
Conclusions About Elementor Pricing
Those are all the plan that Elementor has to offer so far. Depending on the purpose of use, you should choose the appropriate package.
The Elementor Cloud Website plan will be very suitable for personal bloggers simply because it includes both hosting and Elementor Pro. If you already have a website with hosting and a domain name, the free version of Elementor is fine for a simple website, but Elementor Pro will let you turn your website into a professional one.
We hope you now have a better understanding of Elementor pricing and can select an appropriate option for yourself.