Having trouble deciding between Elementor vs Visual Composer?
Elementor is a drag-and-drop website builder that allows you to construct any website you desire. Simply said, you select the modules you wish to add to your website and you're ready to go.
Similar to Elementor, Visual Composer is a drag and drop page builder plugin for WordPress. You have total control over the design, creation, and development of your website or landing page.
In this article, we will compare Elementor vs Visual Composer so that you will have a better understanding of these two plugins.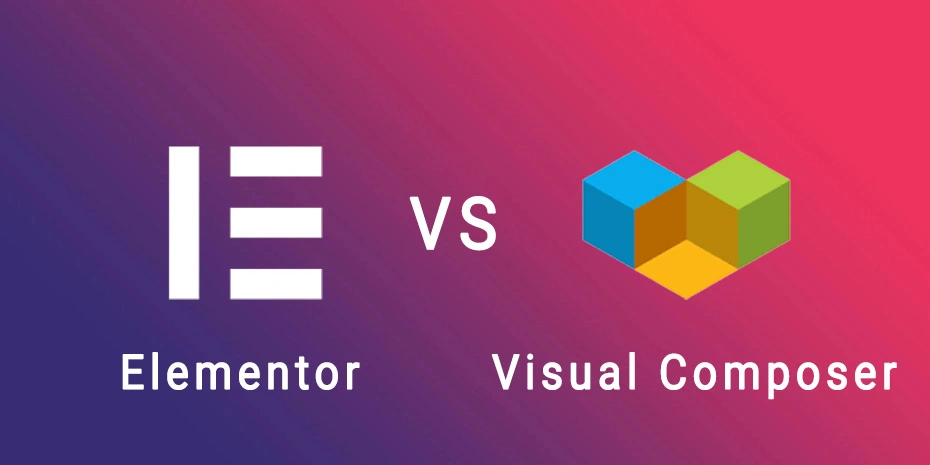 Elementor vs Visual Composer: Overview
There are several well-known WordPress page builder plugins, including Elementor and Visual Composer. They allow you to construct your website using drag and drop, so you don't need to know any code.
For our comparison, we used the premium versions of Elementor and Visual Composer so that you could view all of the features and integrations that each has to offer.
Elementor: Overview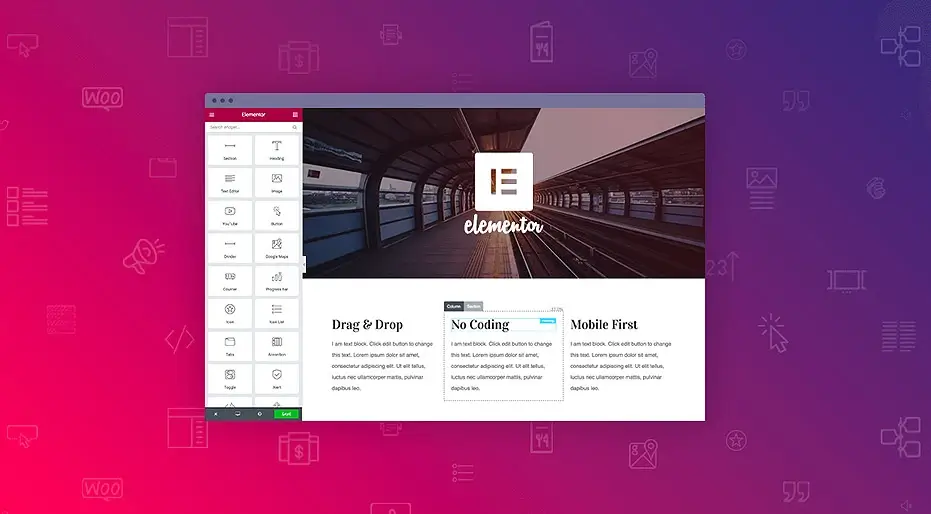 Elementor is a well-known WordPress website builder. More than 5 million individuals from over 180 countries have downloaded and used it.
The best feature of this page builder plugin is the ability to use a drag and drop content to build your site. This implies that you don't need any coding knowledge to create your own website.
Furthermore, when working with Elementor, you can see a real-time preview of your page. This allows you to totally experiment with the components in order to design the website you like.
What's more, because Elementor allows you to create websites without coding, you won't need to hire a website designer or developer. This plugin's objective is to assist you in quickly and simply creating a website.
Visual Composer: Overview

Visual Composer, which was released in 2017, is one of the newest WordPress page builders, with over 80,000 active installs.
Visual Composer, like Elementor, is a drag-and-drop website builder. Instead of scripting, this plugin allows you to concentrate on your design and other things.
The interesting part of Visual Composer is that you can style pages both on the frontend and on the backend. While customizing pages on the backend isn't for everyone, having that option helps make some tasks easier to do.
Furthermore, Visual Composer is compatible with most, if not all, WordPress themes. The plugin supports several languages and is compatible with qTranslate, a popular translation plugin for WordPress.
Elementor vs Visual Composer: Ease Of Use
It is vital to use a website builder that is user-friendly and oriented toward non-technical users when choosing one. It should allow you to modify your WordPress theme and landing pages without having to touch any code.
So let's see what Elementor vs Visual Composer bring to users.
Elementor: Ease of use
With the help of Elementor's drag-and-drop functionality, creating a website is quite simple. You only need to pick from the many widgets offered in the left menu to create the website of your choice.
Having too many options might be overwhelming for novice users because there are so many different things to consider. However, once you've learned it, Elementor's website builder is straightforward to use.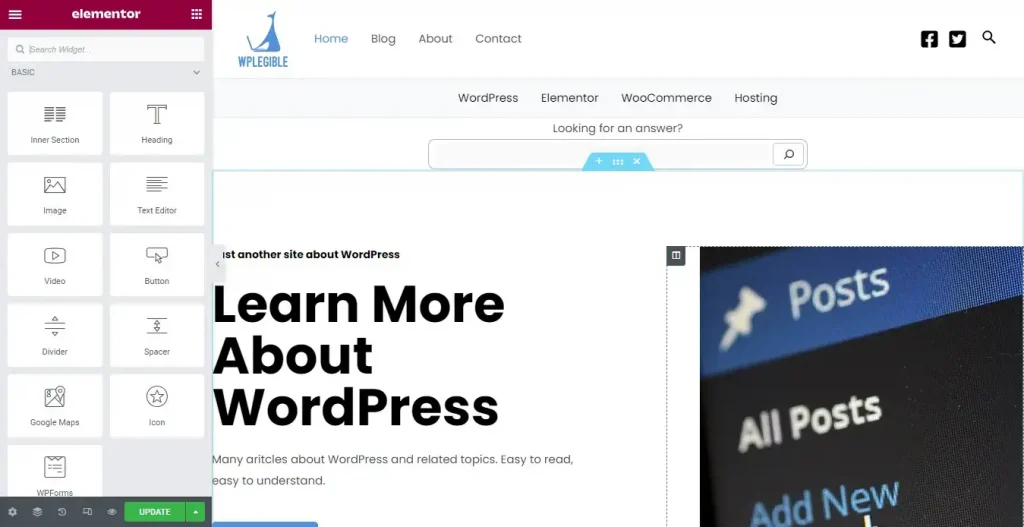 In addition, Elementor also supports building websites easily on phone or tablet platforms through responsive mode. This is fantastic since the mobile platform is expanding and the number of visitors on the phone is rising rapidly.
One downside we found was that there is no simple way to undo or reverse the changes you made to the page other than reading through the revision history and reversing your changes.
Visual Composer: Ease of use
Since Visual Composer is also a drag-and-drop page builder plugin, it allows users to create websites quickly and easily.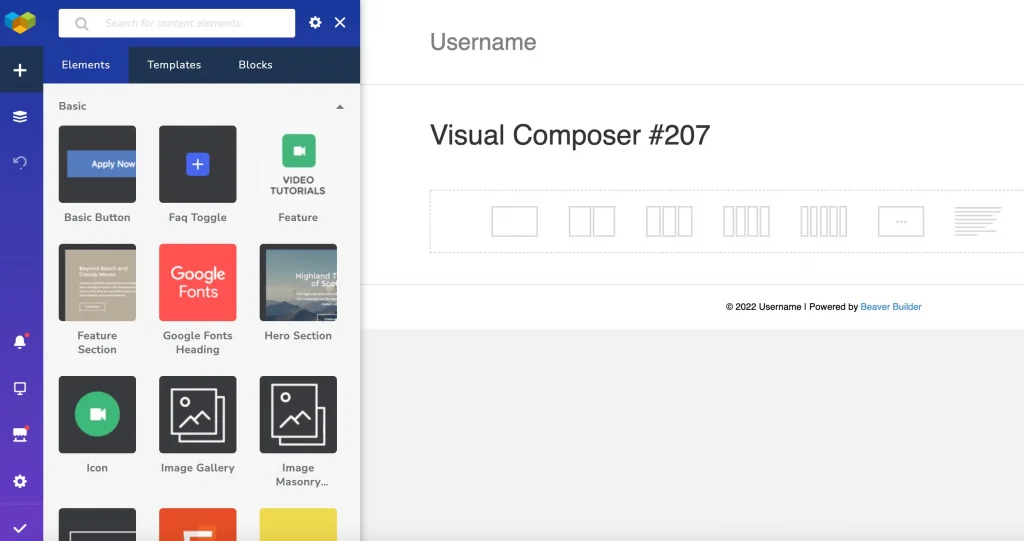 This editor offers a simple interface that allows you to quickly create pages and articles. Visual Composer features a clean builder but fewer possibilities overall, especially in its free edition.
Winner: Elementor
Both Elementor and Visual Composer offer an easy-to-use, no-code, drag-and-drop website builder for WordPress. While Visual Composer is great for simplicity, Elementor is the ideal choice if you want a user-friendly interface with plenty of customization options.
Elementor vs Visual Composer: Customization Features
Another important factor to consider when selecting a website or landing page builder is the level of customization provided.
It is vital to select a platform that gives you total design control over your themes and pages.
Here are some of Elementor vs Visual Composer's customization choices.
Elementor: Customization features
Over 300 designer-created templates are available in Elementor. Simply choose a template, insert your content, modify the design, and personalize it. Elementor allows you to change any part of your site's appearance.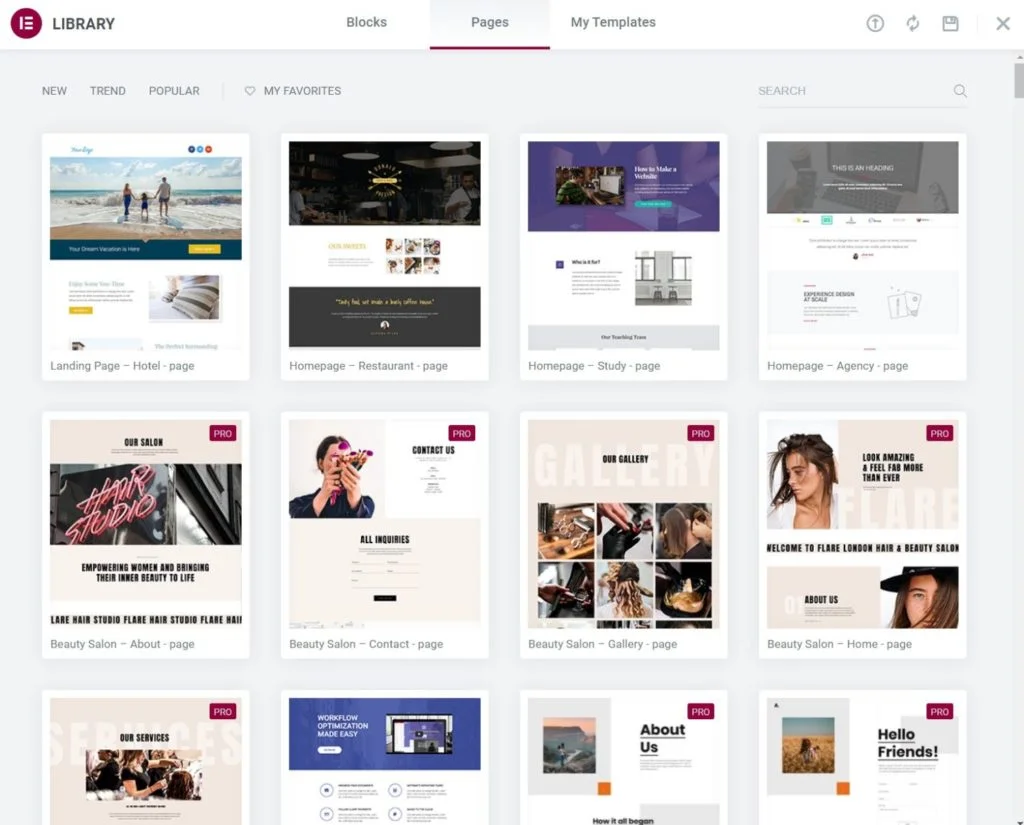 One of the biggest benefits is how simple it is to construct any type of website. Elementor can assist you in developing a blog, a media site, a health, creative, portfolio, or corporate website, and it even includes some templates and ideas to get you started.
You can also use 100+ widgets, giving you a lot of flexibility and control over how your website looks in the end. Add in the fact that there are hundreds of templates, and nothing is as intimidating as you can imagine.
Elementor also has advanced customizing features. You can, for example, change the look and feel of your site by adding custom CSS and code, as well as uploading your own fonts and icons.
Visual Composer: Customization features
Visual Composer includes 40 widgets for you to use. In any case, the pieces offered are more than sufficient to create the majority of professional-looking sites. Furthermore, you don't have to worry about them being responsive.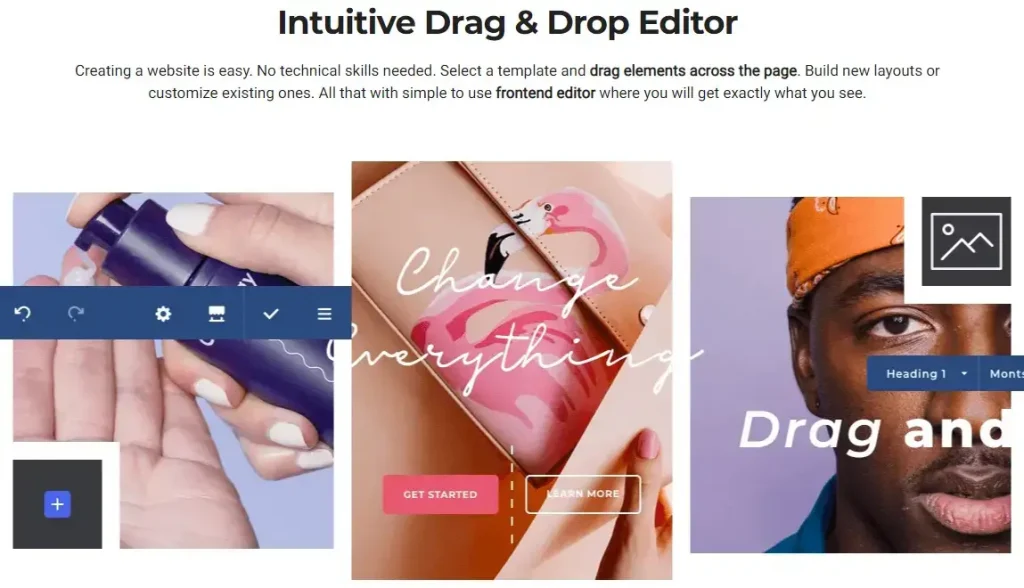 Further investigation reveals, as we found during our Visual Composer page builder testing, that 12 of the 40 elements are normal WordPress widgets, 25 are content elements, four are social networking content elements, and three are structural elements. Each of these pieces, however, can be further changed beyond their basic look and function.
Every content element in Visual Composer can be customized. The options you can change, however, differ based on the piece. Simple components, such as social network buttons, have fewer parameters and can just be resized, but more complicated elements, such as post grids, have more possibilities.
This plugin also has 200+ customisable templates, allowing you to change your content, save, and publish.
Winner: Elementor
In terms of customisation options, Elementor outperforms Visual Composer in both number and quality. However, because Elementor offers so many capabilities, it can quickly overwhelm inexperienced users.
Elementor vs Visual Composer: Intergrations
Integrating your WordPress landing page and theme builders with other WordPress plugins and third-party solutions is essential for adding functionality and supporting you in attaining your business goals.
For example, you can connect email marketing services to collect leads and build an email list, employ SEO tools to optimize your website for search engines, or integrate social media networks.
Let's have a look at the tools and plugins that Elementor vs Visual Composer support.
Elementor: Intergrations
AWeber, Drip, MailChimp, ActiveCampaign, Sendinblue, and ConvertKit are among the email marketing services with which Elementor integrates. Elementor can also be integrated with customer relationship management (CRM) systems like HubSpot.
Elementor is also compatible with a number of WordPress plugins, including WooCommerce. Several WooCommerce functionalities are also included in the drag and drop builder.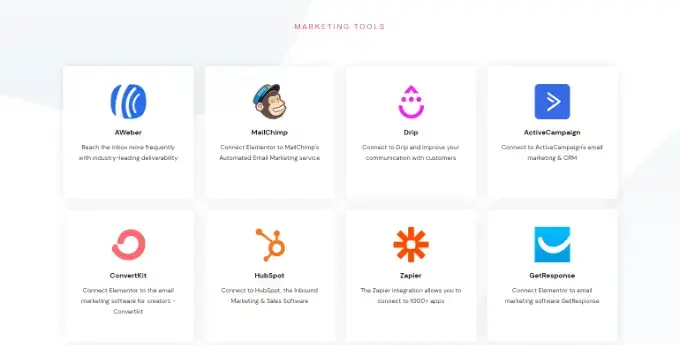 To choose an Elementor integration, first enter the API key for the service you want to use in the Elementor plugin settings.
It is also compatible with other eCommerce plugins like MemberPress and LearnDash.
Finally, Elementor integrates with a variety of social services, including Facebook SDK, YouTube, Vimeo, Google Maps, SoundCloud, Slack, and others.
Visual Composer: Intergrations
With a few mouse clicks, you can connect to a variety of third-party service connections. The free cloud marketplace Visual Composer Hub provides premium-class compatible content pieces and connectors.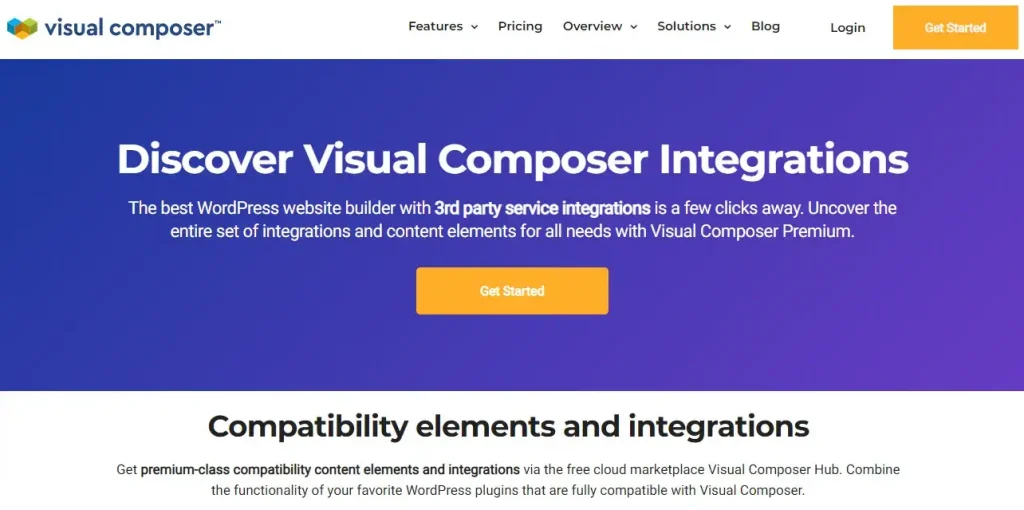 You can integrate with WordPress form plugins such as WP Forms or e-commerce plugins such as WooCommerce. Furthermore, Visual Composer makes it very simple to link to social media.
Not only that, but you can use it in combination with Weglot to develop multilingual websites. It is also extremely simple to select icons and fonts because Visual Composer includes various integrations such as FontAwesome, Google Font, Line Icons, and so on.
Winner: Visual Composer
When it comes to integrations, it appears like Visual Composer has surpassed Elementor in terms of quantity and simplicity of integration.
Elementor vs Visual Composer: Customer Support
You can feel stuck or want assistance while using a WordPress website builder at times.
This is when excellent customer service comes in helpful. With the correct guidance and tools, you can address your difficulties and get the best outcomes for your business.
In terms of user support, here's how Elementor vs Visual Composer compare.
Elementor: Customer Support
Elementor gives consumers various options for getting help or contacting customer care. They provide a comprehensive and well-organized help center where you can get information on a variety of topics.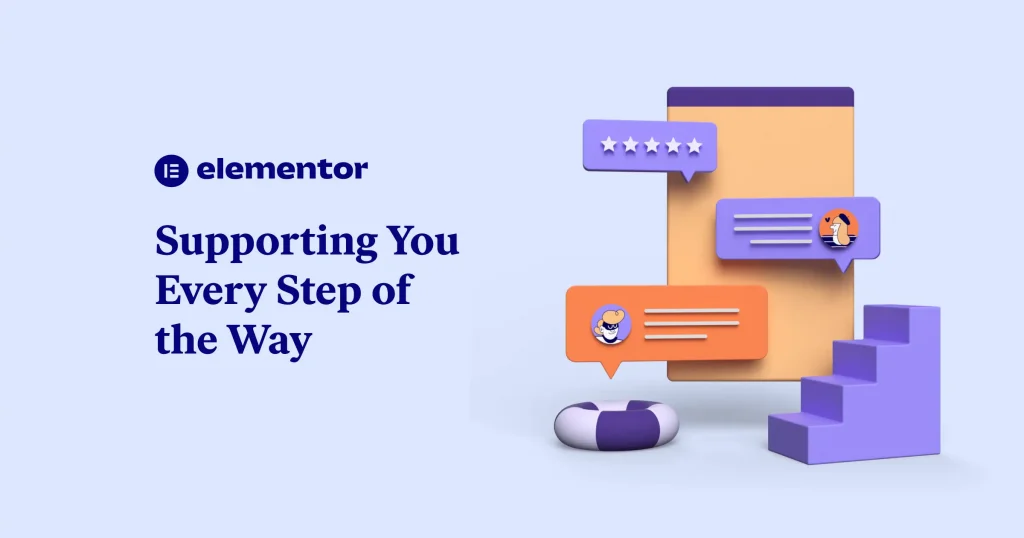 This website builder also has a section for guidelines and tutorials where you can get a range of videos on various subjects. You can even enroll in classes to learn how to use Elementor for other purposes, such as creating a portfolio or launching an online business.
If you purchase Elementor Pro, you get access to premium support every day of the week, 24 hours a day. Simply submit a support request, and a support representative will respond within one day on average.
If you purchase the Studio Plan or higher, you will be able to chat live with the VIP Support staff and get tickets answered within 30 minutes.
Visual Composer: Customer support
All premium license holders have access to Visual Composer support.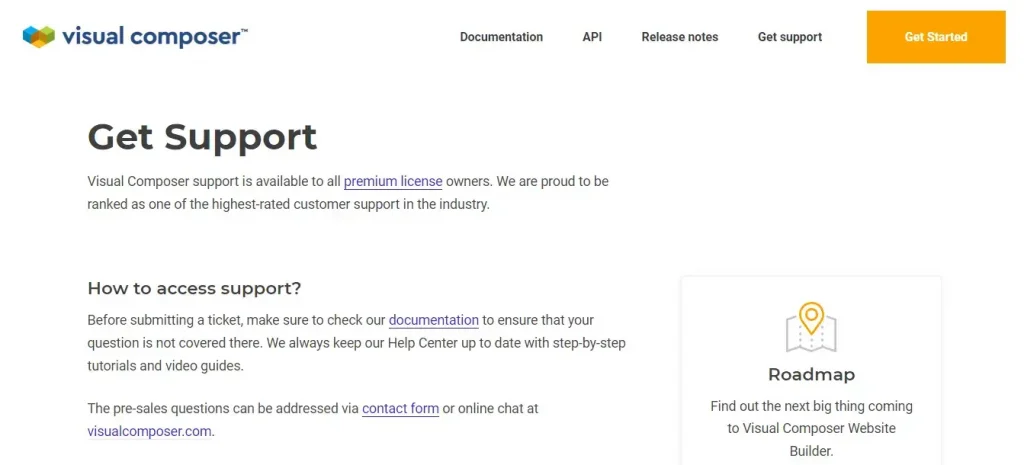 This plugin includes documentation that answers a few commonly asked questions so that users can learn more before opening a support ticket.
Furthermore, Visual Composer constantly updates the Help Center with step-by-step tutorials and video guides to help users discover answers quickly.
Your inquiries will generally be answered within an hour of submitting the ticket.
Winner: Elementor
Although Visual Composer responds faster, Elementor provides more documentation for users to turn to. Not to mention that Elementor has a larger user base and hence cannot reply fast.
Elementor vs Visual Composer compete fairly equally in user support. Each plugin has its own strengths, but Elementor is slightly better.
Elementor vs Visual Composer: Pricing
Pricing is another important factor to consider when selecting a WordPress website builder. Let's have a look at the price options provided by Elementor vs Visual Composer.
Elementor: Pricing
Depending on your intended purpose, Elementor Pro provides four options to choose from. The plans are nearly identical, with the biggest visible variation being the number of sites you can access.
Elementor has four pricing options, with the Essential plan starting at $59 per year. If you need to use Elementor on more than one website, you can pay $99 per year to upgrade to their Advanced plan.
There is also a $199 per year Expert plan that allows you to activate 25 websites, and a $399 per year Agency plan that allows you to activate 1000 websites.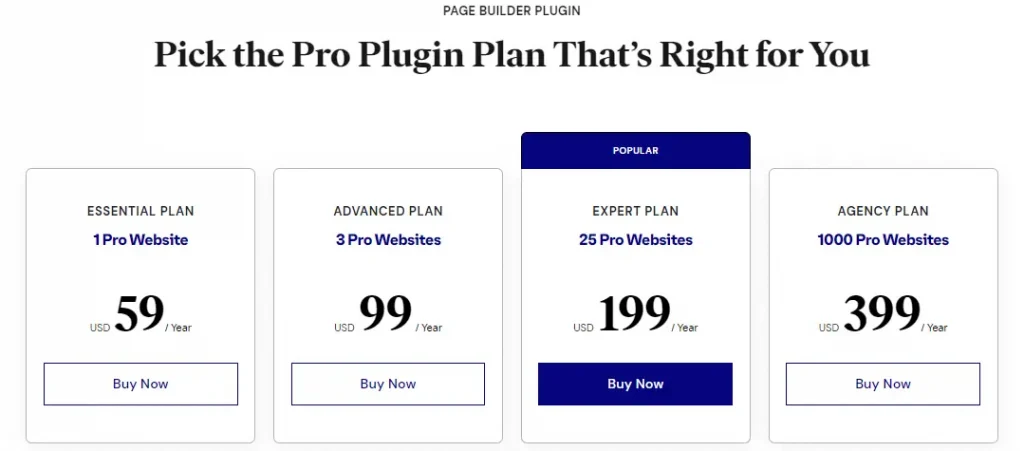 If you want to know more details, then read our article on Elementor Pricing.
Visual Composer: Pricing
Visual Composer's premium plans are identical. The more websites you can use, the higher the plan with the greater fee.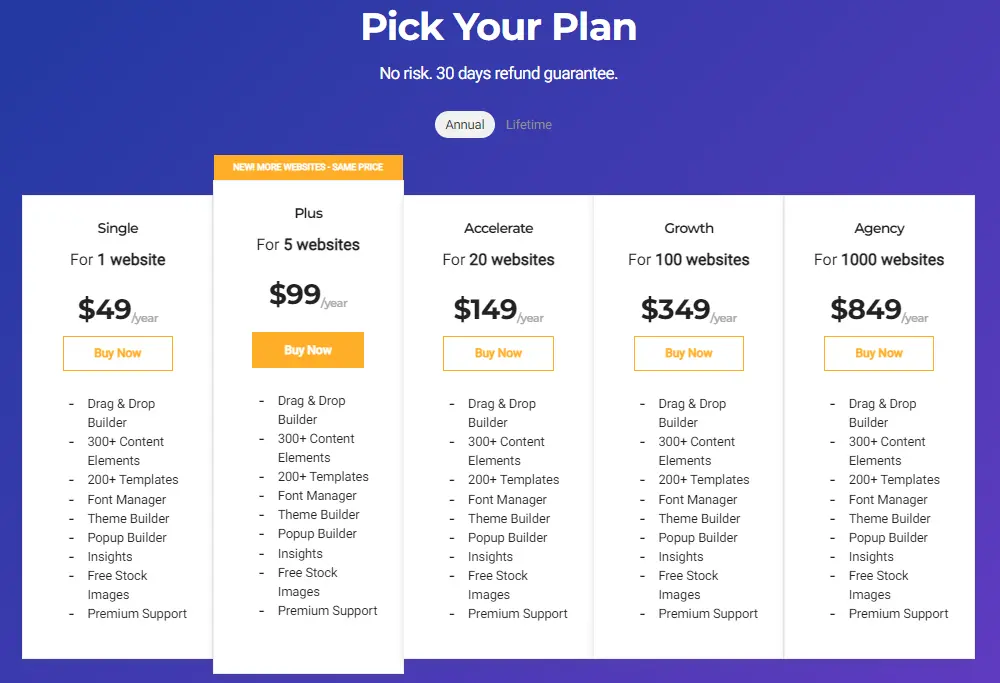 Winner: Visual Composer
Elementor vs Visual Composer are nearly identical in price, but Visual Composer is less expensive. Furthermore, there are features that need consumers to purchase more expensive Elementor packages in order to utilize, therefore the price of Visual Composer is fairly affordable.
Elementor vs Visual Composer: Which One Is Better?
In the competition between Elementor vs Visual Composer, we believe that Elementor is superior to Visual Composer. The fact that over 5 million people trust and download Elementor is not an accident.
The pricing advantage that Elementor provides is far superior to that of Visual Composer. It might be because Visual Composer is still incomplete and missing several components when compared to Elementor.
We hope our Elementor vs Visual Composer comparison helps you choose the best WordPress website builder. We also have an article on Elementor alternatives that you can use as a resource.