Are you considering building a website for your company or personal usage but are unsure of where to begin?
Consider using WordPress, the most widely used content management system in the world (CMS). Without knowing any code, you can use WordPress to build a completely functioning and attractive website.
Moreover, WordPress has a variety of price options to fit any budget, making it available to people and organizations of all kinds. To help you pick the best plan for your website, we'll examine the various WordPress pricing tiers and their individual features in this post.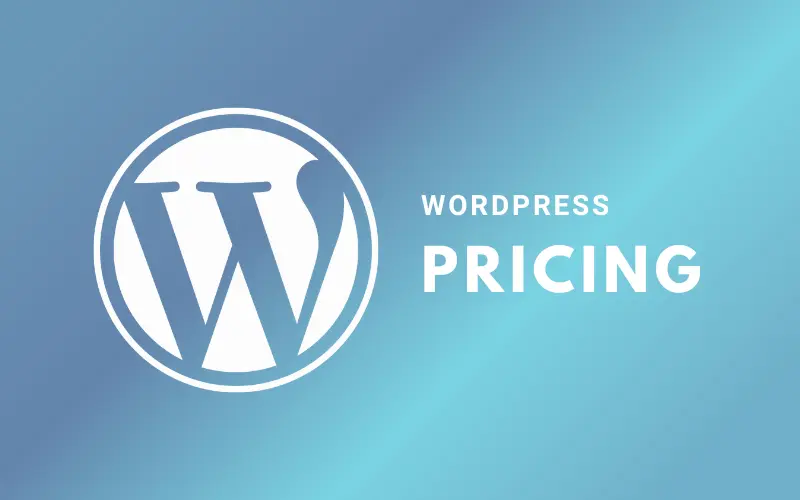 How Many WordPress Pricing Plans Are There?
The five primary WordPress pricing tiers are Free, Personal, Premium, Business, and eCommerce.
In addition, WordPress.org offers a self-hosted alternative that calls for you to buy hosting and set up WordPress on your server. From individual bloggers to proprietors of online stores, each price option has a unique set of features and advantages designed to meet their demands.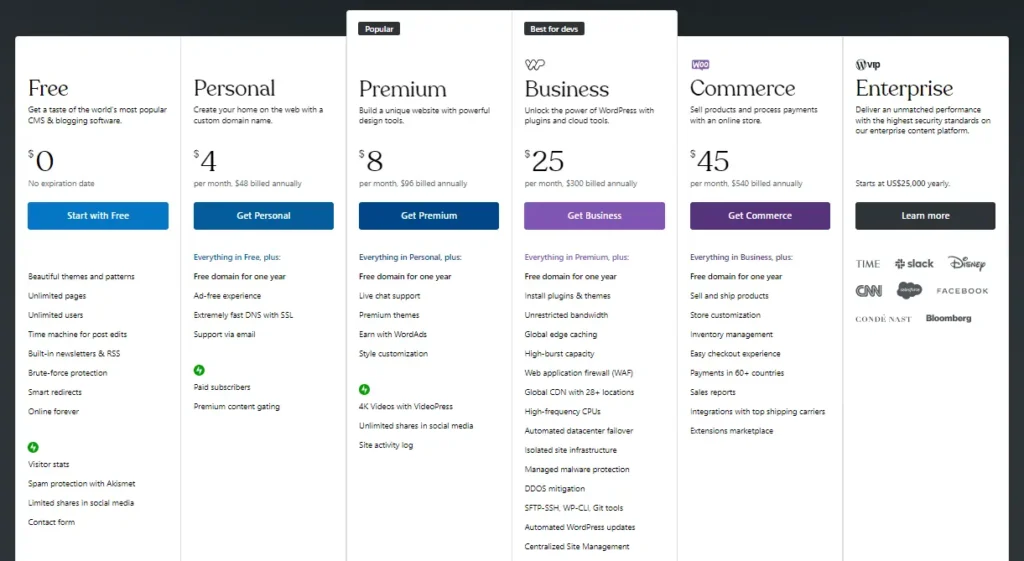 Free
Free WordPress pricing plan includes: Basic plan with limited features.
You may build a simple website with a WordPress.com subdomain using WordPress.com's free plan. You may use the basic Jetpack capabilities and a small number of free themes with the free plan. You may add pages to your site, write and publish blog entries, and utilize some simple customization options. Nevertheless, the free plan has several restrictions, like restricted storage and bandwidth. Moreover, WordPress.com advertisements will appear on your website.
If you want to try out WordPress without having to pay any money, a free plan is a wonderful option. It is appropriate for personal blogs and websites with modest visitor volumes. You should consider upgrading to a WordPress.com premium account if you want to construct a professional website that includes your domain name and additional features. This will allow you to have more control over your website.
WordPress.org provides users with free and open-source software that may be used to create their self-hosted websites. The fees of registering a domain and hosting a website are two independent things. This choice offers you complete control over your website as well as more flexibility; nevertheless, it needs a higher level of technical expertise and more time to set up.
Premium
Premium WordPress pricing plan: $8 per month, includes advanced design customization, more storage and access to premium themes.
The commercial version of WordPress.com, known as Premium, comes with more sophisticated features and capabilities than the free version. For people or small companies that wish to advance their websites, the Premium plan is created. These are some of the main characteristics of the Premium plan:
Custom Domain: Instead of using a WordPress.com subdomain, you may use your own domain name with the Premium plan (for instance, www.yourwebsite.com).
Unlimited Storage: You may upload as many pictures, movies, and other media files as you desire since the Premium plan offers limitless storage.
Advanced Design Customization: You may choose from a larger range of premium themes and use more sophisticated customization features if you choose the Premium package. CSS may be used to significantly alter the appearance of your website.
No Ads: The Premium plan removes all ads from your site, so your visitors won't see any distracting or irrelevant ads.
VideoPress: The Premium plan includes VideoPress, which allows you to upload and embed high-quality videos on your site.
Monetization: WordAds, the integrated advertising platform provided by WordPress.com, allows you to monetise your website. If you'd like, you may even use your own advertising network.
SEO Tools: The Premium plan includes advanced SEO tools that help you optimize your site for search engines.
Priority Support: The Premium plan includes email and live chat support from WordPress.com's support team. You'll also get access to priority support, so your questions and issues will be addressed more quickly.
Business
Business WordPress pricing plan: $25 per month, includes unlimited storage, advanced SEO tools, and the ability to install plugins and themes.
WordPress.com Business is a premium plan for small to medium-sized businesses who desire a modern website. The Business plan includes all Premium plan features and more. Business plan elements include:
Custom Plugins and Themes: With the Business plan, you can install custom plugins and themes, giving you more control over your site's functionality and design.
Google Analytics Integration: You can integrate Google Analytics with your site to track visitor behavior and gain insights into your site's performance.
Unlimited Storage: The Business plan includes unlimited storage space, so you can upload as much media as you need.
Advanced SEO Tools: You get access to advanced SEO tools, including the ability to preview how your site will appear in search engine results.
E-commerce Integration: You can integrate your site with popular e-commerce platforms, such as WooCommerce and Shopify, to sell products directly from your site.
WordPress VIP Support: With the Business plan, you get access to WordPress VIP support, which provides 24/7 assistance from a dedicated support team.
Advanced Security Features: The Business plan includes advanced security features, such as SSL certificates, to protect your site from hackers and other threats.
eCommerce
WordPress.com eCommerce is a plan specifically designed for businesses that want to sell products online. This WordPress pricing plan includes all the features of the Business plan, as well as some additional features tailored for e-commerce sites. Here are some of the key features of the WordPress.com eCommerce plan:
Storefront: The eCommerce plan includes a customizable storefront that allows you to showcase your products in a professional and engaging way.
Payment Gateways: You can accept payments from customers using popular payment gateways like PayPal and Stripe.
Shipping Options: You can set up shipping options and rates for your products, including flat rate, free shipping, and calculate shipping based on weight and destination.
Product Management: You can easily manage your products, including adding new products, editing existing products, and managing inventory.
Tax Management: You can set up tax rates and rules for your products to ensure compliance with local tax laws.
Product Reviews: Customers can leave reviews and ratings for your products, which can help increase sales and build customer trust.
WooCommerce Integration: The eCommerce plan includes integration with WooCommerce, the popular e-commerce plugin for WordPress, which provides additional features and functionality for online stores.
Advanced Analytics: You can track your store's performance with advanced analytics tools that give you insights into sales, customer behavior, and more.
WordPress.org (self-hosted)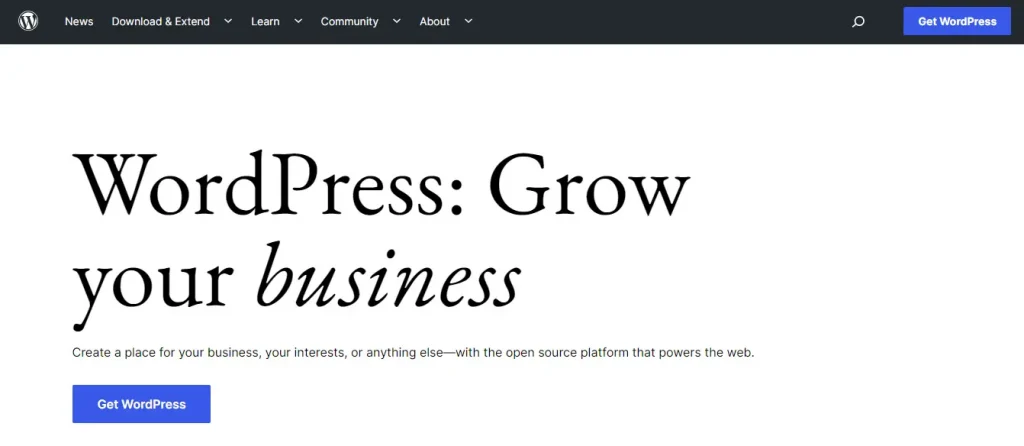 WordPress.org is the self-hosted version of WordPress, which means you need to purchase hosting and install the WordPress software on your server. This gives you complete control over your website, including access to the WordPress code, and the ability to customize your site as much as you want. Here are some of the key features of WordPress.org:
Customization: When you build your site using WordPress.org, you have full control over the look as well as the operation of your website. You have access to hundreds of paid and free themes, and you can install any plugin or write custom code to extend the functionality of your website.
Self-hosted: As mentioned, WordPress.org is self-hosted, which means you have complete control over your server and can choose the hosting provider that best suits your needs.
No Restrictions: There are no restrictions on the type of content you can publish, and you can monetize your site in any way you choose.
Custom Domain: With WordPress.org, you can use your own domain name (e.g. www.yourwebsite.com) instead of a WordPress.com subdomain.
Full Code Access: You have access to the WordPress code, so you can customize and modify your site as much as you want.
Community Support: WordPress.org has a large community of developers and users who provide support and help with troubleshooting issues.
Unlimited Storage and Bandwidth: Since you're hosting your site yourself, you can choose the amount of storage and bandwidth you need.
WordPress Pricing: Conclusion
WordPress offers a variety of pricing plans to fit any website's needs and budget. From the free plan for personal bloggers to the eCommerce plan for online stores, there is an option for everyone. The premium and business plans offer advanced features like custom domains, SEO tools, and priority support, while the eCommerce plan includes payment gateways, shipping options, and WooCommerce integration for online stores.
If you're looking for complete control and customization, the self-hosted WordPress.org is also a great option. Overall, WordPress provides a flexible and powerful platform for creating a website, and its pricing plans make it accessible to individuals and businesses of all sizes. So, choose the plan that suits your needs and start building your dream website with WordPress today!