Creating a website is now easier than ever thanks to page builders such as Elementor.
This software is intended to assist you in creating whatever website you desire using drag and drop. Simply said, you select the modules you wish to add to your website and you're ready to go.
Nonetheless, Elementor may not yet satisfy you in terms of features or pricing. We will provide you with a list of Elementor alternatives in this post.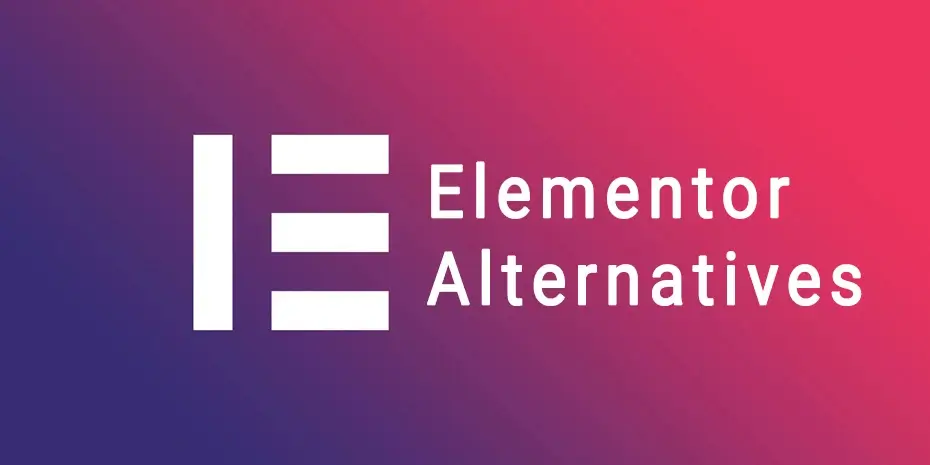 An Overview Of Elementor
Elementor is a drag-and-drop page builder plugin for WordPress. This plugin is an all-in-one solution that lets you manage all aspect of your website design from a single platform.
The biggest advantage is that you can see a real-time preview of your page as you develop it. That means you may experiment with the pieces to construct the page you want without any problems.
In addition, you don't need a website designer or developer since Elementor eliminates any coding needs. Everything is done in the background for you. The goal here is to assist you in quickly and easily creating a website.
Top 10 Elementor Alternatives
Here are the top ten Elementor alternatives that we have researched. Each name on the list below has a more striking feature than Elementor, so you can discover a good alternative for you based on your demands.
Beaver Builder
Beaver Builder is one of the very good Elementor alternatives because it has many similarities with Elementor. You will quickly become acquainted with their user interface and begin using their built-in onboarding tour.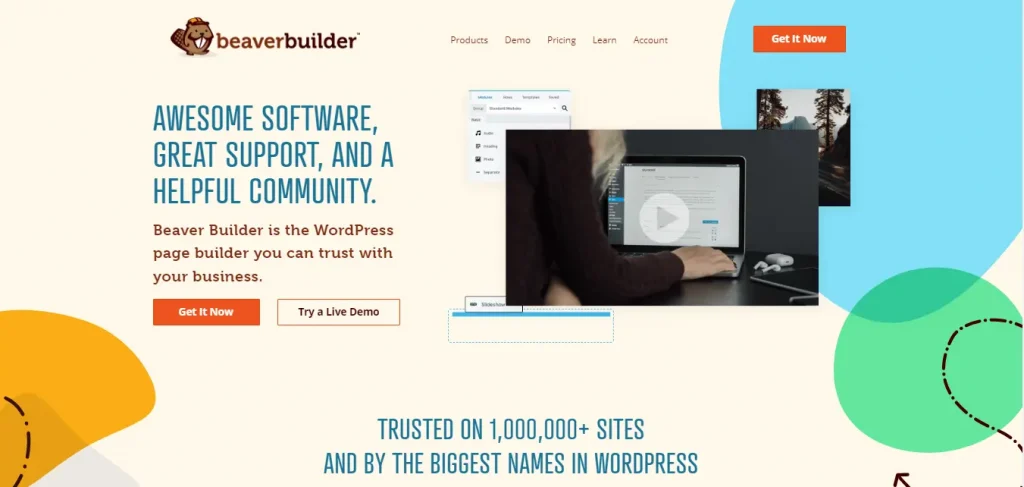 This plugin has a real-time drag-and-drop interface. By dragging and dropping elements from the right sidebar into your website, you can see all of your changes as you make them.
Modules may be used to add sliders, carousels, backdrops, content blocks, buttons, and other features.
It also features over 30 professionally designed landing page templates, making it extremely simple and quick to build outstanding website layouts.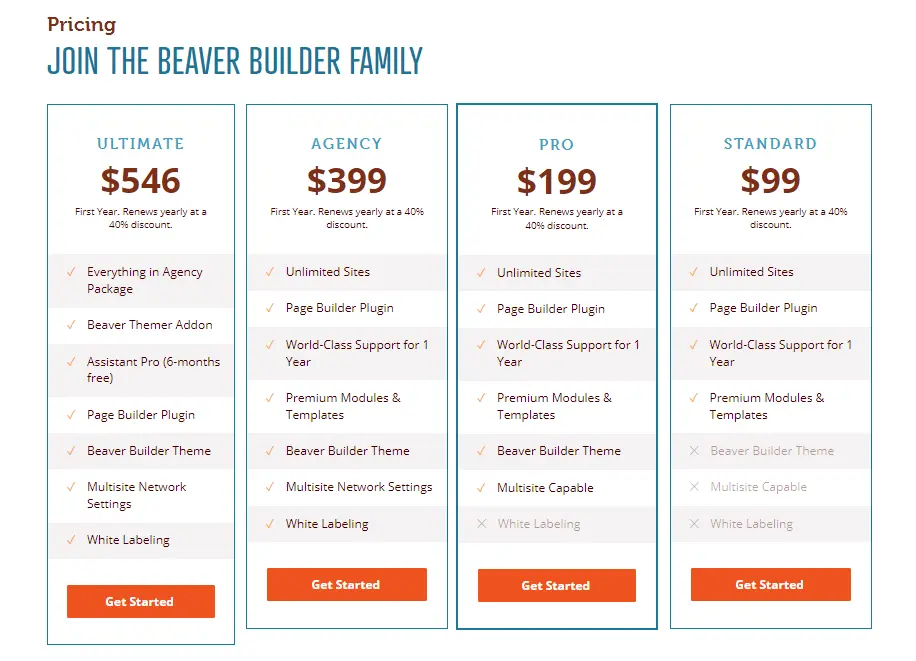 In addition to the free version, this Elementor alternative has a paid version that starts at $99 paid annually. The strength of this plan compared to the Elementor Pro plan is that it allows you to use it for unlimited sites.
You can read our article on Elementor vs Beaver Builder for more information.
SeedProd
SeedProd is another Elementor alternative in the list. It is a premium WordPress theme that also includes a page builder plugin.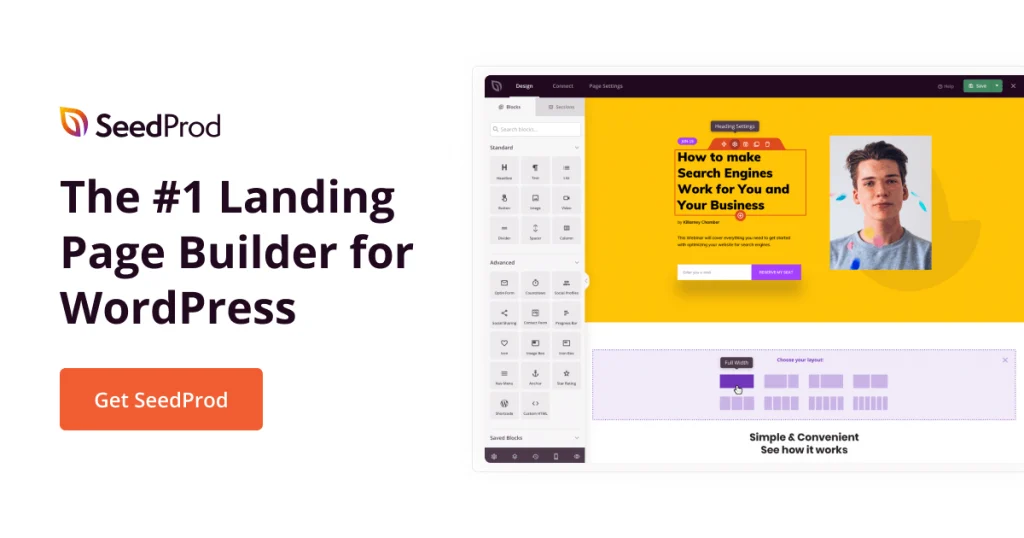 To create a totally customized website design, you can choose from hundreds of appealing pre-made layouts or utilize an easy-to-use drag-and-drop visual builder.
Templates for landing pages, sales pages, thank you pages, webinar registration pages, coming soon pages, maintenance mode pages, 404 pages, and more are all available.
Seedprod was built with speed in mind. It ensures that your pages load quickly, helping you to rank better in search engines.
This Elementor alternative employs a clever design technique that allows you to save time by recycling pieces rather than performing repetitive tasks. There are color schemes, font combinations, page layouts, custom blocks, sections, and other options.
SeedProd has all of the page builder blocks and features you'd expect, including opt-in forms, social profiles, countdown timers, contact forms, buttons, and a variety of content blocks.
The best part is that some of these blocks have pre-made templates, which allows you to speed up the creative process by customizing your favorite block designs (1-click).
All major WordPress themes and plugins are compatible with SeedProd. This amazing Elementor alternative also offers subscriber management and may be easily linked with well-known email marketing platforms like MailChimp, ActiveCampaign, ConvertKit, and others.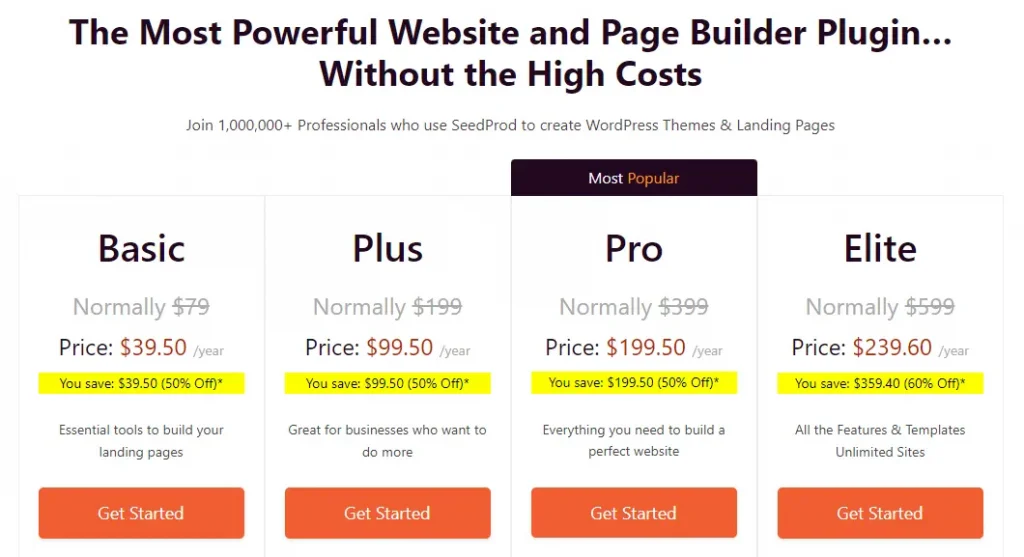 The Pro version of this plugin starts at $39.50 per year for one site.
If you want to know more details, you can read our article about Elementor vs SeedProd.
Divi
Divi is one of the best Elementor alternatives.  It is really simple to use and includes hundreds of style packs for various types of websites.

By just clicking on your page, you may begin editing in real-time with a live preview of all your changes. As a result, you do not need to save and then evaluate your new design.
You can drag and drop hundreds of content modules into your layout using Divi. This Elementor alternative enables you to arrange these modules into various sections and row kinds. You can also customize each aspect using the sophisticated design settings.
Divi enables you to swiftly create any type of custom page layout. You can then save these layouts for future use on your site. It is also possible to export a layout from one Divi installation to another.
The Divi Builder plugin serves as the backbone of the Divi theme, but it also works well with any other popular WordPress theme.
Best of all, this Elementor alternative has very reasonable price choices. The Divi theme, the Divi page builder plugin, and all other Elegant Themes products are available for a single purchase. This implies that you can use the Divi Builder plugin or the Divi theme on any other theme.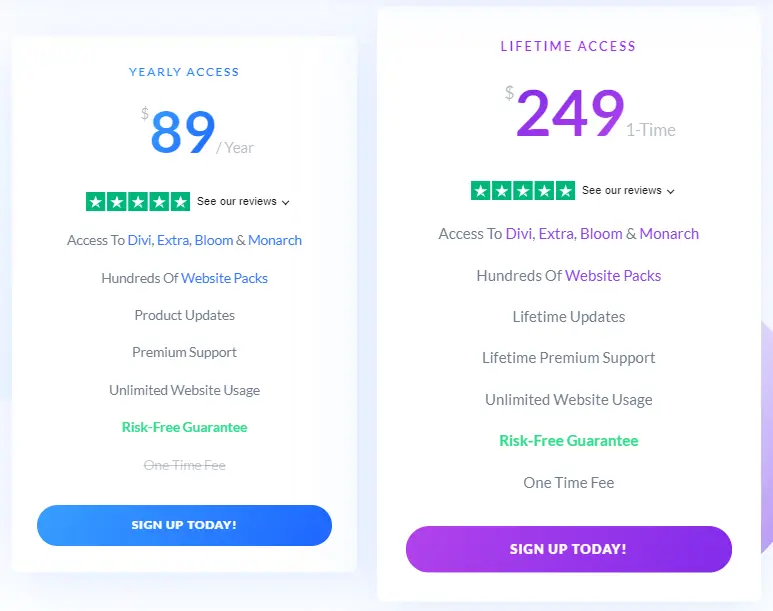 The Pro edition of Divi includes two pricing options: yearly or one-time. We recommend that you purchase the yearly premium subscription first to get a feel for the plugin before deciding to purchase the lifetime plan.
We have analyzed more closely Elementor and Divi in the article Elementor vs Divi so that you can better understand both.
Brizy
Brizy is one of the finest Elementor alternatives if you work for a web design company that creates websites for clients, since it offers a one-time payment option and a white label capability that allows you to replace the Brizy logo with your company's brand.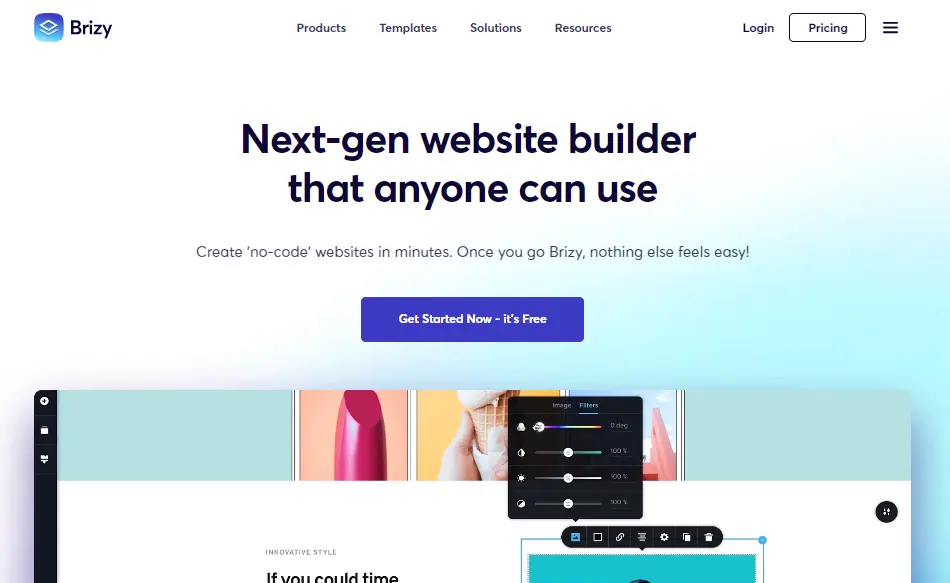 Brizy includes a sidebar interface, similar to Elementor. This Elementor alternative supports full responsive design, allowing you to customize your website for all screen sizes.
It is a wonderful option if you're searching for a simple and inexpensive page builder. Even with the free edition, you can construct your website in minutes utilizing over 500 pre-made blocks. Then you may start gathering leads on your new site by integrating your chosen marketing tool.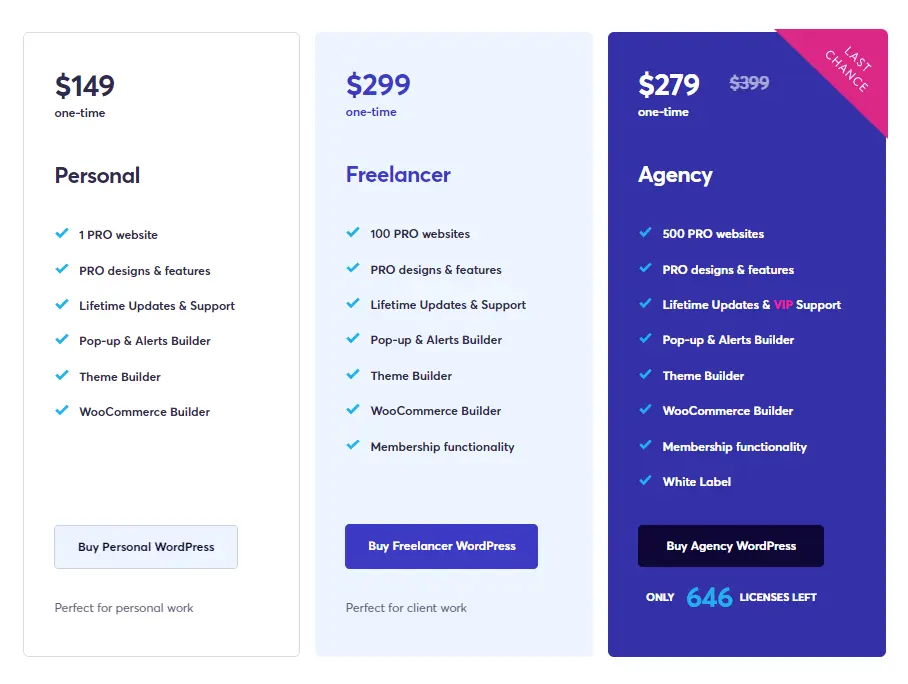 Brizy offers three options for yearly and three more for lifetime.
If you want to know more about these two plugins, then read our article on Elementor vs Brizy.
Visual Composer
Visual Composer is an Elementor alternative that allows you to quickly design custom website layouts.

This Elementor alternative contains a simple drag-and-drop builder, pre-built content pieces, professional themes, and a boatload of additional complex website-building features.
It provides a plethora of design options for customizing the appearance of each element on your page. Trendy backgrounds like as parallax, gradient, slideshow, carousel, zoom in/out, video, and so on may be easily added. It also includes editable rows and columns for creating grid layouts on your website.
Visual Composer is compatible with all WordPress themes. This allows you to switch themes without losing any custom layouts created using Visual Composer.
There is also support for the new Gutenberg editor, Google Fonts, and Yoast SEO.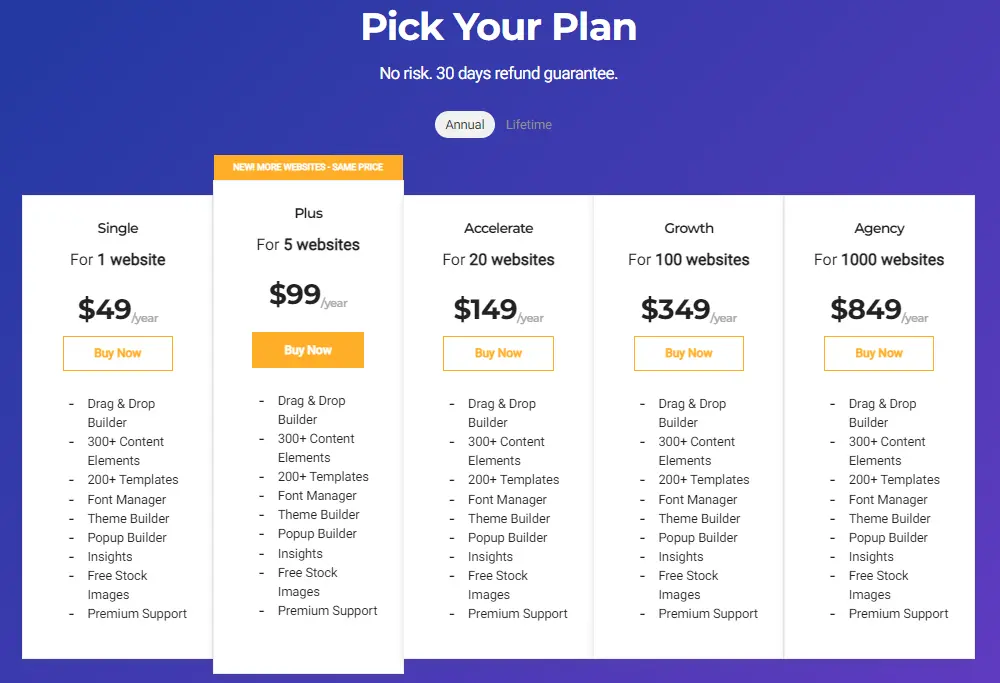 Visual Composer provides a variety of bundles, with the only variation being the number of websites that can be used. The most affordable package is $49 per year for one site.
You can read the detailed comparison between these two plugins through the article Elementor vs Visual Composer.
Thrive Architect
Thrive Architect is an Elementor alternative that is simple to use and does not consume your precious time and efforts.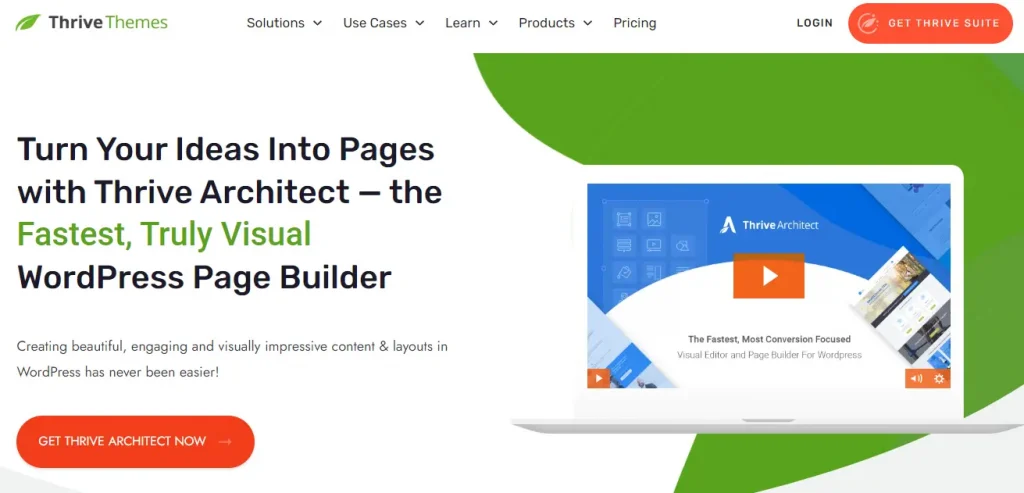 As a company owner, you can use this Elementor alternative to develop a website that produces new leads. You may engage visitors with action buttons, countdown timers, contact forms, and other conversion-focused components.
Its ability to create landing pages with pre-made templates is very convenient for marketers to run advertising campaigns.
In addition, Thrive Architect has a comprehensive ecosystem including: Thrive Architect, Thrive Quiz Builder, Thrive Leads, Thrive Apprentice, Thrive Ultimatum, Thrive Ovation, Thrive Optimize, Thrive Comments and Thrive Automator.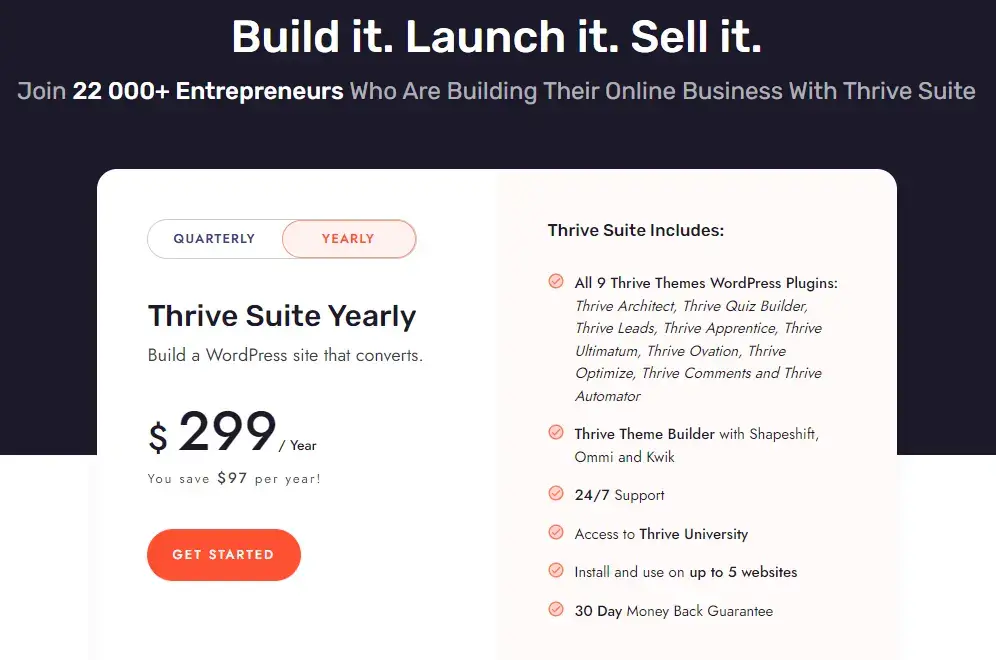 It's Pro subscription costs $299 per year or $99 quarterly and offers access to the ecosystem's 9 WordPress plugins as well as the opportunity to use up to 5 websites. If you only have one website, we do not advocate utilizing this plugin.
We have a more detailed analysis article about Elementor vs Thrive Architect.
Oxygen Builder
Oxygen is like Beaver Builder, a good Elementor alternative in terms of price.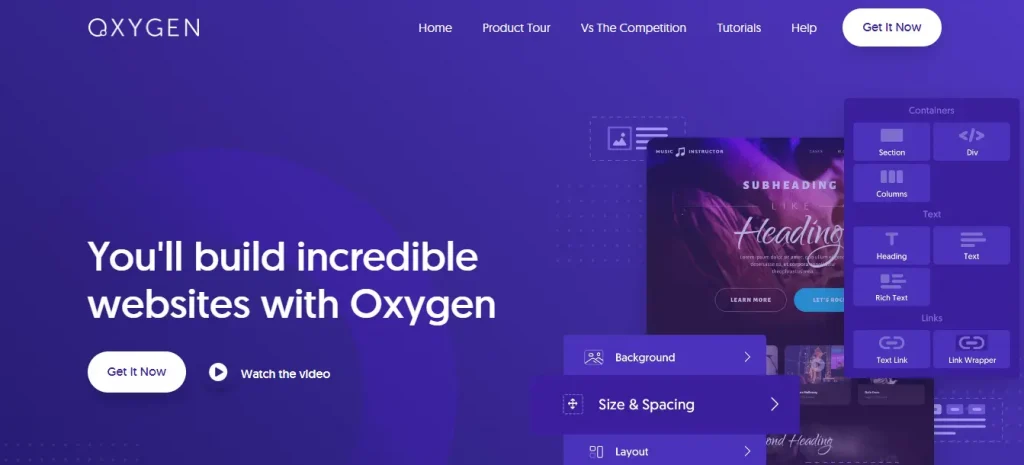 When developing a WooCommerce store, Oxygen might be very beneficial. This Elementor alternative includes over 20 e-commerce features that allow you to modify every aspect of your business, such as shop pages, specific goods, and checkout pages.
For the most part, you won't be able to interfere with the design system when working with other builders. This might make you feel constricted and confined at times.
However, with Oxygen Builder, you have complete control over the design. You can create any fresh and modern appearance and feel you want with just a little html, CSS, and JS knowledge.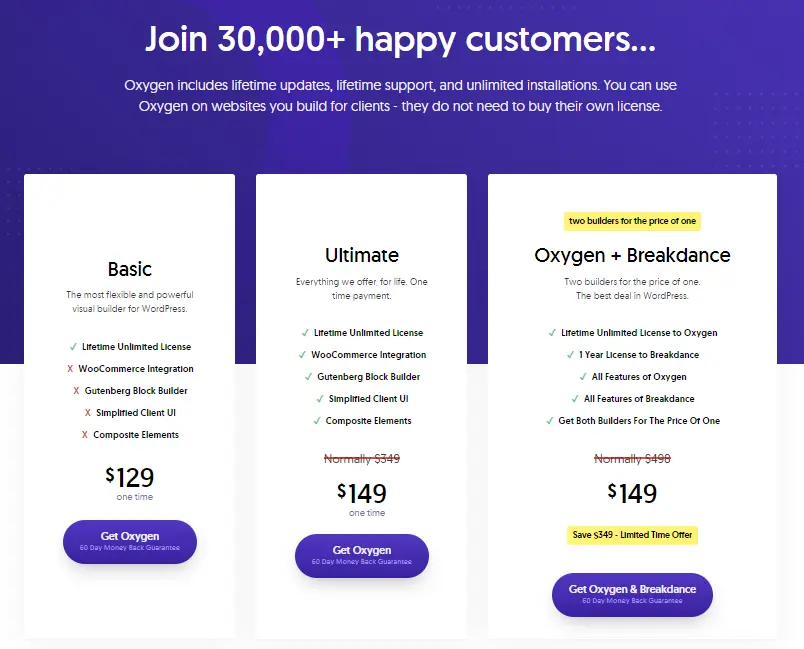 You already own this plugin in permanence with Oxygen's Basic bundle and can use it on as many websites as you like. Also, for an extra $20, you can get Oxygen with Breakdance, which saves you a lot of money and comes with two amazing plugins.
Read our article on Elementor vs Oxygen for more details.
WP Page Builder
WP Page Builder is an Elementor alternative that You get access to all of the features you'd expect from a good page builder.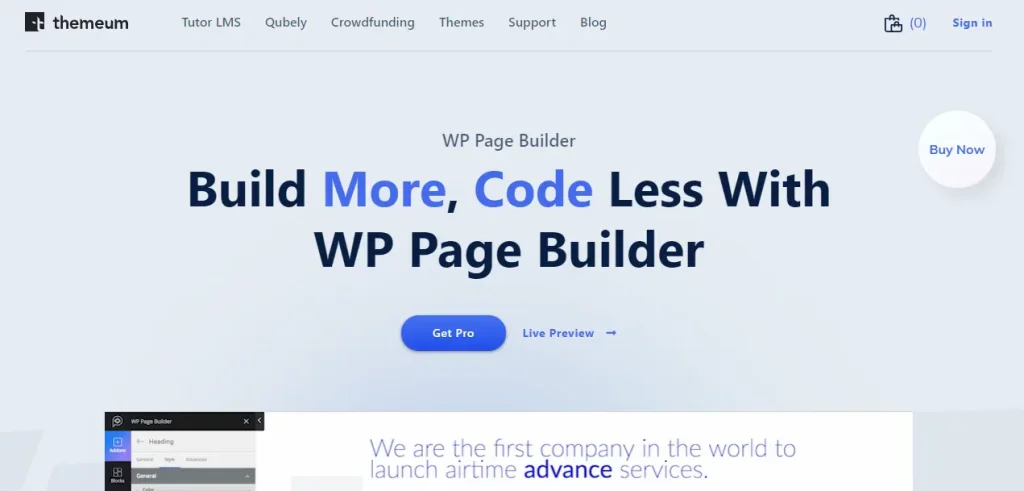 Its real-time drag-and-drop editor allows you to design simple or complex layouts without programming. This user-friendly interface might be extremely useful for new WordPress website owners.
WP Page Builder includes over 38 addons for adding buttons, contact forms, and feature boxes to your content. Create reusable layouts and duplicate any element with a single click to speed up your productivity. Designers with more skill can even create their own extensions for advanced functionality.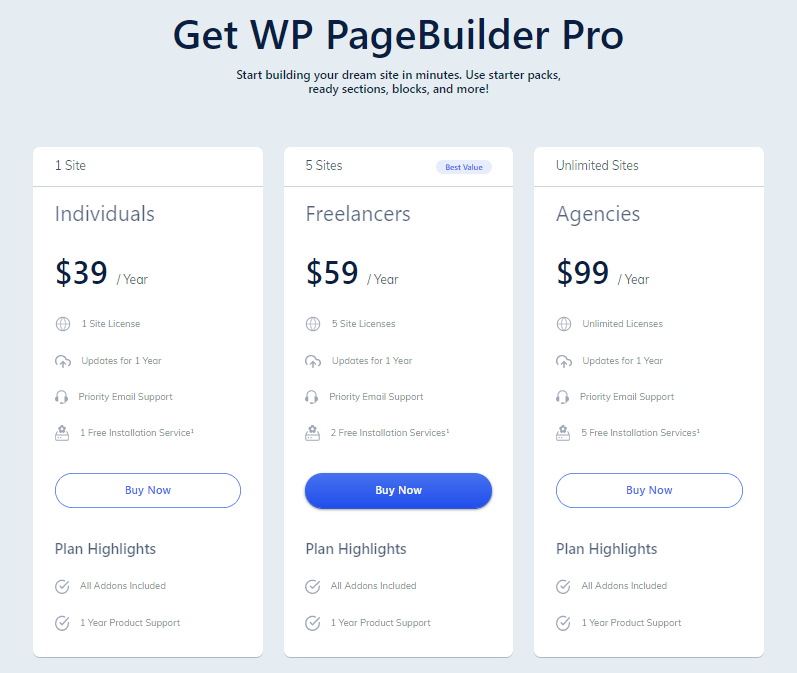 You can use this Elementor alternative on a website for $39 per year.
You can read our Elementor vs WP Page Builder comparison article to get a better overview.
Themify Builder
Themify Builder is a powerful and intuitive Elementor alternative. You can manage the appearance of your pages using this page builder by inserting modules and modifying their layout in rows and columns.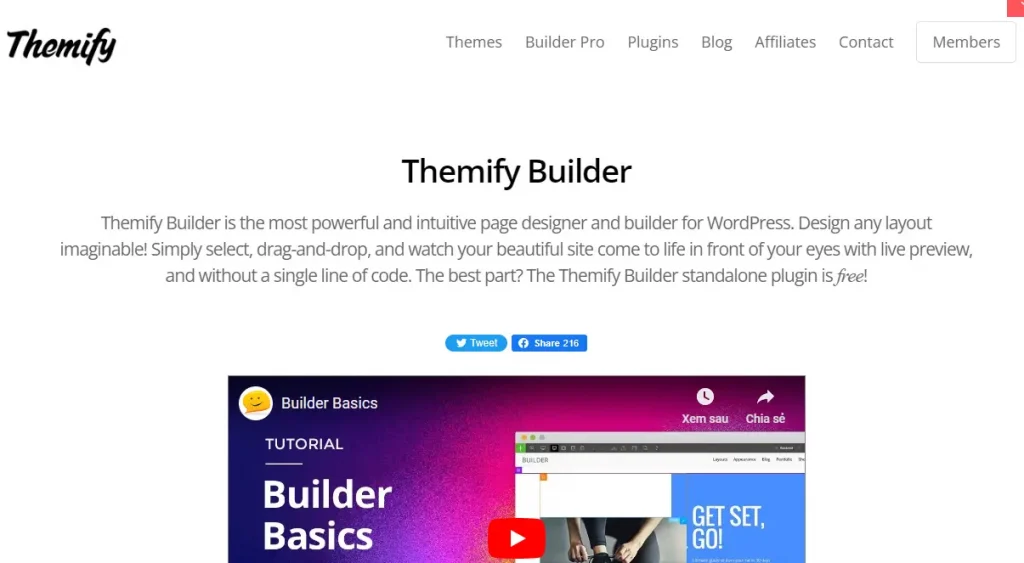 Furthermore, all Themify themes include the Themify Builder. If you locate a Themify choice that suits your requirements, you won't need to look for a third-party page builder plugin. This can be a cost-effective method of keeping your core website-building tools compliant and working.

The pro version of this Elementor alternative costs $69 per year. This plan includes Builder Pro and all 25 Builder Addons.
You can learn more about these two plugins in our Elementor vs Themify article
SiteOrigin Page Builder
SiteOrigin Page Builder is the last name on our list of Elementor alternatives.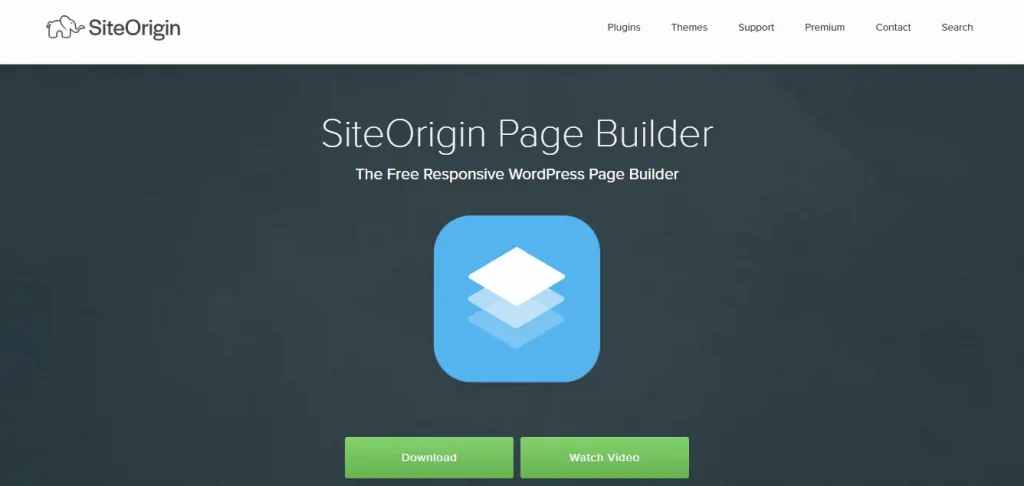 SiteOrigin's feature is that it builds pages using widgets; just drag and drop the built-in widgets to create pages; you can also drag and drop widgets from other plugins. There are several SiteOrigin Page Builder Addons available to add extra widgets to help diversity the designs.
This Elementor alternative is SEO friendly and can create pages with complicated designs. And the best thing about this page plugin is that it is completely free.
If you want to learn more about these 2 plugins, then read our article on Elementor vs SiteOrigin.
Conclusion
In this article, we have given you a few Elementor alternatives. These page builders are largely superior to Elementor in certain ways, but in our opinion, Elementor is still the greatest WordPress plugin.