Elementor is a drag and drop page builder for WordPress. It allows users to add content quickly and easily without writing code.
This is a great plugin, but sometimes it won't work the way you want it to. Sometimes Elementor not loading and you need to fix it to keep working.
In this article we will guide you step by step to solve the problem when Elementor not loading.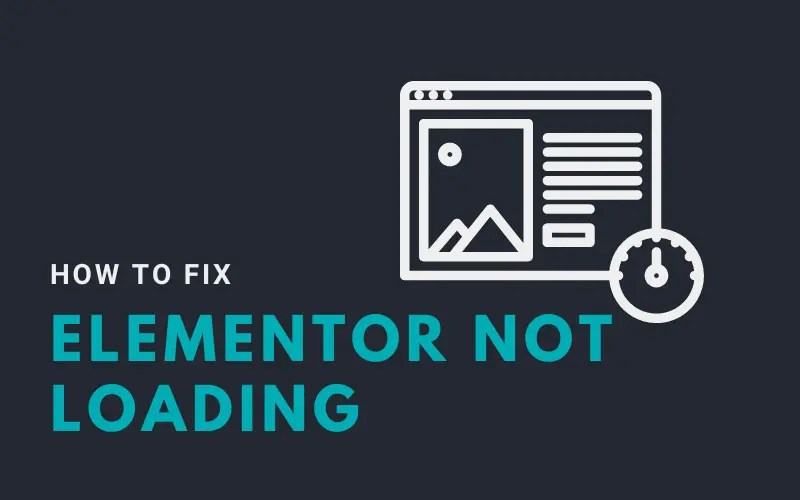 Why Elementor Not Loading?
Before we get into the specifics of what might go wrong with Elementor, it's vital to define the "not loading" issue. When you launch the Elementor editor, this issue occurs.
The editor usually loads in a matter of seconds. If the editor becomes stuck on the loading screen, you're most likely dealing with a problem. This is not the same as the editor failing to load or receiving an HTTP code. Aside from Elementor not being able to load, your website should be fully operational in this situation.
Elementor may fail to load if your server does not fulfill the plugin's requirements. You might possibly be using a plugin that is incompatible with Elementor. In the following sections, we'll go through Elementor's prerequisites and how to troubleshoot the Elementor not loading problem.
How To Fix Elementor Not Loading
Here we will guide you 5 simple ways to fix Elementor not loading error.
Update Elementor
It's possible that Elementor not loading because you're using an old version of the plugin. Outdated plugins may interfere with other tools or the most recent version of WordPress.
Go to Plugins > Installed Plugins and search for the builder to see if your Elementor is up to date. If you have a premium license, both Elementor and Elementor Pro should appear in your plugins list.

If you receive a notification regarding a newer version of Elementor, you must perform the appropriate upgrades. Then try again to access the editor.
Check for plugin conflicts
It is not rare for plugins to clash with one another. This frequently occurs when you have many plugins with overlapping functionality or conflicting code.
Detecting plugin conflicts can be difficult. Your best approach is to try each plugin individually to see if any of them is causing Elementor to fail to load. You should perform this on a staging website since removing critical plugins will affect the functioning of your site.
To begin, navigate to Plugins > Installed Plugins. Then, working your way down the list of active plugins, disable them one by one. After disabling each plugin, refresh the Elementor editor to test if it works properly.
If deactivating a certain plugin or add-on has no effect while launching the Elementor editor, you can reactivate it. The idea is to evaluate each plugin individually to discover if any of them are causing compatibility problems.

Switch Elementor loader method
Elementor has built-in functionality that allows you to customize how the plugin loads the editor. Changing Elementor loading methods should have no effect on you, but we propose it as a last option if no other debugging strategy is working.
To edit the loading methods in Elementor, click to Elementor > Settings > Advanced. Then, find the Switch Editor Loader Method option and enable it.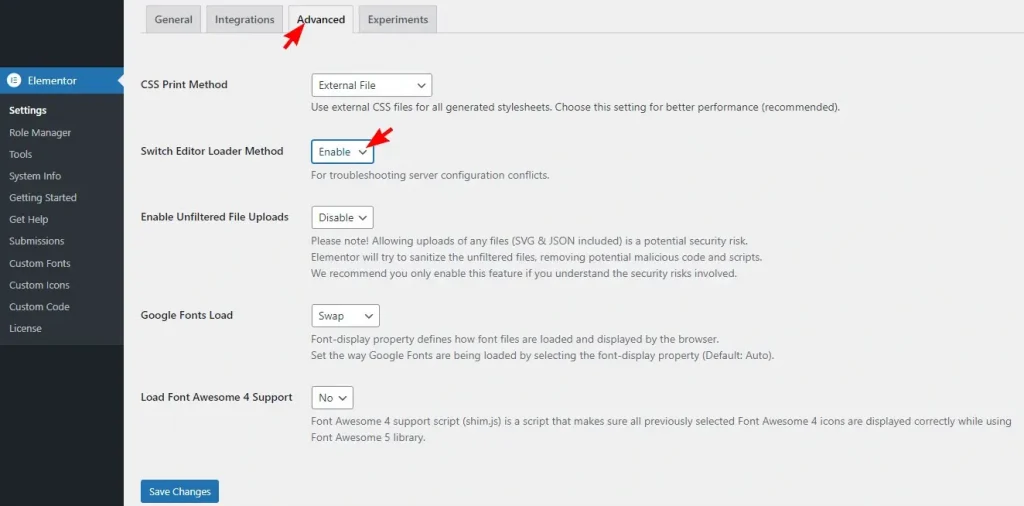 Switch themes
The majority of popular WordPress themes have been tested with major page builder plugins. However, we urge that you read the description of each theme to ensure that it includes compatibility with Elementor.
If your current theme isn't Elementor-friendly, upgrading themes may fix your page builder issues. In any event, switching themes takes barely a minute, so it's worth a try if you're having trouble with Elementor.
Disable add-ons
Browser add-ons can create problems on a page-by-page basis in some instances. For example, you may employ a script-blocking add-on or an extension that adds custom code to select websites.
Some of these add-ons may create issues when attempting to utilize Elementor. To see if this is the case, try using Elementor with a fresh browser installation.
If the errors go away, you'll need to figure out which browser extension is causing the issue. This entails deactivating extensions one by one until the offender is identified.
Elementor Not Loading: Conclusion
If you use Elementor to develop and update your website, having the editor fail to load might throw a major kink in your plans. The editor may fail to load for a variety of reasons, the most common of which are system requirements or plugin compatibility difficulties.
We hope that after reading this post, you will be able to deal with the scenario where Elementor not loading.