Are you on the fence about using Elementor vs SeedProd as your website's WordPress website builder?
Elementor is one of the most popular page builders for WordPress today. Despite the fact that it was only released in 2016, this plugin has swiftly surpassed five million installs.
SeedProd, like Elementor, is a well-known plugin that is widely used and trusted. SeedProd is used by over one million professionals to design custom WordPress themes and website layouts.
Then, which is better, Elementor vs SeedProd? In this article, Wplegible will compare these two website builder plugins so that you can easily choose.
Elementor vs SeedProd: Overview
Elementor and SeedProd are two of the greatest WordPress drag-and-drop page builders and theme builders. They allow you to personalize your site without having to modify code.
We used the premium versions of all the plugins for our comparison, so you can see all of the features and integrations each have to offer.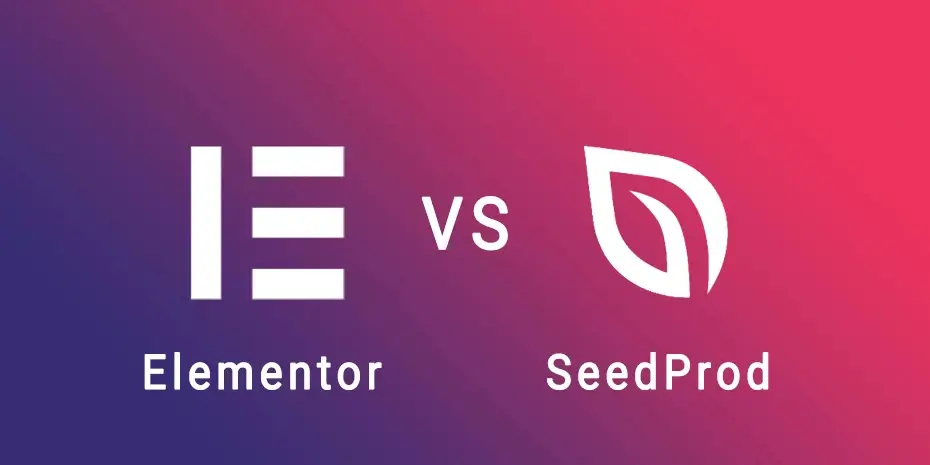 Elementor: Overview
Elementor, which was released in 2016, is one of the most popular WordPress website-building systems. It has more than 5 million active users from 180 different countries.
Elementor is a drag-and-drop page builder plugin. This plugin is a one-stop shop for managing all aspects of your website design from a single platform.
The most significant benefit is that you can see a real-time preview of your page while you work on it. That means you can play around with the components to create whichever page you desire.
Furthermore, because Elementor eliminates the necessity for coding, you don't require a website designer or developer. Everything is taken care of in the background for you. The purpose of this page is to help you quickly and easily create a website.
SeedProd: Overview
Similar to Elementor, SeedProd is a WordPress theme builder and landing page plugin for beginners. SeedProd is used by over 1 million professionals to design custom WordPress themes and website layouts.
Simply drag any block from the left side of the screen to your page preview on the right. You'll be able to view the changes you make in real time from there.
Elementor vs SeedProd: Ease Of Use
When selecting a website builder, it is critical to use a tool that is user-friendly and geared for non-technical individuals.
It should allow you to effortlessly change your WordPress theme and landing pages without editing any code.
Elementor: Ease of use
Elementor has a theme and landing page builder that can be dragged and dropped. It offers several items in a menu on the left that you can easily drag and drop onto your template.
You can also select responsive mode, which allows you to transition between desktop and tablet or mobile views. This helps in the customization of your theme for various devices.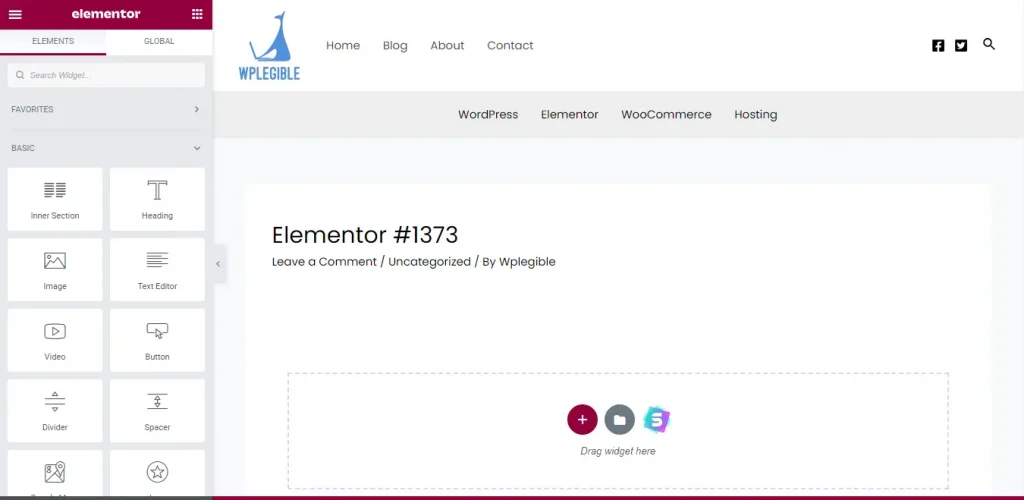 The builder might be confusing at first for newbies. There are several elements to pick from, and clicking on any piece on the template brings up further customization possibilities.
However, once you've mastered it, Elementor's website builder is simple to use.
The one disadvantage we discovered was that there is no easy method to reverse or redo the modifications you made to the page, other than reading through the revision history and undoing your changes. When it comes to personalizing landing pages or themes, this may be both annoying and time-consuming.
SeedProd: Ease of use
SeedProd's drag and drop website builder is also incredibly simple to use. It is a plugin that allows you to develop designs from scratch without being constrained by the design of your theme.
Drag and drop different pieces from the menu on the left onto the template to add them.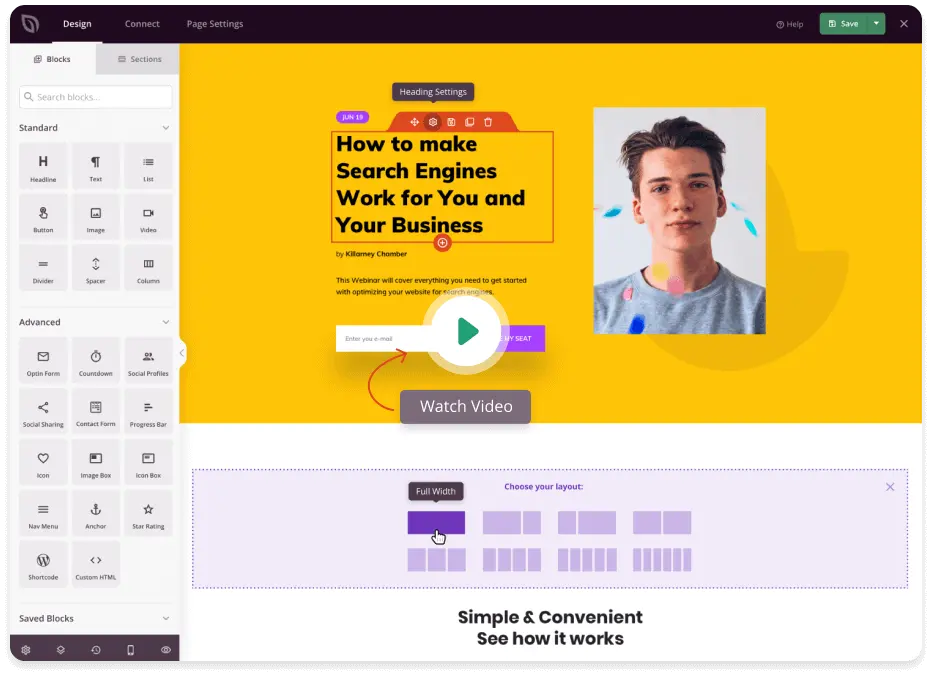 Customizing the appearance of your site is simple using SeedProd's theme builder. It is designed for non-technical users and assures that anybody can personalize their site without having to edit code.
You can also view the revision history and undo prior changes with a single click. There's also a draft mode, which allows you to change a page secretly without revealing that it's being built.
The constructor is also fast and was created with speed in mind. It will not clog or slow down your website.
SeedProd also makes it simple to create a coming soon page, maintenance mode, and 404 error landing sites. In this manner, you can generate interest in your new website or notify search engines that your site is presently being updated.
Winner: SeedProd
Both Elementor and SeedProd provide a no-code, drag-and-drop website builder for WordPress that is simple to use. Each website builder is designed with beginners in mind, making it incredibly simple to construct gorgeous website themes and landing pages.
However, SeedProd wins this category due to its simple revision history.
Elementor vs SeedProd: Customization Features
Another significant consideration when choosing a website or landing page builder is the amount of customization available.
It is critical to use a program that provides you with complete control over the design of your themes and pages.
Here are some of the customization options provided by Elementor vs SeedProd.
Elementor: Customization features
Elementor has over 300 designer-created templates. Simply select a template, enter your content, change the design, and make it your own. You can modify every aspect of your site's design using Elementor.
One of the most significant advantages is the ease with which any form of website can be created. Elementor can help you create a blog, a media site, a health, creative, portfolio, or company website, and it even comes with some templates and ideas to get you started.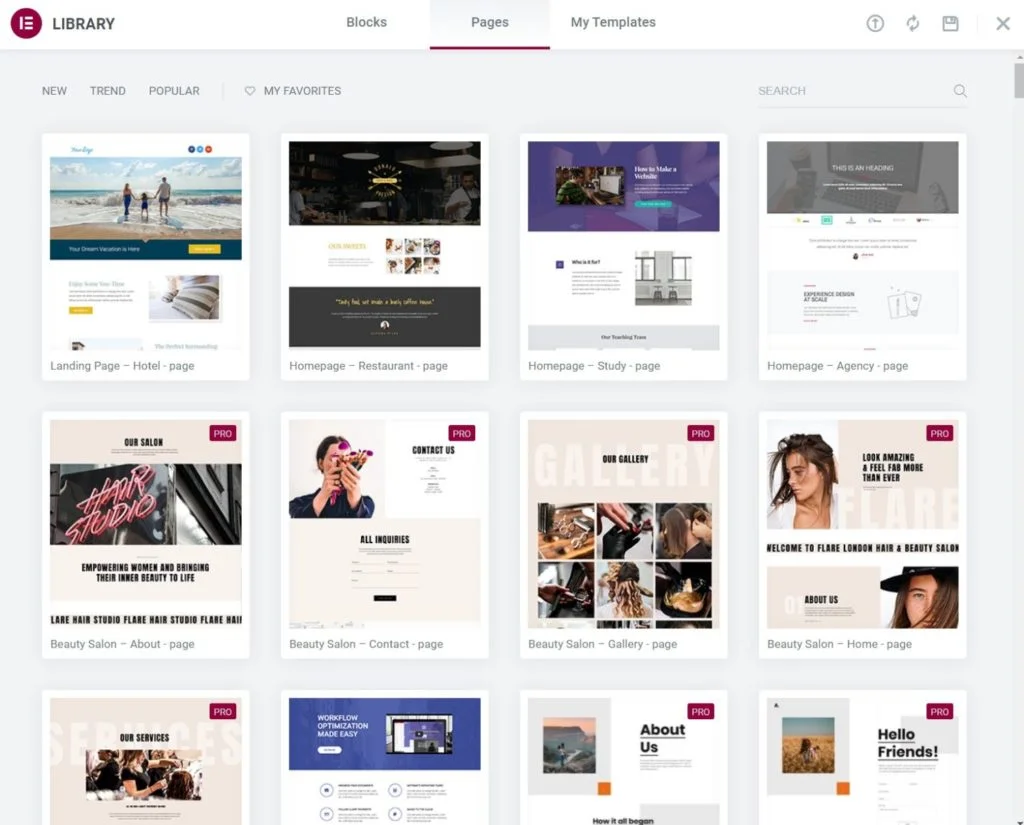 You can also use 100+ widgets, which means you have a lot of customization and control over how your website appears in the end. Add to that the reality that there are hundreds of templates, and nothing is as daunting as you may think.
Aside from that, Element has advanced customization features. For example, you can customize the style and behavior of your site by adding custom CSS, custom code, uploading your own fonts and icons, and more.
SeedProd: Customization features
SeedProd provides more than 20 website theme templates and 150+ landing page themes. You can also select from over 20 pre-configured color schemes, or design your own from scratch.
Each website theme template includes layouts for several pages and parts, such as the homepage, a single blog post, a header, and a footer.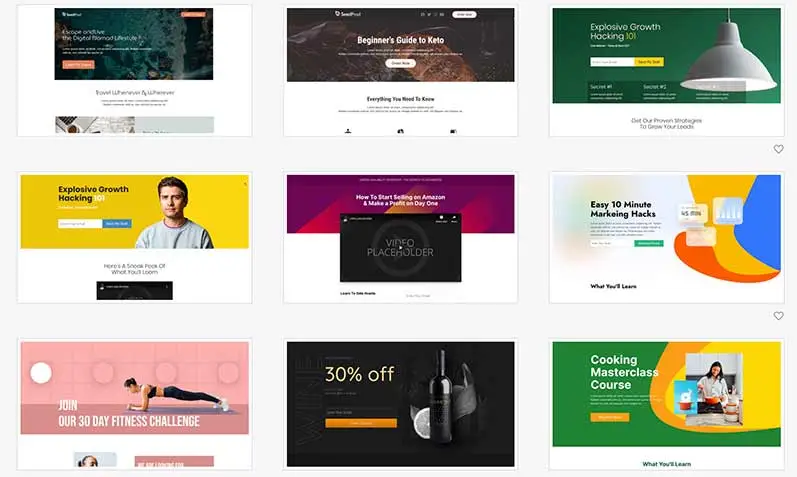 What separates SeedProd from Elementor is that it does not rely on your WordPress theme for appearance or functionality. It operates independently of WordPress themes and provides you with total control and independence over the appearance and style of your theme.
You can also use over 80 different blocks to further modify your WordPress themes and landing sites. For example, you could add a site logo, post navigation, headlines, and content, as well as sophisticated blocks such as contact forms, opt-in forms, giveaways, icons, progress bars, and more.
Aside from that, SeedProd provides WooCommerce blocks, allowing you to effortlessly personalize your WooCommerce store. It even connects with Google Fonts to provide even more customization choices for your website.
Winner: Tie
Each WordPress website builder, whether Elementor or SeedProd, provides a wide selection of customization choices. You can select from a variety of themes and landing page templates.
You can also choose any element in the template and change its style, color, and appearance. They also provide advanced customization possibilities via custom CSS and code snippets.
Elementor vs SeedProd: Intergrations
Integrating your WordPress landing page and theme builders with other WordPress plugins and third-party solutions is critical for providing extra functionality and assisting you in meeting your business objectives.
You can, for example, link email marketing services to gather leads and establish an email list, use SEO tools to improve your sites for search engines, or integrate social media networks.
Let's look at which tools and plugins Elementor vs SeedProd support.
Elementor: Intergrations
Elementor interfaces with a variety of email marketing providers, including AWeber, Drip, MailChimp, ActiveCampaign, Sendinblue, and ConvertKit. You can also integrate Elementor with customer relationship management (CRM) tools such as HubSpot.
Elementor also works with a variety of WordPress plugins, including WooCommerce. The drag and drop builder also includes several WooCommerce features.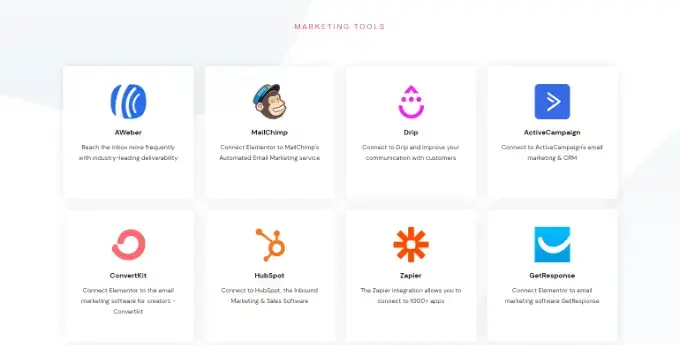 To select an Elementor integration, first provide the API key for your selected service in the Elementor plugin settings.
After that, you can use the drag and drop builder to insert a signup form into your WordPress theme or landing page template. Only then will you be able to choose your email service from the Actions After Submit dropdown menu.
It also works with other eCommerce plugins such as MemberPress and LearnDash.
Finally, Elementor connects several social services such as Facebook SDK, YouTube, Vimeo, Google Maps, SoundCloud, Slack, and others.
SeedProd: Intergrations
SeedProd also integrates with a broad selection of premium third-party products and WordPress plugins.
To gather and manage email subscribers, for example, you can integrate it with Drip, Constant Contact, and other email marketing solutions.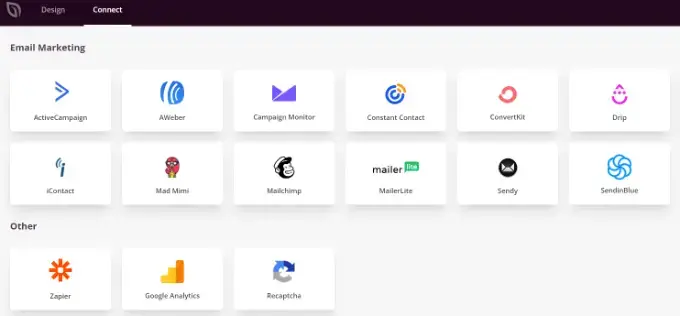 SeedProd integrates with WPForms to allow you to add any form to your website pages. It also supports WooCommerce integration and allows you to add WooCommerce blocks to your template.
SeedProd also connects with Google Analytics, allowing you to track website traffic. You can also use Zapier to integrate Recaptcha to your landing pages.
What distinguishes SeedProd from Elementor is the ability to link email marketing providers within the theme or landing page builder. There is no need to leave the drag-and-drop builder in order to enter the API key and link your email marketing provider.
Winner: SeedProd
When it comes to integrations, Elementor vs SeedProd are neck and neck. Both tools provide a large number of third-party products and WordPress plugins for integration.
However, SeedProd is our winner because connecting email marketing providers and third-party applications is considerably easier and faster with SeedProd than with Elementor.
You do not need to exit the theme or landing page builder to enter API keys. It presents multiple email marketing providers in a separate tab within the website builder, avoiding the need to do extra steps to integrate each service.
Elementor vs SeedProd: Customer Support
While using a WordPress website builder, you can become stuck or want assistance at times.
This is when having great customer service comes in handy. You can handle your challenges and achieve the greatest results for your organization with the right assistance and tools.
Here's how Elementor vs SeedProd compare in terms of user assistance.
Elementor: Customer support
Elementor provides several choices for users who want assistance or need to contact customer service. They provide a comprehensive and well-organized help center where you can obtain information on many issues.
For example, you can view installation instructions, how to build a new page, learn more about its capabilities, and how to utilize various widgets.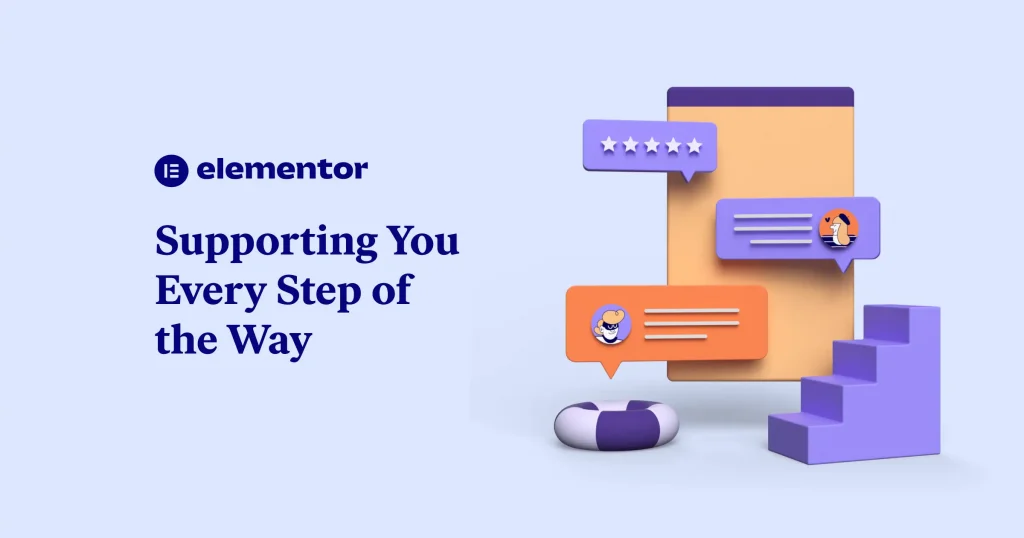 Elementor also has a guidelines and tutorials section where you can access a variety of videos on various themes. You can even take classes to learn how to use Elementor for other objectives, such as developing a portfolio or opening an online store.
If you own Elementor Pro, you get access to premium assistance 24 hours a day, seven days a week. Simply fill out a support ticket, and a support person will get back to you.
SeedProd: Customer support
SeedProd provides customer help via a comprehensive knowledge library, which includes tutorials and guidelines for getting started, learning more about different features, and fixing various difficulties.
The plugin also provides help via a ticketing system. You can submit a ticket, and a team of WordPress specialists will assist you.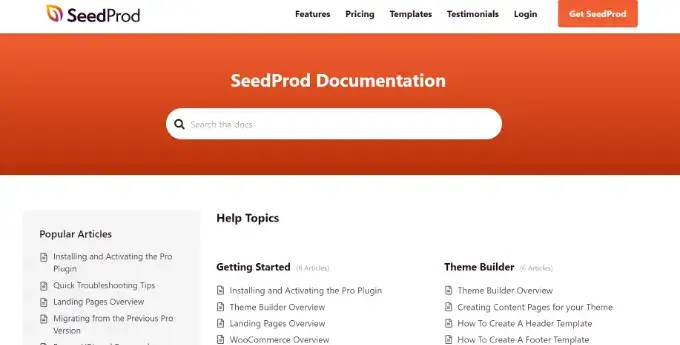 Winner: Elementor
Both Elementor and SeedProd provide great customer support options. Elementor has a plethora of documentation, videos, courses, and other resources. SeedProd, on the other hand, provides extensive documentation and premium ticket assistance.
Furthermore, with 24/7 help and live chat with the support team, Elementor's support skills have stood out.
Elementor vs SeedProd: Pricing
Pricing is another key thing to consider when choosing a WordPress website builder. Let's look at the pricing plans offered by Elementor vs SeedProd.
Elementor: Pricing
The free Elementor version that is often used on WordPress is functionally limited. Aside from the free edition of Elementor, there are several more options available.
Elementor Pro offers four plans to pick from, depending on your intended use. The plans are essentially same, with the most noticeable difference being the amount of sites you can access.
Elementor offers four price choices, starting at $59 per year with their Essential plan. If you need to use Elementor on more than one website, you can upgrade to their Advanced plan for $99 per year for 3 websites.
There is also a Expert plan for $199 per year that allows you to activate 25 websites and an Agency plan for $399 per year that allows you to activate 1000 websites.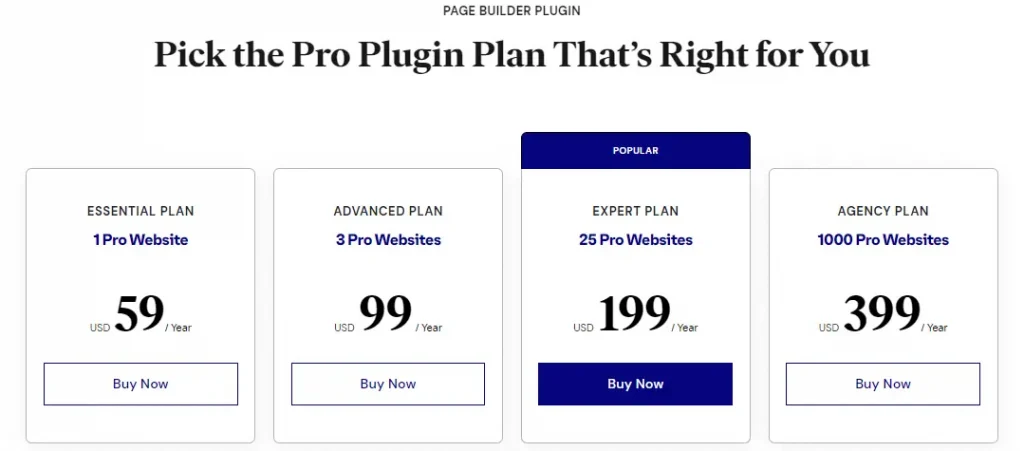 Besides the basic features given by the free version of Elementor, Elementor Pro offers the following:
Theme builder: When you use Elementor Pro Theme Builder, you are no longer constrained by the constraints of your theme. Elementor allows you to visually design your site's header, footer, archive page, single articles, and other elements. This is compatible with any WordPress theme and requires no coding. This method is not seen in any other theme or plugin. By making the whole site design process visual and code-free, you can complete projects far faster than ever before.
Professional templates and blocks: Elementor Pro comes with a variety of extra professionally designed templates and blocks that can be easily customized to create stunning websites. The Pro widgets are incorporated into the templates and blocks, allowing you to build pages that include sliders, animated headlines, forms, and other important Elementor Pro features.
More professional widgets and features: Elementor Pro includes widgets and features that are needed for every professional site designer. Animated Headlines for eye-catching headline design, the Articles widget for stylishly presenting blog entries, WooCommerce widgets, Slides, Media Carousel, and custom fonts are among them.
Support: The Pro edition of Elementor includes email and live chat assistance.
If you are convinced by Elementor then please help us by clicking the link here to be able to use Elementor Pro.
SeedProd: Pricing
SeedProd offers four distinct price levels. The Basic plan begins at $31.60 per year and the Plus plan begins at $76.60 per year.
If you wish to use the Theme builder, you'll need to upgrade to the Pro plan for $159.60 a year or the Elite plan for $239.60. Each plan has a 14-day money-back guarantee.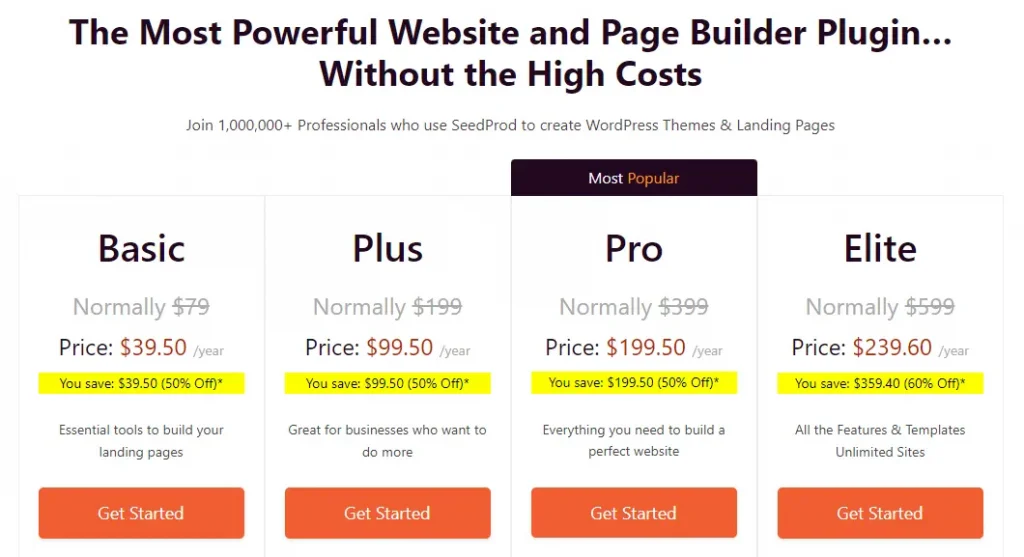 SeedProd also has a Lite version that is completely free to use. It does not, however, have the WordPress theme builder and has restricted capabilities.
Elementor vs SeedProd: Which One Is Better?
Because Elementor and SeedProd are two of the greatest WordPress website and landing page builders on the market, comparing them will always be difficult.
However, we can see that SeedProd is relatively better than Elementor.
It's really simple to use, has an excellent user experience, and allows you greater control over the modification of your themes and pages. You also receive fantastic integration choices, responsive designs, and quick performance with SeedProd.
We hope this comparison between Elementor vs SeedProd helped you pick the best WordPress website builder. In addition, we also have an article about Elementor alternatives that you can use for reference.