If you run a WordPress website or WooCommerce store and cannot display prices for your products or services, a WordPress quote plugin can be a helpful tool.
By incorporating a request-a-quote form into your website, you can enable customers to provide the necessary information for you to provide a custom price quote. This allows for a more personalized customer experience and helps to ensure that customers receive accurate pricing information for your offerings.
In this article, we will share some of the best WordPress quote plugins that you can use to make your website better.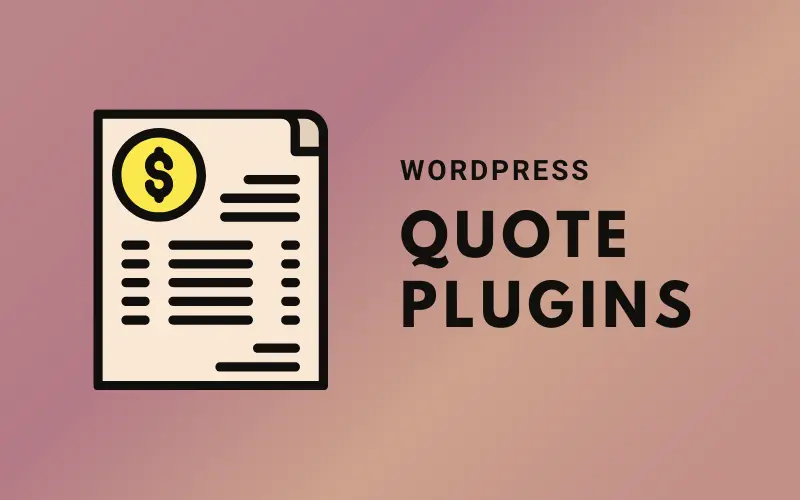 Why Use a WordPress Quote Plugin?
In certain businesses, pricing can be difficult to determine without specific information from the customer. For example, lawn care services may require lawn size and other details to provide an accurate quote, and custom-made furniture prices may vary based on specific customer requests.
Some companies use pricing tables, which can be confusing, while others rely on customers to email them for a quote, which may not always provide the necessary information.
The ideal solution is to use a WordPress quote plugin, which can either generate an instant quote or allow you to respond by email once you've received the customer's request. This can result in a more streamlined process, personalized pricing, and an overall better customer experience.
Best WordPress Quote Plugins
Here is a list of 5 best WordPress quote plugins that we recommend for you.
YITH Request a Quote for WooCommerce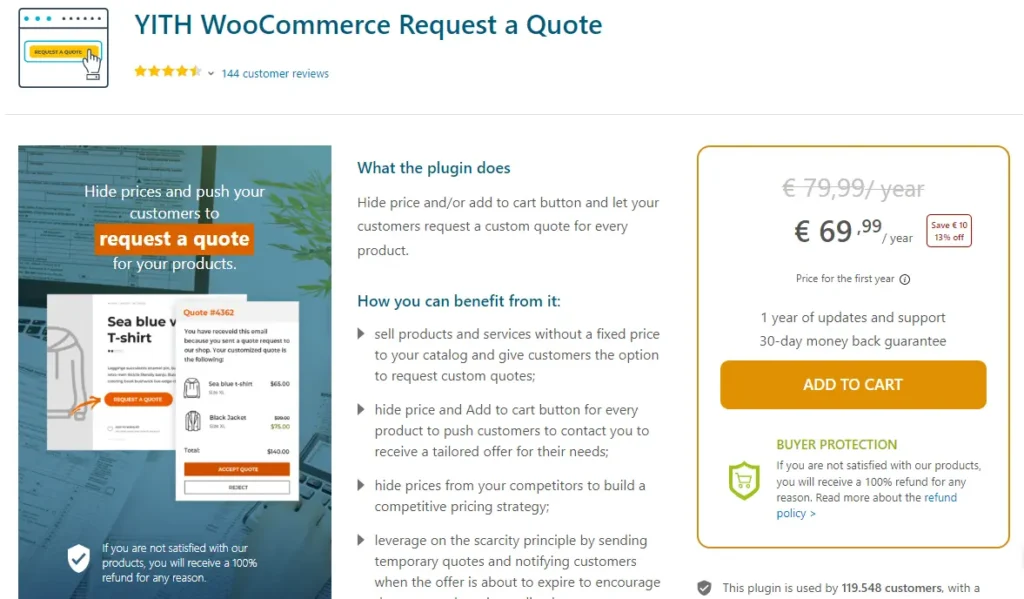 YITH Request a Quote serves as a central hub for both customers and suppliers, allowing shop owners to share details and pricing information for individual products. This breaks down communication barriers often faced in online shopping.
With the use of request a quote forms, customers can easily request a price quote for desired products, removing the need for lengthy email or phone exchanges. By adding desired items to their listings, customers can receive a prompt and personalized quote from the site administrator through the plugin, making for a more seamless shopping experience.
Pricing: This WordPress quote plugin is available for free. You can also upgrade to pro for $69.99/year.
Cart to Quote for WooCommerce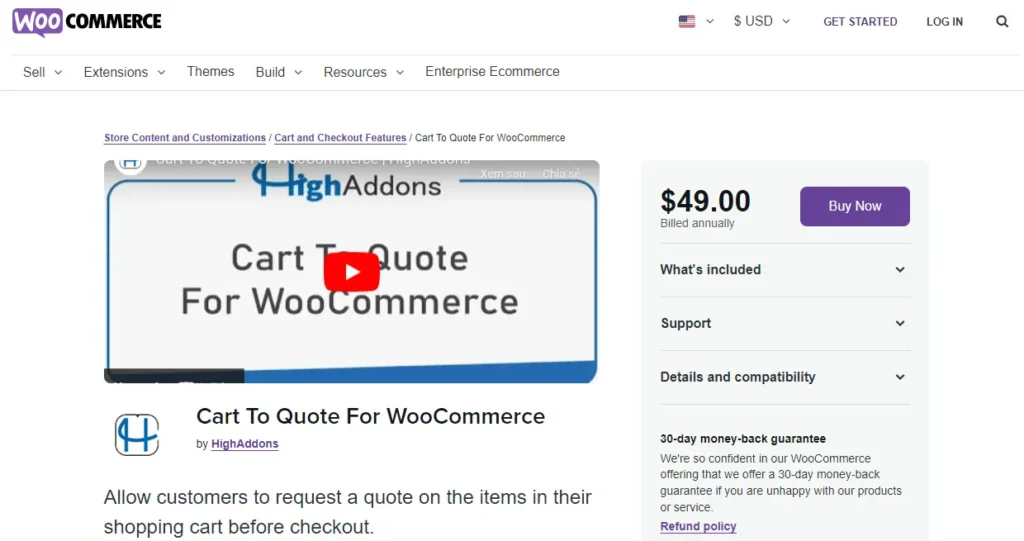 With Cart to Quote for WooCommerce, you gain the ability to easily manage and customize quotes for your customers. This includes the ability to edit and adjust pricing for individual customers or groups, such as VIP customers who may be eligible for special discounts or pricing.
From the backend panel, you can quickly create and review quotes in response to customer requests for selected products.
Once the quote is created automatically, you can review and adjust it as needed before sending the final proposal to your customers. This helps to streamline the quote process, improve customer satisfaction, and potentially increase sales.
Pricing: You can purchase this WordPress quote plugin for $49/year.
Cost Calculator Builder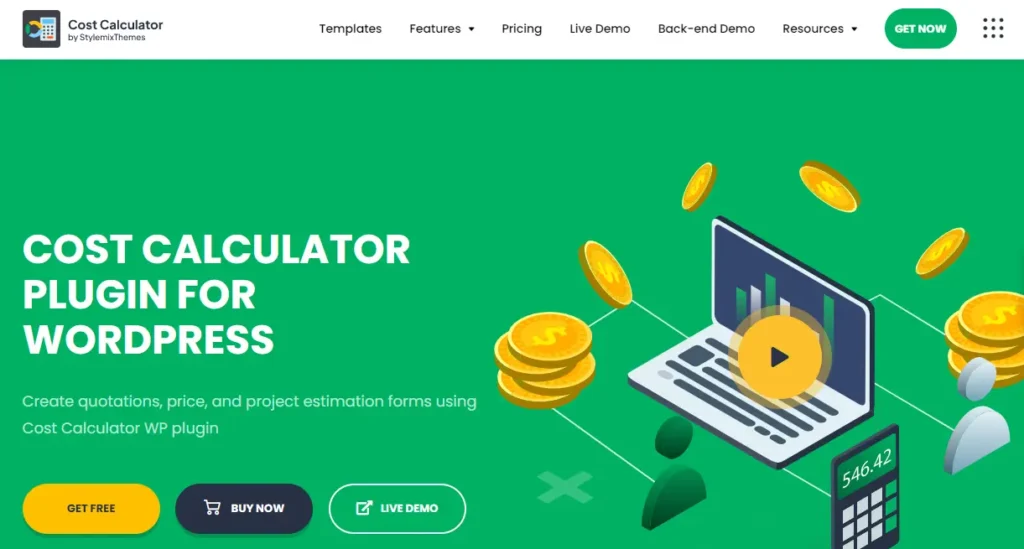 A standout feature of Cost Calculator Builder is its advanced calculator function, which facilitates the creation of accurate quotes for customers.
As customers add products to their carts, this WordPress quote plugin automatically calculates and displays the corresponding quote for those products on-screen. This enables customers to gain a clear understanding of the costs associated with their desired products or services through the use of quote and price estimation forms.
By providing this transparency and convenience, Cost Calculator Builder can help to enhance the overall customer experience and improve customer satisfaction.
Pricing: This WordPress quote plugin can be used for free or upgraded to pro for $49.
Product Enquiry for WooCommerce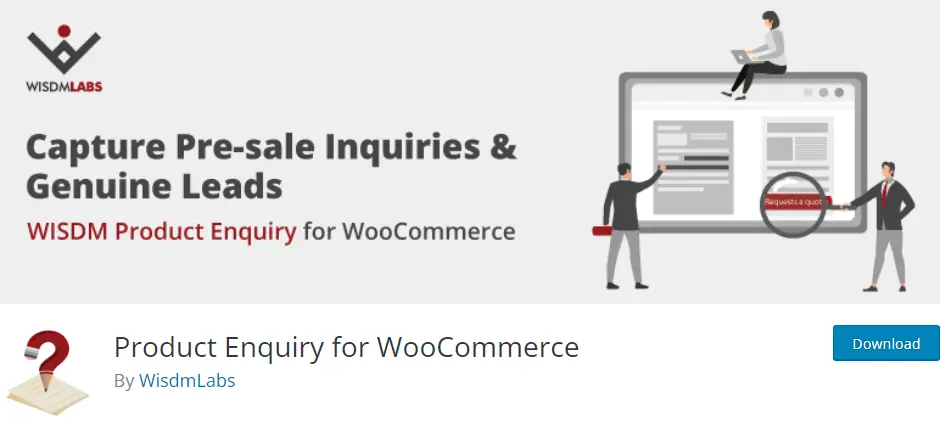 Product Enquiry Pro is a highly sophisticated WooCommerce inquiry plugin that effectively connects you with potential customers. With this plugin, interested customers can easily ask questions about products or request a price quotation, thus bridging the gap between your business and your target market.
Using your WooCommerce dashboard, you can easily view inquiries and create quotations in response to customer requests. Prospective buyers have the option to either accept or reject quotations, which enables a complete negotiation process. You can also re-quote, making Product Enquiry Pro a robust negotiation platform.
One of the plugin's standout features is its drag-and-drop page builder, which allows for the customization of inquiry and quote forms to fit your specific needs. This level of flexibility and personalization ensures that your customer interactions are optimized for maximum effectiveness, leading to enhanced customer satisfaction and potentially increased sales.
Pricing: This WordPress quote plugin is free to use. The pro version of it costs $80/year.
ELEX WooCommerce Request a Quote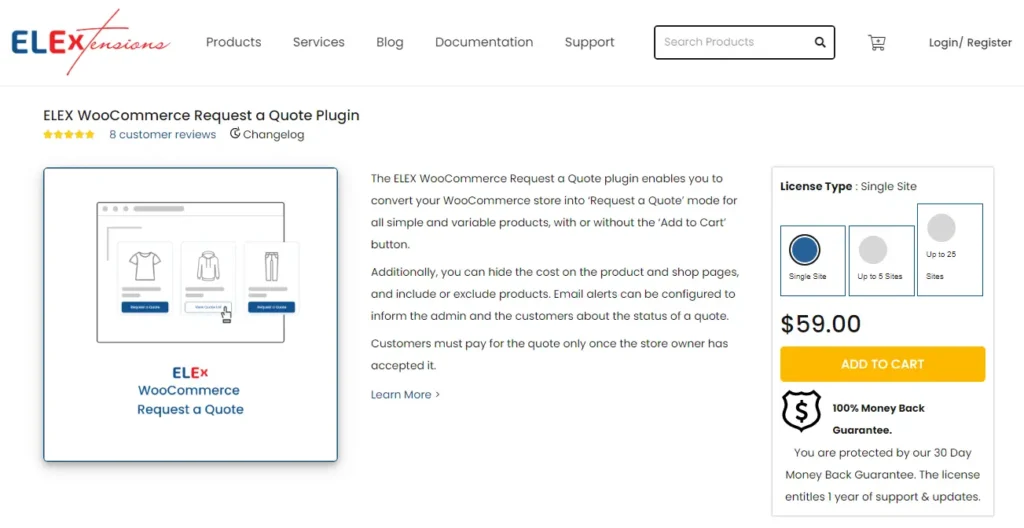 ELEX WooCommerce Request a Quote offers a unified shopping platform that benefits customers, retailers, and wholesalers by providing both an 'Add to Cart' and 'Request a Quote' option.
It allows you to seamlessly convert your WooCommerce store to a 'Request a Quote' mode for either specific products or your entire inventory. This feature proves to be incredibly useful in situations where stock is limited, site maintenance is taking place, or when you are selling products at very low prices.
By selecting their desired products and quantities, customers can easily request a quote by filling out a form with their details. This streamlined process ensures a hassle-free shopping experience for everyone involved.
Pricing: Free or paid plan for $59.
WordPress Quote Plugins Summary
We hope this guide has assisted you in selecting the best WordPress quote plugin. If you liked this article, then please leave us a comment below.