Images are essential when it comes to creating visually stunning websites. They assist in the transmission of messages, emotions, and ideas that text alone cannot.
And what better way to display your photos than with a gallery plugin for your WordPress website? You can easily organize and display your images in a beautiful and engaging way with a gallery plugin.
However, with so many WordPress gallery plugins on the market, it can be difficult to choose the best one. That is why we have compiled a list of the top 7 WordPress gallery plugins to assist you in making an informed choice.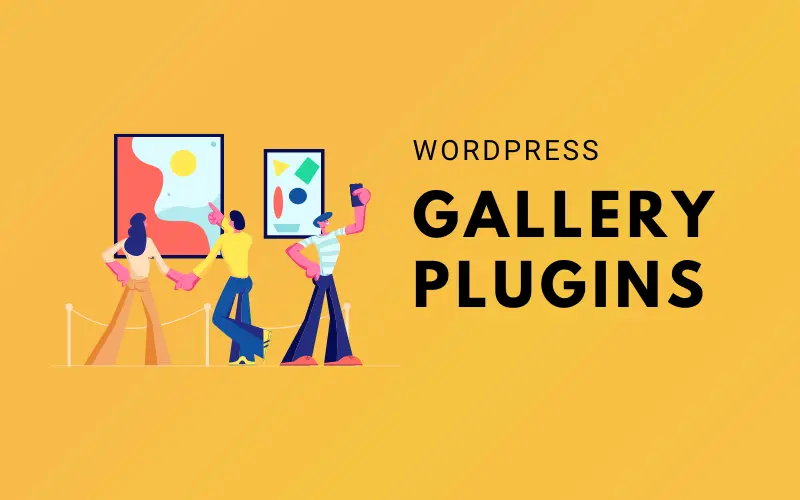 What You Should Keep in Mind When Selecting a WordPress Gallery Plugins
Before you decide to install WordPress gallery plugin on your website or blog, consider the following:
Reviews and Ratings: Before installing a plugin, look at the user reviews and star rating.
Features: The plugin should have a lot of basic and advanced features. Furthermore, it must be compatible with a wide range of interfaces (laptop, phone, iPad, etc.).
Speed: The plugin must ensure that the upload speed of images and videos on gallery is fast so that the viewer's experience is not hampered.
Ease of use: Plugins should be simple enough that even non-programmers can use them.
Best WordPress Gallery Plugins
Here is a list of the best WordPress gallery plugins, in our opinion.
User Gallery WordPress Plugin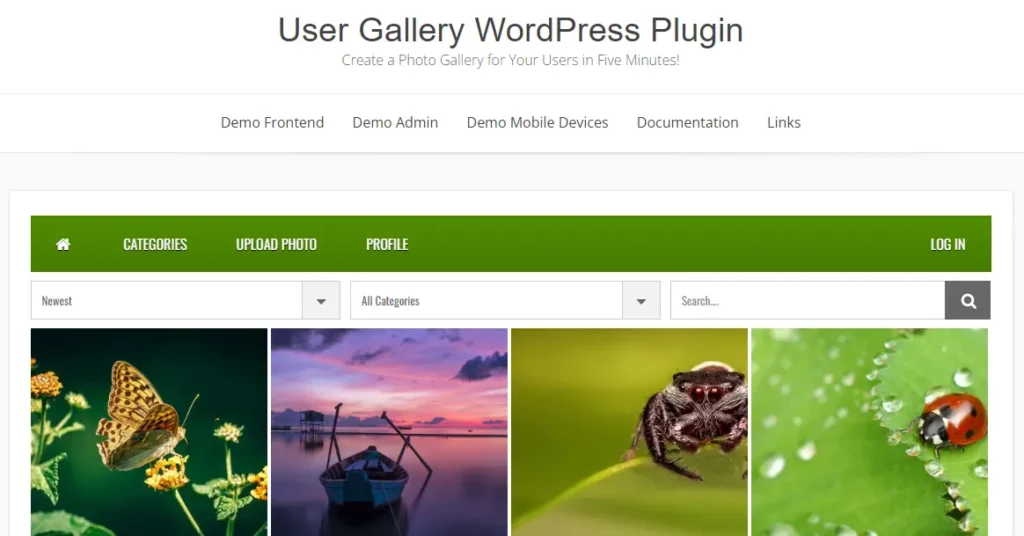 User Gallery WordPress Plugin is a very versatile support tool that allows users to organize and control 100% of the gallery's content and images.
This plugin is extremely simple to install and use. You can easily add categories, image comments, email notifications, and more with the help of this gallery creator plugin.
User Gallry WordPress Plugin's main features:
Allow WordPress users to add categories, albums, and comments to images.
Allow images to display properly on laptop screens as well as all mobile devices with varying screen sizes.
Multi language.
Pricing: User Gallery WordPress Plugin costs $39.
Photo Gallery By 10Web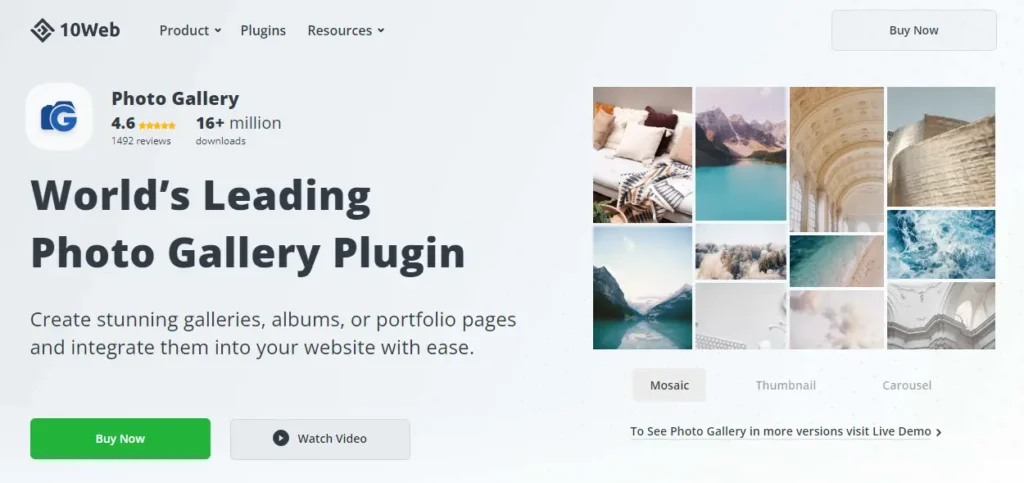 Photo Gallery by 10Web is a plugin to create an image gallery or album on a website or blog. It is quite simple and easy to use.
This WordPress gallery plugin offers a variety of viewing options, including groups, slideshows, thumbnails, a carousel, and so on. It allows you to create an unlimited number of galleries.
Photo Gallery by 10Web has the following features:
Powerful lightbox effects: You can display images in a lightbox with 15 cool slideshow effects (premium version).
Unlimited number of images, albums, and galleries.
Advanced SEO support: Allows for the addition of relevant tags and metadata to images in order to improve SEO.
Share on social networks: With the premium version, you can use social sharing buttons to share images on Facebook, Twitter, Google+, Pinterest, and Tumblr.
Pricing: Photo Gallery by 10Web is available for free download from the WordPress Plugin repository. Furthermore, this WordPress gallery plugin offers premium packages ranging in price from $30 to $60. A $100 add-on package will provide you with additional features, themes, and widgets.
NextGEN Gallery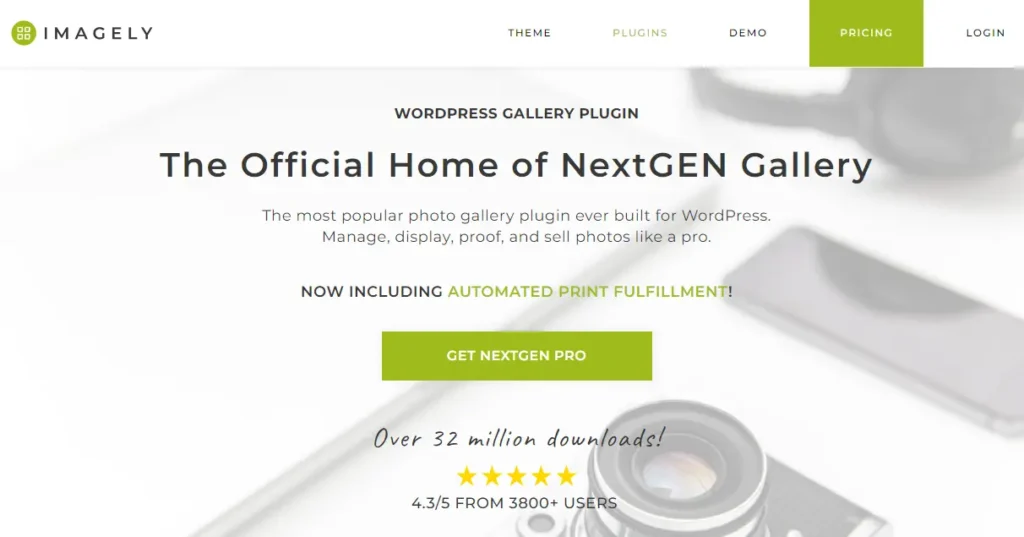 NextGEN Gallery is one of the most basic and powerful WordPress gallery plugins on the market today. This plugin is downloaded millions of times per year in both free and advanced versions.
NextGEN Gallery allows you to display images in the gallery in various formats, such as slideshow, thumbnail, thumbnail album, and so on.
Main features of NextGen Gallery:
Professional lightbox effects.
Allow Twitter tagging.
Hover caption effect.
NextGEN Gallery is currently free to download from the WordPress Plugin repository. However, you can also purchase premium versions with additional features from Imagelly's official website (NextGEN Gallery Plugin provider).
Envira Gallery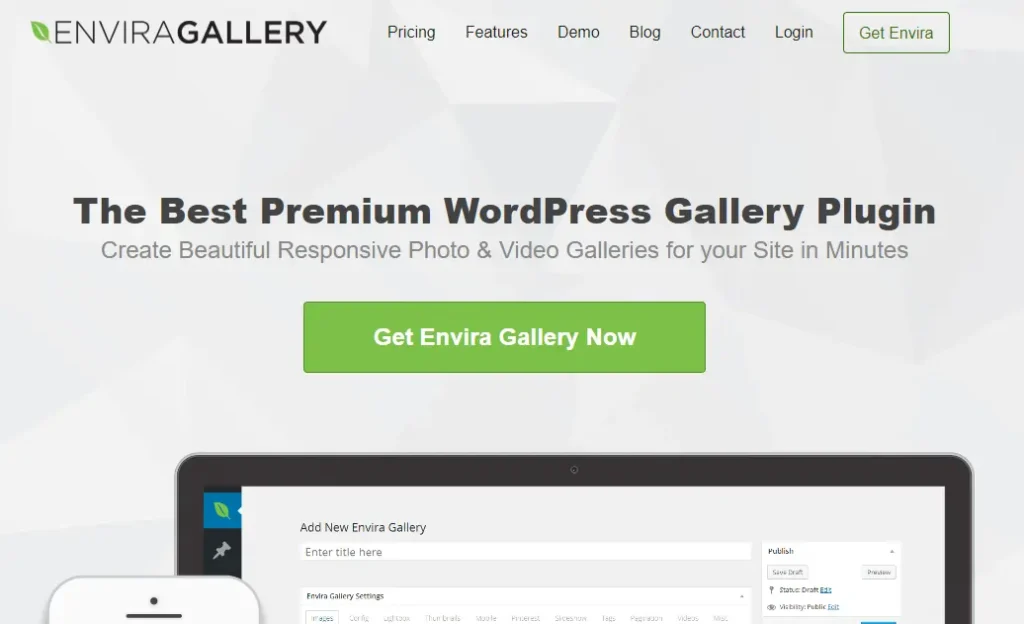 Envira Gallery is a very simple drag-and-drop gallery creation plugin that can be used even if you don't understand programming. The outstanding benefit of this plugin is the wide variety of templates available for users to freely select and customize. Envira is your first choice if you want a beautiful and easy-to-use gallery plugin.
The primary functions of Envira Gallery are as follows:
There are numerous templates to choose from in the library.
Create albums quickly and easily with a few clicks and drag-and-drop.
Add image-sharing buttons to Pinterest, Instagram, and other sites.
Protect image copyright with watermark.
Set up photo slideshow.
Pricing: This WordPress gallery plugin is available for free download from the WordPress plugin repository. Envira also offers more advanced packages starting at $26/year.
LightGallery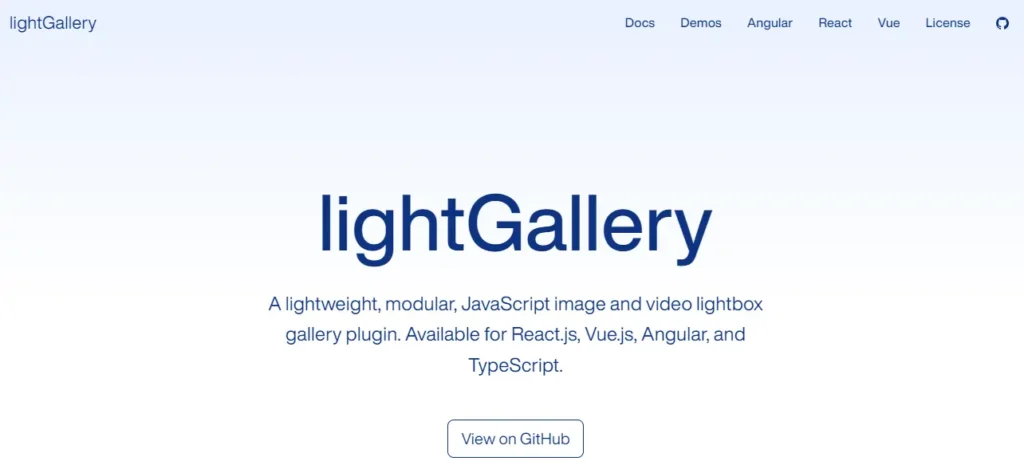 LightGallery is a simple and popular WordPress gallery plugin. It includes several features that enable you to easily customize the look and feel of your collection. This WordPress gallery plugin animates quickly with CSS3 transitions.
Some features of LightGallery:
Support icon fonts.
Preload images and optimize them.
Show multiple galleries on the same page.
Animation mode.
Pricing: LightGallery is a WordPress gallery plugin that comes in both free and paid versions. The cheapest paid plan for this plugin is $25.
Photo Gallery by Supsystic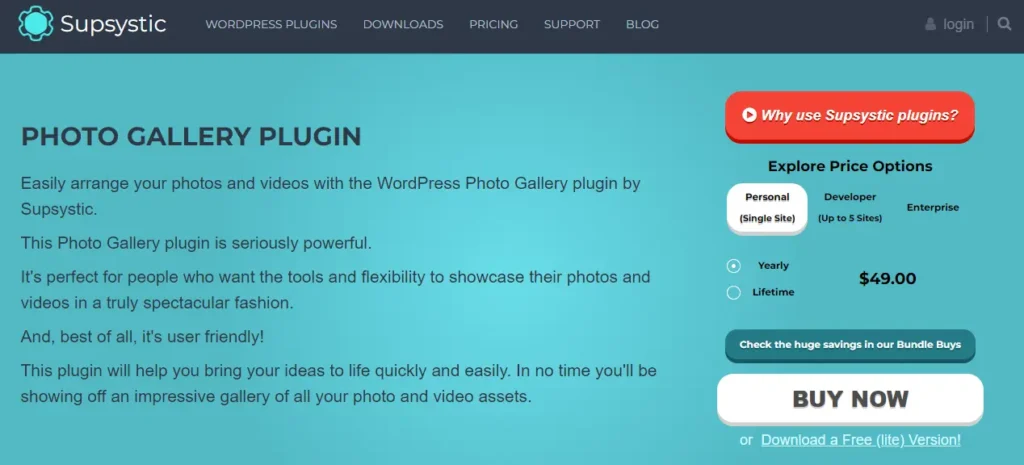 Photo Gallery lets you show off professional images, videos, and content on your blog or website. This WordPress gallery plugin also includes image management features such as bulk image uploading and publishing.
Photo Gallery's main features:
Add links, icons, and HTML captions.
Create a full-screen gallery mode.
Optional watermark for image copyright protection.
Compatible with all WordPress themes.
Pricing: Free or premium starts at $49/year.
Modula Image Gallery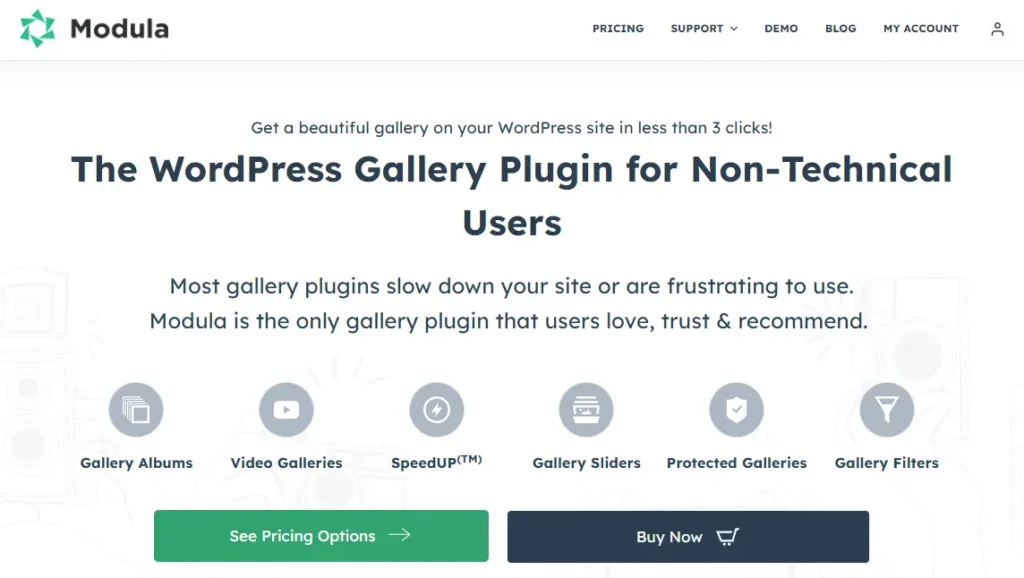 Modula is a highly user-friendly WordPress gallery plugin that allows you to easily create amazing picture and video galleries. Modula's versatile customization tools allow you to easily customize your gallery to your desires.
You can flexibly resize photographs within the container of your gallery, adjusting their heights, widths, and aspect ratio.
Simple drag-and-drop interface.
For more skilled users, there is an advanced customization section where they can add CSS that can be applied to individual galleries.
Pricing: Modula Image Gallery is available for free, or you can purchase the premium version for $39 to $99 USD.
WordPress Gallery Plugin Summary
Generally, most of these WordPress gallery plugins are free, meaning you can experiment with them to see how you like the layouts and usability.
After reading this post, maybe you will be able to choose an appropriate WordPress gallery plugin for yourself. Please leave a comment and follow us on social media if you found this post useful.