Popups are one of the most common types of advertising on websites today. You can completely create a popup for your business through the WordPress popup plugins. However, choosing a suitable and effective popup plugin from the plethora of platforms and utilities provided by WordPress is difficult.
Recognizing this, we have compiled the top 7 most popular WordPress popup plugins along with a few tips and suggestions in the article below.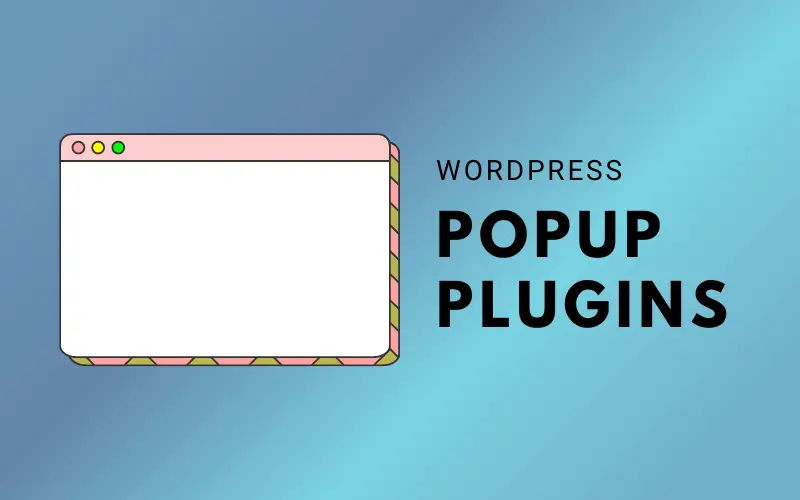 Why You Should Use WordPress Popup Plugins for Your Website
Popup plugins are an important tool for WordPress site owners who want to increase user engagement, conversions, and email list growth. Popups are eye-catching, interactive elements that can be used to offer incentives, capture leads, promote products or services, and provide visitors with important information.
WordPress popup plugins, when used correctly, can significantly increase conversions and drive more traffic to your site. You can encourage visitors to take action and provide their contact information by offering incentives such as free downloads, discounts, or exclusive content, which you can then use to follow up with them via email.
Popups can also be used to promote new products or services, inform visitors about special deals or events, or make important announcements such as site maintenance or updates.
Furthermore, WordPress popup plugins are highly customizable and can be designed to match the look and feel of your site, making them an effective branding tool. You can create visually appealing, informative, and engaging popups for your visitors using a variety of templates and customization options.
Best 7 WordPress Popup Plugins
Here is a list of 7 WordPress popup plugins that we think are the best.
OptinMonster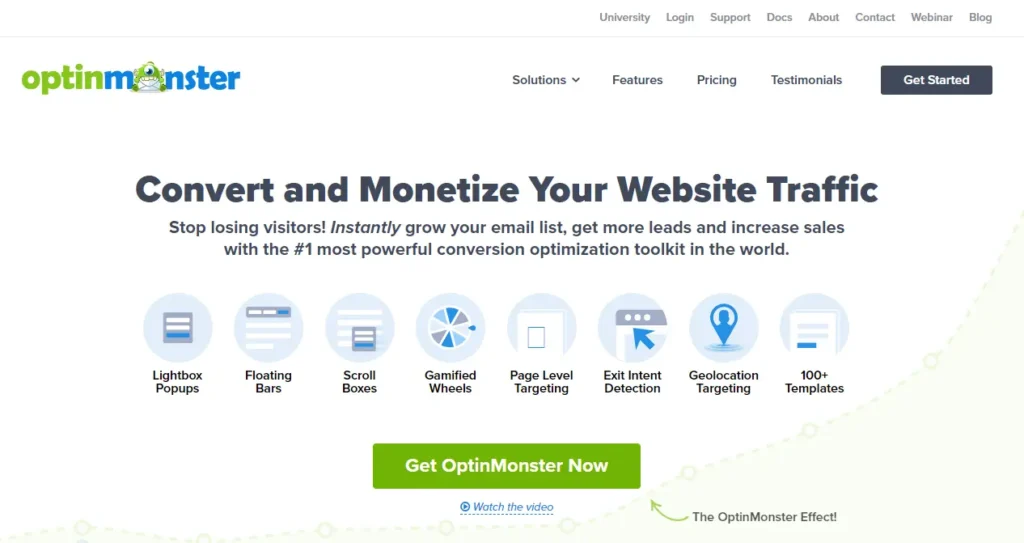 OptinMonster is one of the most powerful WordPress popup plugin on the market. It is a SaaS (software as a service) platform that integrates easily with WordPress, WooCommerce, Shopify, and other website platforms.
OptinMonster has the following noteworthy features:
Exit-intent technology detects the user's intent to exit and triggers timely pop-ups to retain customers.
Integrating smart behavior monitoring technology to assist in the conversion of website visitors into potential customers via email subscriptions.
Help e-commerce websites reduce the number of customers who abandon their shopping carts before checking out.
Businesses can use OptinMonster's options to create a promotional campaign with meaningful messages and quality content that encourages users to enjoy and stay on the website longer. You can also schedule the time and location of a popup to easily control and manage it.
Thanks to the built-in tools and utilities included with OptinMonster, you can easily create popups. It supports drag-and-drop, which is similar to how Customize WordPress displays.
Pricing: OptinMonster starts at $9/month for the Basic plan.
Bloom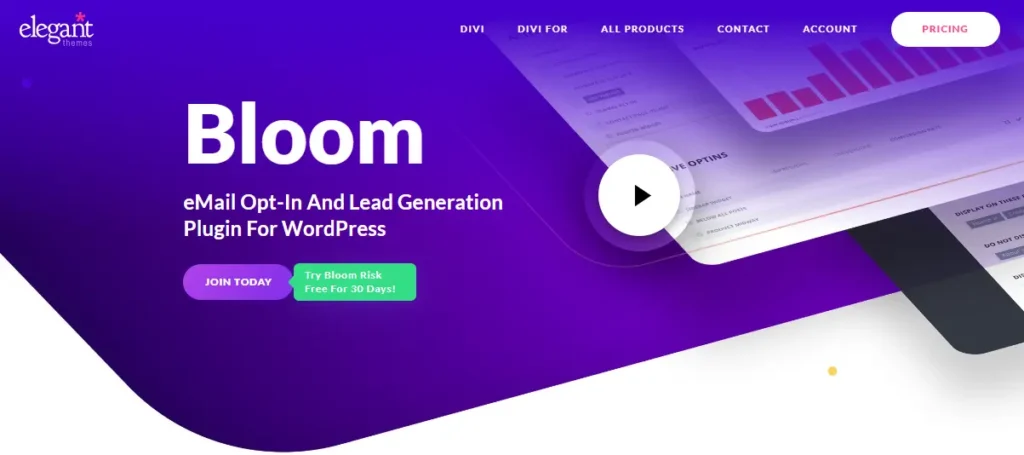 Bloom is a paid WordPress popup plugin that enables users to create popups that allow customers to sign up, receive information, notifications, and so on via their email. This is one of the most effective conversion rate plugins for e-commerce websites available today.
Bloom distinguishes itself with the following features:
Over 100 beautifully designed form templates with flexible customization options.
Automatic Opt-in Fly-ins: This feature allows registration forms to appear in various locations on the website, including the bottom, left, and right corners.
Widget Area Opt-in Forms: This feature includes the ability to easily adjust popup position in the sidebar and footer.
Require Opt-In To Unlock Content: Customers must fill out information and sign up for an email address before they can continue reading the website's content. This makes it simple for businesses to obtain user information.
Assist businesses in establishing tests to test and manage popup's activities.
Aside from the standard options, Bloom also provides the option to display a popup when a customer comments or checks out, which significantly increases the conversion rate. You can orient your popup by selecting the appropriate options.
Pricing: You have the option of paying an annual fee of $89 or purchasing a lifetime plan for $249.
Convert Plus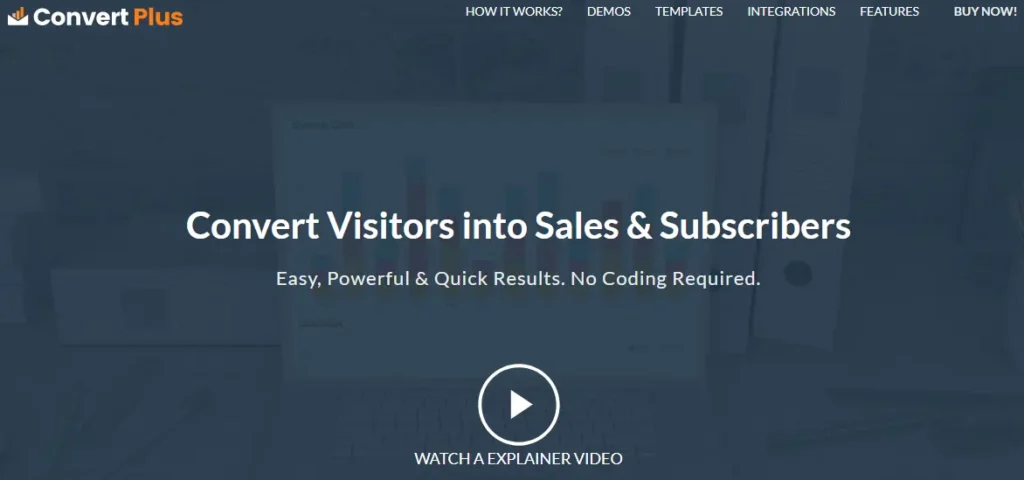 ConvertPlus is a WordPress popup plugin that allows you to create popups and opt-in forms with a point-and-click editor and several visitor behavior triggers.
Convert Plus has the following outstanding features:
Convert Plus has a ton of features and can be used for a variety of purposes, including email registration, promotion, and so on.
Depending on your layout, the Convert Plus window could appear in various locations on the page.
More than 100 pre-designed popup templates enable more convenient design.
When you use Convert Plus, you get a complex collection of targeting options for popup sizing. However, businesses must also provide basic activation methods that users are familiar with, such as time, exit intent, content launch, and so on.
Pricing: Convert Plus is available for $23.
Popup Maker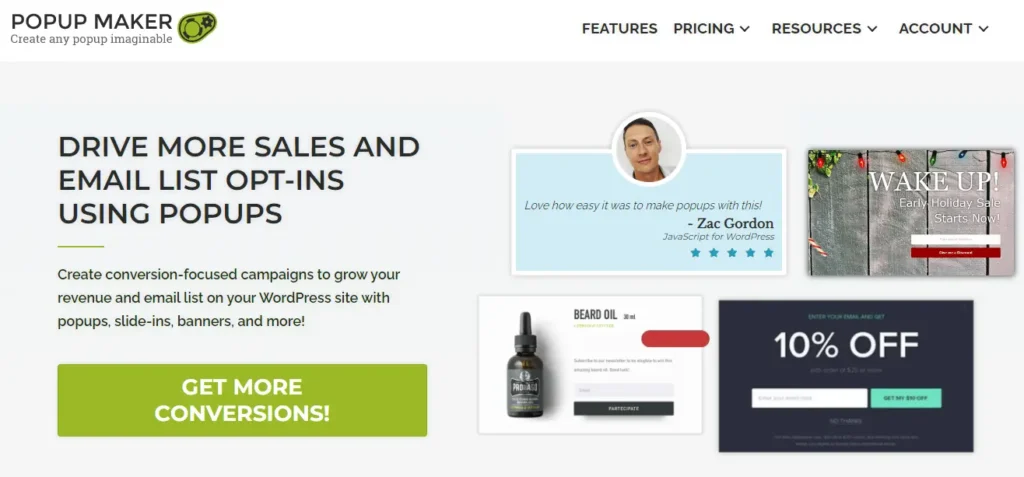 Popup Maker is one of the most popular WordPress popup plugins on the market today. With many features provided for free, as well as being very easy to use and adjustable, users are overwhelmingly positive about Popup Maker.
Some features of Popup Maker include:
Popup Maker has a unique ad editor, particularly WooCommerce rules, which are ideal for e-commerce websites.
Popup Maker enables you to create popups on any website with a flexible customization mode and a variety of display types such as notifications, banner bars, and so on.
Users are free to create popups for whatever purpose they see fit.
This WordPress popup plugin integrates with well-known and effective email marketing platforms such as AWeber, Mailchimp, GetResponse, and others.
Using cookies to specify how frequently users see your ads allows businesses to easily manage and create their own cookies when customers visit.
Pricing: Popup Maker costs $87 per year for one website.
Ninja Popups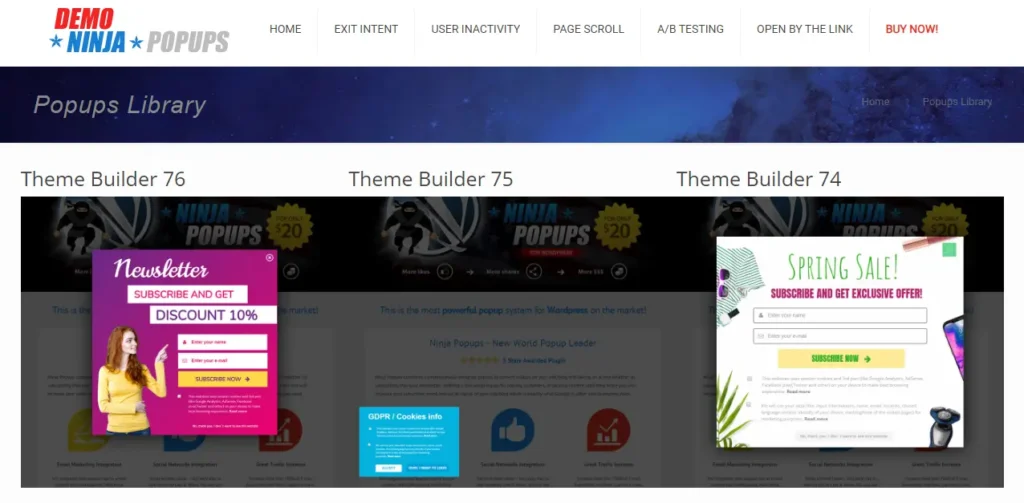 Ninja Popups is one of the most widely used WordPress popup plugins. The large number of users and positive reviews on the internet attest to Ninja Popups' quality.
Here are a few features of Ninja Popups:
Ninja Popups is an excellent plugin that provides users with over 74 customizable animation effects. Furthermore, if you are a beginner, there are 73 available or creative templates, forms, and so on.
Ninja Popups integrates with Google Analytics to allow customers to easily track and analyze data from user behavior. This WordPress popup plugin has a significant advantage in assisting many business optimization strategies to be more effective.
You can use appropriate options such as page scrolling, appearance time, number of clicks, and so on, depending on your needs. Despite the fact that these are common and simple options, Ninja Popup is jam-packed with features to create a noticeable, effective popup.
Pricing: Ninja Popups is available for $24
Getsitecontrol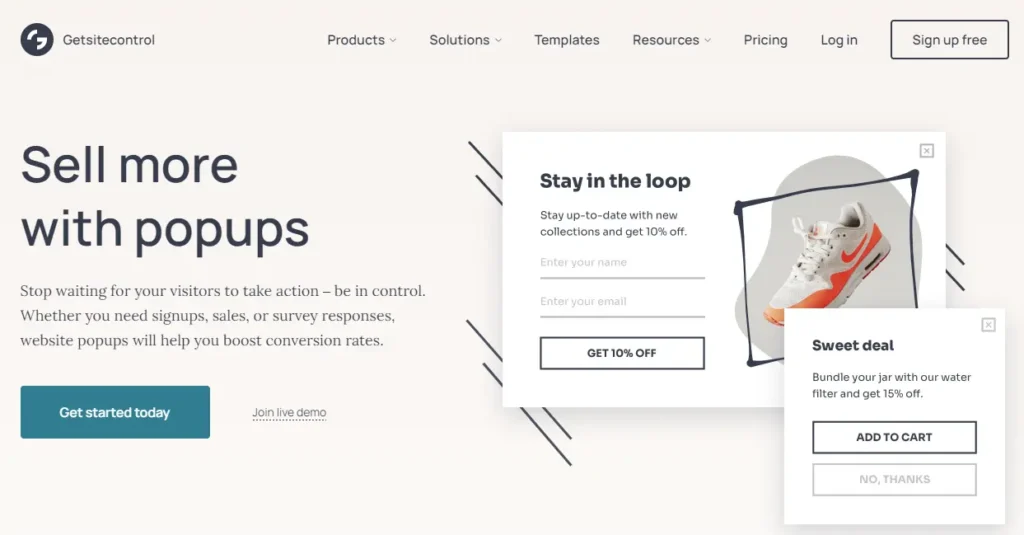 Getsitecontrol is a high-quality WordPress popup plugin that makes it simple to generate leads using various tools.
Here are some of Getsitecontrol's standout features:
You will be able to manage all of your widgets in a single, powerful dashboard, allowing you to manage your popup windows on various websites and traffic. the popup window's target audience and integrations.
Getsitecontrol integrates seamlessly with Google Analytics, Hubspot, AWeber, ConvertKit, and SendGrid, giving you peace of mind that it will work well with your existing workflows.
Pricing: Getsitecontrol costs $9 per month for the lowest plan.
Green Popups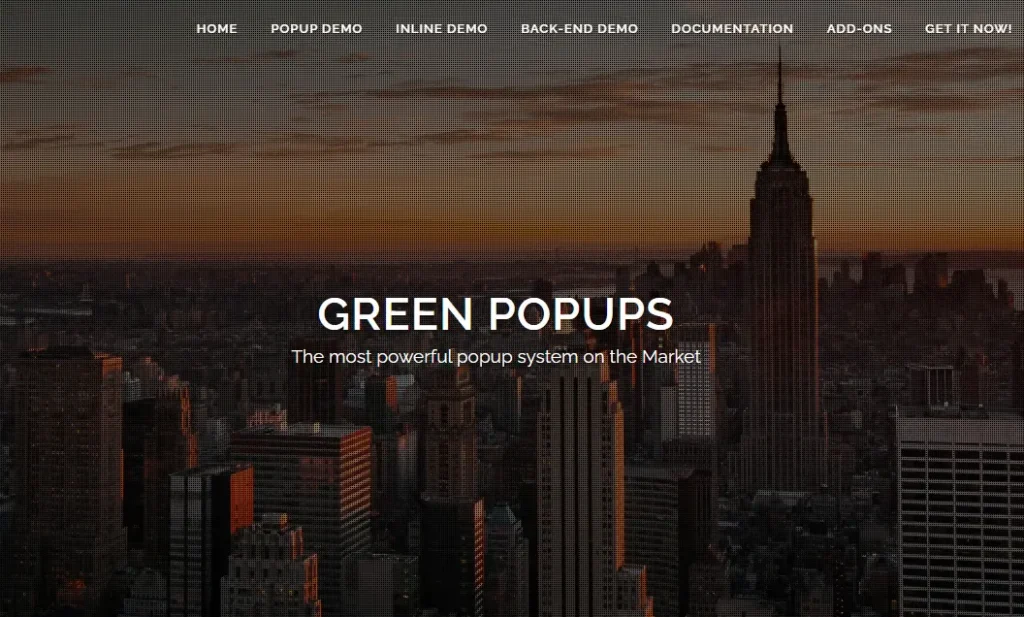 Green Popups, also known as Layered Popups, is a WordPress popup plugin that allows you to create visually appealing and functional popups for your website.
This plugin features an easy-to-use and intuitive interface that allows users of all skill levels to easily create popups that capture visitors' attention and generate more leads, sales, and subscribers.
Here are some of the features of Green Popups:
Green Popups is popular due to its large template archive, which contains over 200 templates. This plugin, in particular, allows you to easily transform sample popups into unique popups with your own style.
This WordPress popup plugin enable website owners to incorporate WordPress login forms into popups. This creates favorable conditions for customers to log in to connect to the popup rather than fill out information as previously.
Pricing: You can buy Green Popups for $21.
Best WordPress Popup Plugins Summary
Each WordPress popup plugin has distinct advantages. You should select a plugin for your website based on its usage requirements as well as its development strategy.
Hopefully, after reading this article, you will be able to select a suitable WordPress popup plugin for yourself. If you found this article useful, please leave a comment and follow us on social media.