Choosing the right WordPress page builder will help you have an easy time creating your website. This is where drag-and-drop page builder plugins come in handy.
WordPress page builders allow you to design, change, and adjust your website layout without writing any code.
In this post, we will show you some of the finest drag and drop WordPress page builders.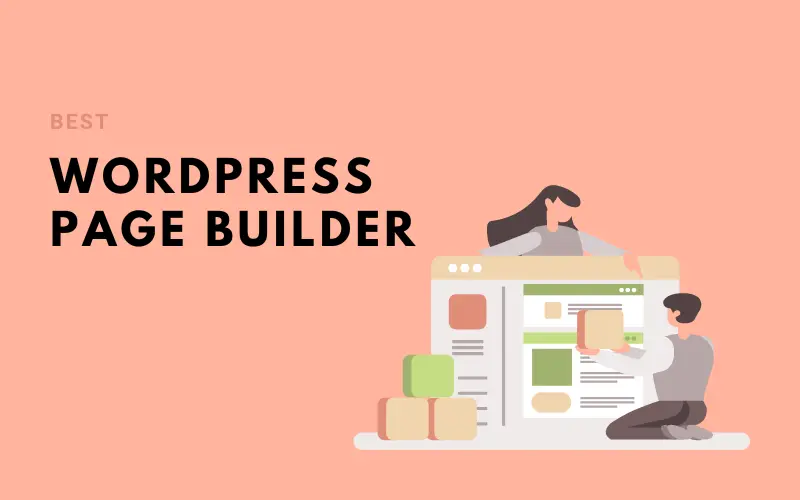 Why Use a Drag and Drop WordPress Page Builder?
Many new bloggers struggle to alter their WordPress page layouts when they first start a site.
While many premium WordPress themes have many page layouts, the majority of them are exceedingly difficult to alter for someone who does not know programming (HTML/CSS).
There are numerous excellent drag-and-drop page builder plugins for WordPress. They enable you to build entirely unique WordPress website designs without writing a single line of code.
Having said that, let's have a look at the top WordPress page builders on the market.
Best 5 WordPress Page Builder
Elementor
Elementor is the most popular drag and drop WordPress page builder plugin.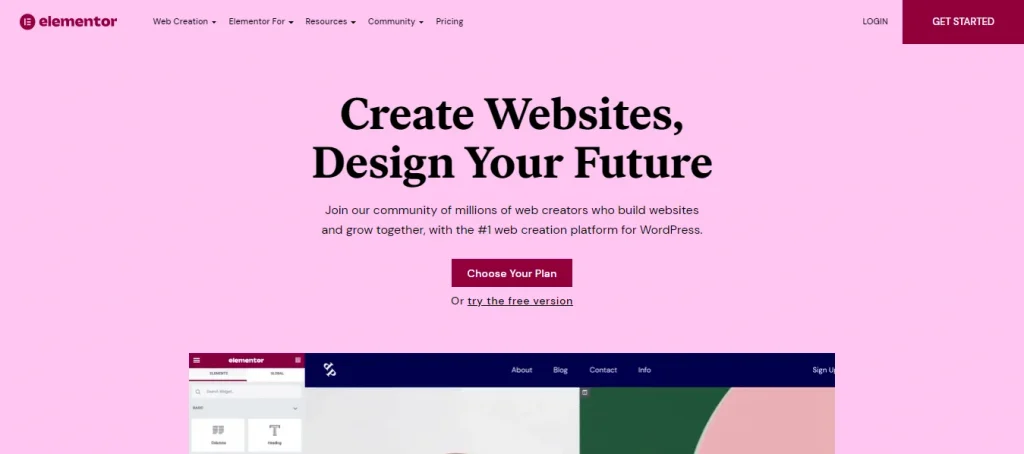 It is a live page builder plugin, which means you can view your changes as you edit them using Elementor in real time.
Begin by generating sections and determining the number of columns for each. Then, from the left panel, drag and drop widgets into your area.
Elementor has a variety of widgets, many of which are regularly used website elements. From simple picture and text widgets to complicated accordions, sliders, testimonials, icons, social networking, and tabs, there is something for everyone.
Each widget is self-contained and has its own set of options. You may also use Elementor to add widgets produced by other WordPress plugins.
Elementor includes a multitude of ready-to-use templates that you can easily add to your sites. Simply point and click on any item on the page to modify it, update the content, and you're done.
Divi
Divi is a drag-and-drop WordPress theme and page builder plugin. It is really simple to use and includes hundreds of style packs for various types of websites.

You may start editing in real-time with a live preview of all your changes by just clicking on your page. So you don't have to save and then preview your new design.
Divi has dozens of content modules that you can drag and drop into your layout. It allows you to organize these modules into a variety of section and row types. You may also use the advanced design parameters to personalize each aspect.
Divi allows you to quickly design any form of custom page layout. You may then store these Divi layouts for usage on your site in the future. A layout may also be exported from one Divi installation to another.
The Divi Builder plugin is the Divi theme's backbone, but it also works well with any other popular WordPress theme.
Best of all, Divi provides very competitive pricing options. You can get the Divi theme, the Divi page builder plugin, and all other Elegant Themes products for a single price.
This means you may install the Divi Builder plugin or utilize the Divi theme on any other theme.
SeedProd
SeedProd is a premium WordPress theme that also includes a page builder plugin. Unlike other page builders, it enables you to construct custom WordPress themes from scratch without writing any code.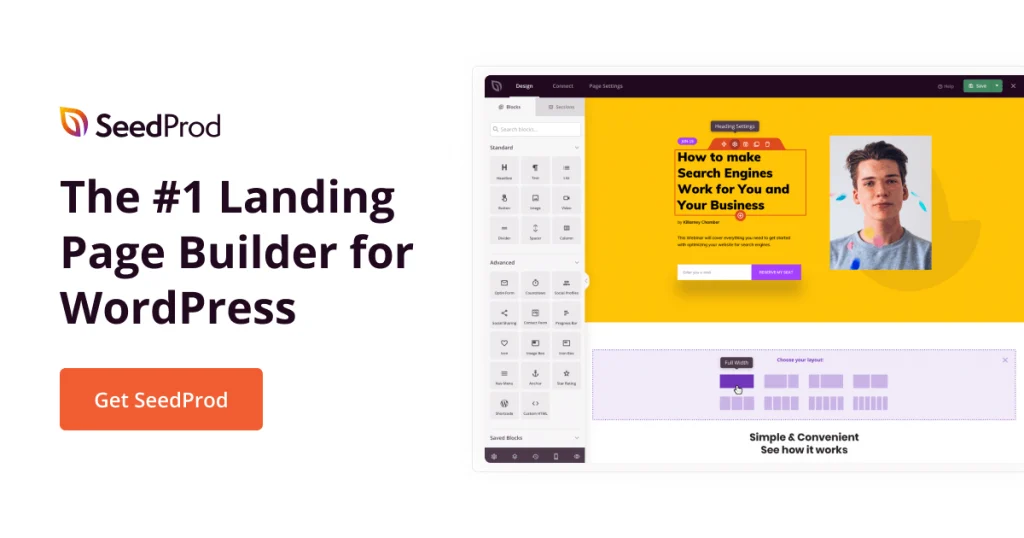 You may select from hundreds of attractive pre-made layouts or use an easy-to-use drag-and-drop visual builder to create a fully custom website design.
Landing pages, sales pages, thank you pages, webinar registration pages, coming soon pages, maintenance mode pages, 404 pages, and more are all available as ready-made templates.
SeedProd is designed with speed in mind. It guarantees that your pages load quickly, allowing you to rank higher in SEO.
It has a smart design approach that allows you to save time by reusing parts rather than completing repeated work. Color schemes, font combinations, page layouts, custom blocks, sections, and other features are available.
SeedProd has all of the page builder blocks and features you'd expect, such as opt-in forms, social profiles, countdown clocks, contact forms, buttons, numerous content blocks, and more.
The greatest thing is that some of these blocks come with pre-made templates, allowing you to speed up the creative process by modifying your preferred block designs (1-click).
You may utilize their custom domain mapping functionality to construct WordPress microsites. This functionality is used by agencies to handle many customers' landing pages from a single WordPress installation.
SeedProd is compatible with all major WordPress themes and plugins. It also includes subscriber management and can be simply integrated with popular email marketing systems like MailChimp, ActiveCampaign, ConvertKit, and others.
Beaver Builder
Beaver Builder is a powerful WordPress page builder plugin with a drag-and-drop interface.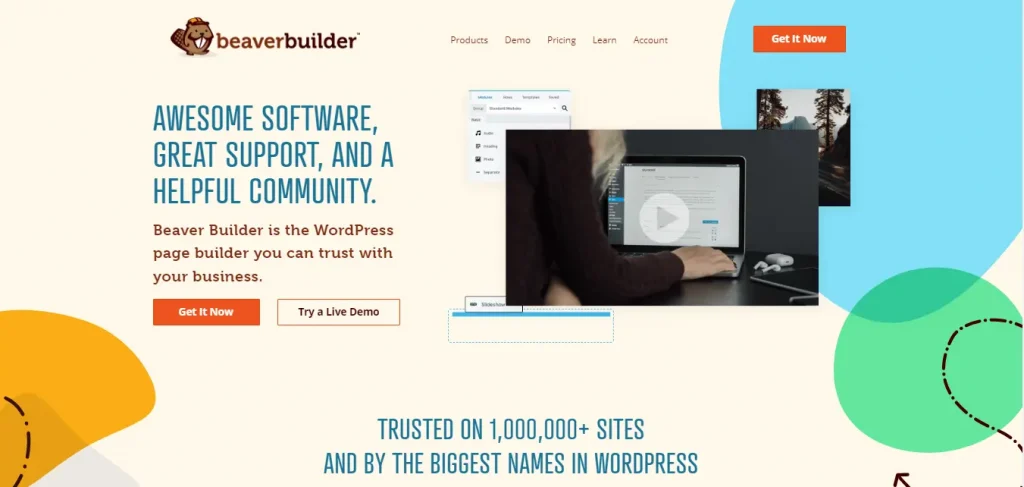 You may immediately become familiar with their UI and begin using their built-in onboarding tour.
Beaver Builder includes a live drag-and-drop interface. You can view all of your changes as you make them by dragging and dropping objects from the right sidebar onto your page. You may alter the characteristics of any element on a page by clicking on it.
Modules allow you to add nearly anything you desire, such as sliders, carousels, backdrops, content blocks, buttons, and more.
It also includes over 30 beautifully designed landing page templates, making it super-easy and super-fast to construct great website layouts.
Visual Composer
Visual Composer is a simple yet powerful WordPress website editor that allows you to quickly design custom website layouts.

It has a simple drag-and-drop builder, pre-built content pieces, professional themes, and a slew of other sophisticated capabilities for creating a website.
It, like SeedProd and Beaver Builder, provides a true front-end editing experience for designing a website. However, there is much more you can do with this plugin. Except for SeedProd, Visual Composer is the only other plugin that allows you to alter all components of your landing page, such as the logo, menus, headers, footers, sidebars, and so on.
The plugin has extensive design choices for modifying the appearance of every element on your page. You may easily add trendy backdrops such as parallax, gradient, slideshow, carousel, zoom in/out, video, and so on. It also has adaptable rows and columns for generating grid layouts on your website.
All WordPress themes are compatible with Visual Composer. This enables you to change themes without losing custom layouts made using Visual Composer.
Support for the new Gutenberg editor, Google Fonts, and Yoast SEO are also included.
As seen by their attention to detail, such as remembering your color preferences, allowing you to quickly apply the same color palette for consistency across your design.
Conclusion
When we looked at several drag-and-drop WordPress page builders, one thing became clear. The top three options are undoubtedly SeedProd, Beaver Builder, and Elementor.
Other excellent choices that include a comprehensive drag-and-drop WordPress page builder are Visual Composer and Divi.
If you like this article, please visit our website to read more about WordPress.