You have a variety of options for how to create a website, such as using a CMS (Content Management System) platform or a website builder platform. If you decide to use a CMS platform, WordPress is the most well-known brand that everyone is familiar with.
WordPress is pretty simple to use and has a large plugin store to help users compared to other CMS competitors. It is dominating the CMS market share, taking up over 60% of the market.
There are rivals to WordPress that only take up a small portion of the market. One of them is Drupal.
So what is the difference between WordPress vs Drupal?
In this article, we will compare WordPress vs Drupal to give you a better understanding of these two CMS platforms.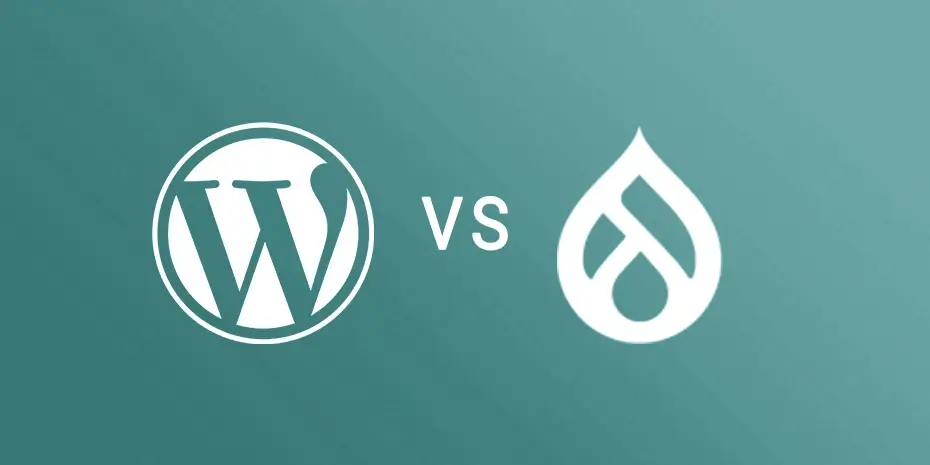 WordPress vs Drupal: Overview
Before exploring more about WordPress vs Drupal in-depth, you must first comprehend what they are.
WordPress: Overview
WordPress is available in two different versions:
WordPress.org
WordPress.com
WordPress.org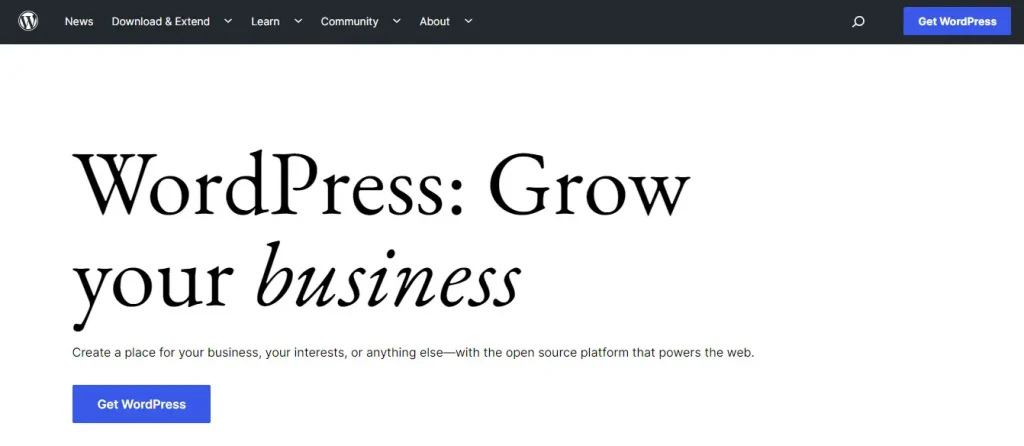 The WordPress version that most people are familiar with is WordPress.org. Since WordPress is open source, websites built with it can be greatly customized.
It is a highly flexible platform that, in the hands of a qualified developer or with the installation of an appropriate plugin, can be tailored to meet the requirements of practically any website design project.
WordPress can be set up on your server for free, but there are costs associated with hosting, registering domain names, and occasionally purchasing plugins or other development work.
WordPress.com

WordPress.com is a blogging platform managed by Automattic. You will be using the pre-installed WordPress program when using this website.
Users of the WordPress.com service will also use this website's hosting service. This hosting company's primary platform is WordPress alone.
You may register for free or pay for premium services, and then just concentrate on blogging instead of setting up and hosting.
Drupal: Overview
Drupal is a free and open-source content-management platform that can be adapted and adjusted for basic websites or complicated online applications.
With dozens of free modules and themes available, it expands together with you, giving you the ability to reach the online audience you require for message delivery, brand development, and community building.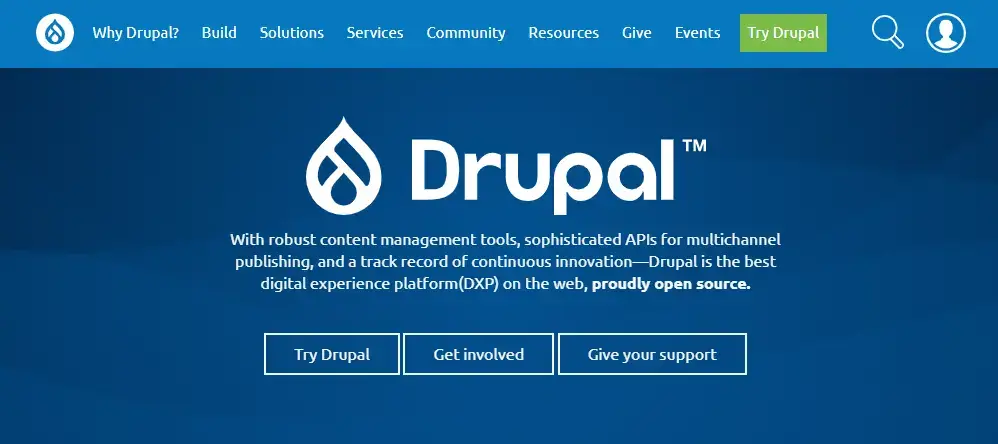 Drupal is multilingual and easily accessible. You can be confident that you'll be able to reach the audience you're targeting to deliver your message thanks to this CMS's accessibility and multilingual features.
Drupal was created to be adaptable. You can create a web application on your PC using a variety of desktop tools, then select the Drupal hosting service that best suits your requirements. Any website or application built using Drupal will function on a variety of platforms and be simple to transfer.
WordPress vs Drupal: Ease of Use
It is critical that the platform on which you build your website is user-friendly. Users can become familiar with and create the website they want more quickly if the website-building platform is more user-friendly.
So let's explore the user benefits that WordPress and Drupal provide.
WordPress: Ease of use
WordPress is exceedingly simple to set up and use, which is one of the primary reasons it is so popular.
Within a few minutes, you can install WordPress on your host. The majority of hosting settings provide a straightforward, one-click installation that will guide you through the WordPress installation procedure.
When WordPress is up and running, the user-friendly dashboard will appear.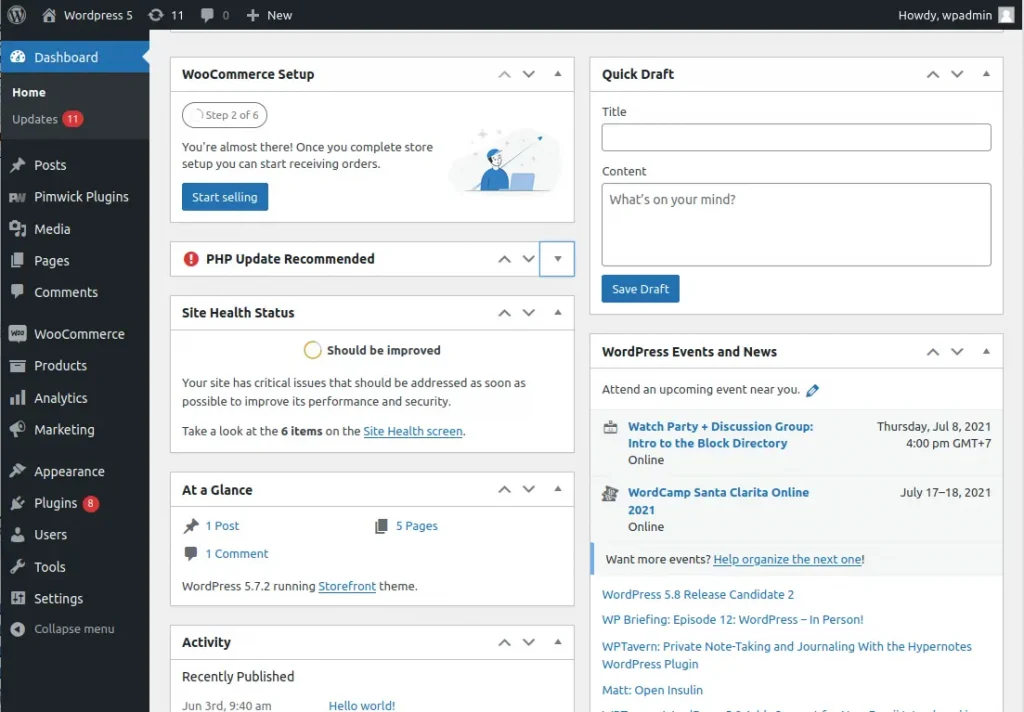 This is where you will update your website, add themes and plugins, and generate content.
The "Appearance" tab is where you manage all theme customizations. Additionally, you can always install a drag-and-drop website builder like Elementor to make creating your website even simpler.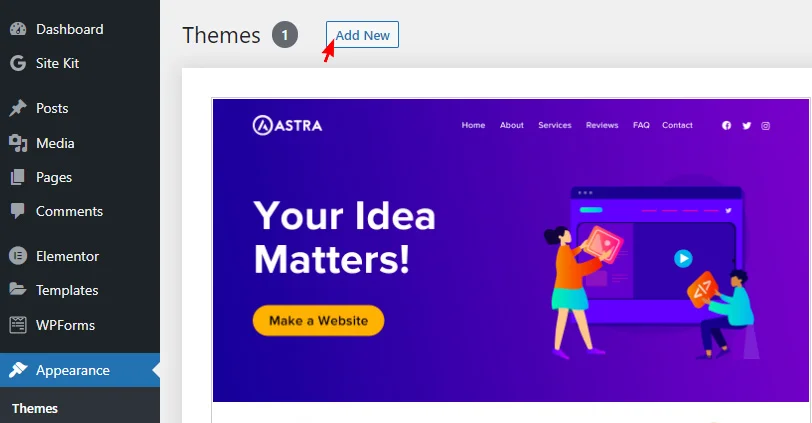 Content creation is simple. You'll be at ease if you've ever used a basic word processor.
Drupal: Ease of use
Drupal may be installed quite quickly if you're using a web host that is user-friendly for beginners. You'll have the opportunity to install a variety of CMS on the backend of your Drupal hosting environment.
Distributions are another term for the many installations of Drupal. If you are aware of the sort of website you intend to build, you can select one of these over a blank Drupal installation.
After setting up Drupal with CMS hosting, you'll have access to a number of customization choices.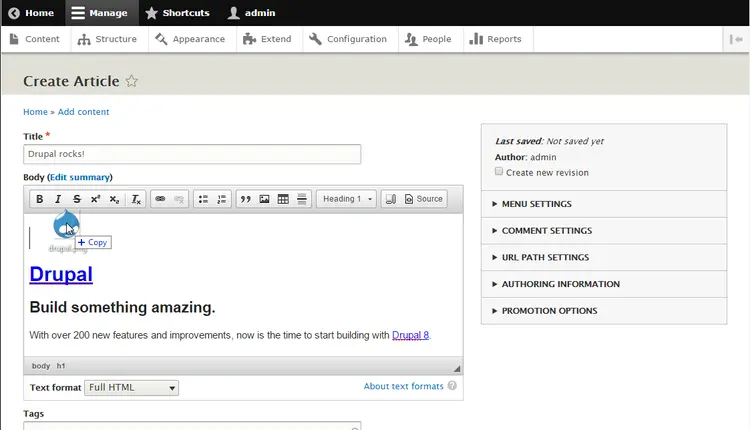 However, the learning curve now starts to quicken. Most modifications, aside from the most basic, call for programming knowledge in HTML, PHP, and other languages. At this stage, you'll need to bring in a developer if you can't program yourself.
Even maintaining your website requires technical expertise because you'll need to modify the code to make sure every component is compatible with the current version.
Winner: WordPress
When it comes to user friendliness, WordPress is unquestionably the victor. It enables people to create websites without any coding experience.
It also features a huge plugin repository to make it simple for users to concentrate on constructing websites rather than spending a lot of time learning.
WordPress vs Drupal: Flexibility
Since you're probably not a skilled web developer, you'll probably need themes and plugins to design and personalize your website.
Because WordPress and Drupal are both open-source, you have the freedom to create the website of your dreams and quickly add functionality without any prior coding experience.
Additionally, you can convert your WordPress or Drupal website into a headless CMS. This is true because both platforms include an API for distributing your content via applications, social media, and blogs.
Continue reading to learn how WordPress vs Drupal compare in terms of flexibility.
WordPress: Flexibility
The number of themes and plugins available for WordPress is enormous. A theme will be used to build the website's foundation, and plugins will be used to add more functions.

In addition to a huge collection of free themes and plugins, many of them also come in premium editions. The paid versions frequently offer better quality, more features, or professional assistance.
Whatever kind of website you want to create, WordPress can help you accomplish it.
Drupal: Flexibility
Modules and extensions are used to manage Drupal modifications. Themes and plugins allow for customization, similar to WordPress.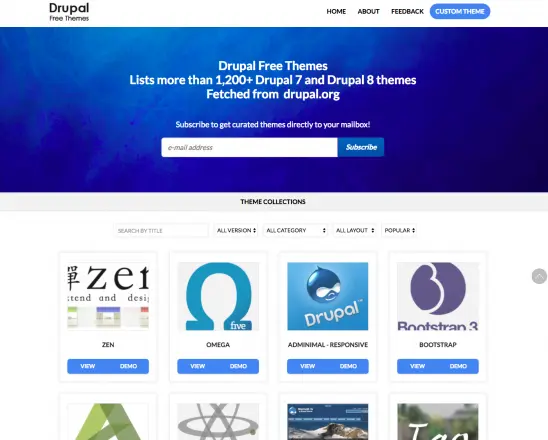 You can therefore completely modify your Drupal site. If you don't know how to code, it could be more challenging to implement these adjustments. The majority of these extensions need independent search, installation, and setup; they are not as user-friendly as WordPress.
Because the majority of Drupal sites are built from the ground up by skilled developers, they are frequently one-of-a-kind.
If you lack the necessary programming abilities, you should definitely either look at some of the free Drupal themes or buy a professionally built Drupal theme.
Winner: WordPress
WordPress is the way to go if you're a newbie and want to have greater control over the layout and feature set of your site. Drupal has a somewhat high learning curve; therefore, it will be challenging to create something original.
However, if you are proficient in coding, Drupal can be a wise choice because it allows you to completely personalize your website.
WordPress vs Drupal: Pricing
Both are free CMS systems, and as both require the purchase of hosting and a domain name in order to enable the creation of a website, their costs are the same. If you don't know where to start, you can refer to our article on the best hosting and where to buy a domain name.
WordPress vs Drupal: Which One Is Better?
Selecting the appropriate CMS is a crucial decision for the future of your website. If you pick the wrong CMS, you'll face an uphill struggle right away.
WordPress is an extremely user-friendly and straightforward CMS. Even though you can create incredibly expansive and highly personalized websites, it is still fairly user-friendly for beginners.
Drupal is a reliable CMS all around. It comes pre-loaded with a ton of features and is designed from the start to be fast and secure. It has a fairly steep learning curve despite being incredibly adaptable.
In the end, WordPress wins out in our WordPress vs Drupal comparison.