Do you need help choosing between WordPress vs GoDaddy website builder?
WordPress is the platform of choice for 43% of all websites, while GoDaddy is also a popular option. You can construct your website or online store using one of these tools.
To help you choose the best option for your upcoming project, we will compare WordPress vs GoDaddy website builder in this post, along with their benefits and drawbacks.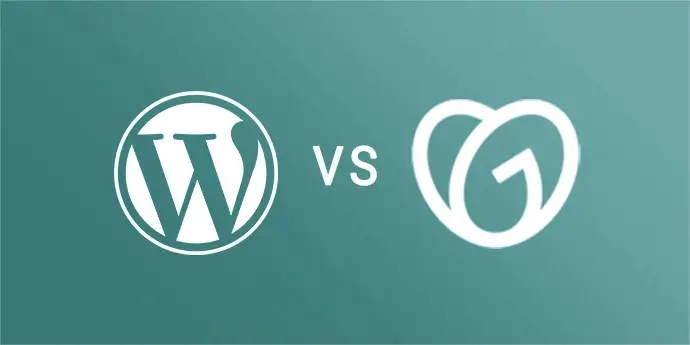 WordPress vs GoDaddy Website Builder: Overview
Before you can understand more about WordPress and GoDaddy website builder, you must first actually understand what they are.
In this article, we will contrast GoDaddy with self-hosted WordPress.org sites rather than WordPress.com blogs. Please refer to our article on the distinctions between WordPress.com and WordPress.org for more details.
WordPress: Overview
WordPress is fundamentally the most straightforward and well-liked approach to starting your own website or blog. As previously said, it powers roughly 43 percent of all websites on the Internet.
WordPress is an open-source content management system, which means anybody can use or modify the WordPress software without charge. A content management system is essentially a tool that makes it simple to manage crucial elements of your website, such as content, without having any programming experience.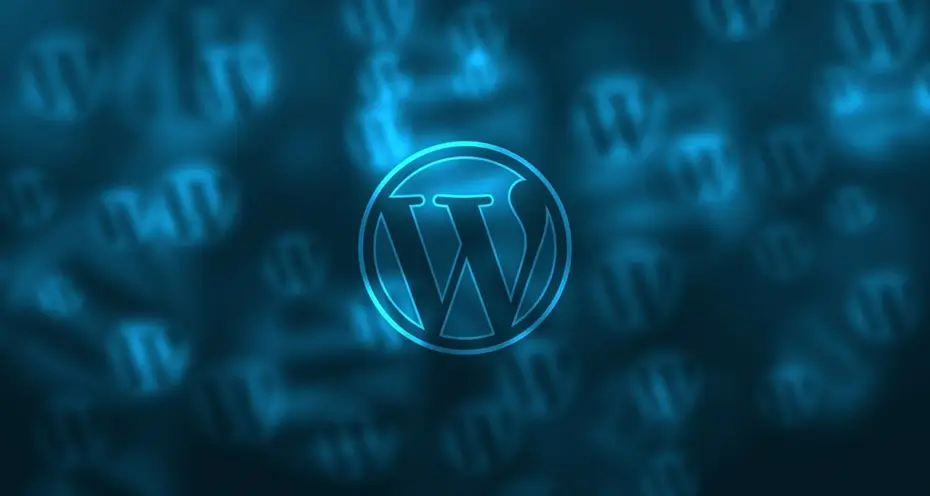 As a result, WordPress enables anybody to create a website, including those who aren't programmers.
GoDaddy: Overview
GoDaddy website builder is a one-stop shop that also offers web hosting. Using the GoDaddy editor, you can quickly design a website and then click "Publish" to make it live online.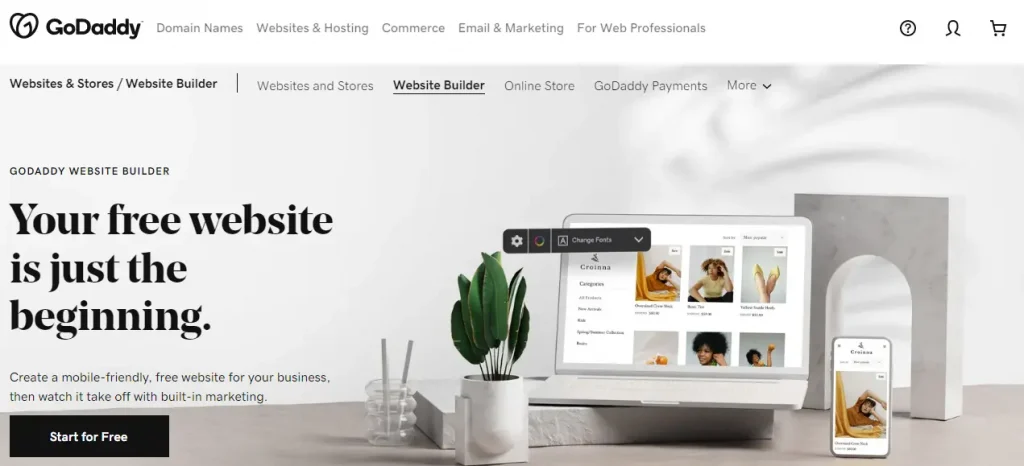 But there is a cost associated with this usability. You must follow all of GoDaddy's guidelines, limitations, and terms of service because your website is hosted on their servers. The capabilities and resources that GoDaddy offers are another restriction on you.
Moving your website from the GoDaddy website builder to WordPress is fairly tough if you decide to switch platforms at any stage. This might be a significant issue if your organization expands and you require more advanced capabilities or flexibility.
Having said that, GoDaddy website builder is a complete solution that enables you to make a site in minutes if you need to quickly establish a straightforward website.
WordPress vs GoDaddy Website Builder: Ease Of Use
It is critical that the platform on which you build your website is user-friendly. Users can become familiar with and create the website they want more quickly if the website-building platform is more user-friendly.
So let's explore what consumers can expect from WordPress and GoDaddy website builder.
WordPress: Ease of use
WordPress powers over 43 percent of all websites. That's millions of people of various abilities. Unsurprisingly, WordPress is simple to use and suitable for beginners.
There is a modest learning curve because you will need to become acquainted with new ideas such as themes, plugins, and the distinctions between posts and pages.

Every plugin and theme in the official WordPress repository has its own support forum, so you can frequently obtain help from the developer directly.
The block editor, an intuitive and beginner-friendly visual editor, makes it very simple to add material to WordPress. You can design amazing layouts by simply adding blocks to your pages and posts without ever writing any code.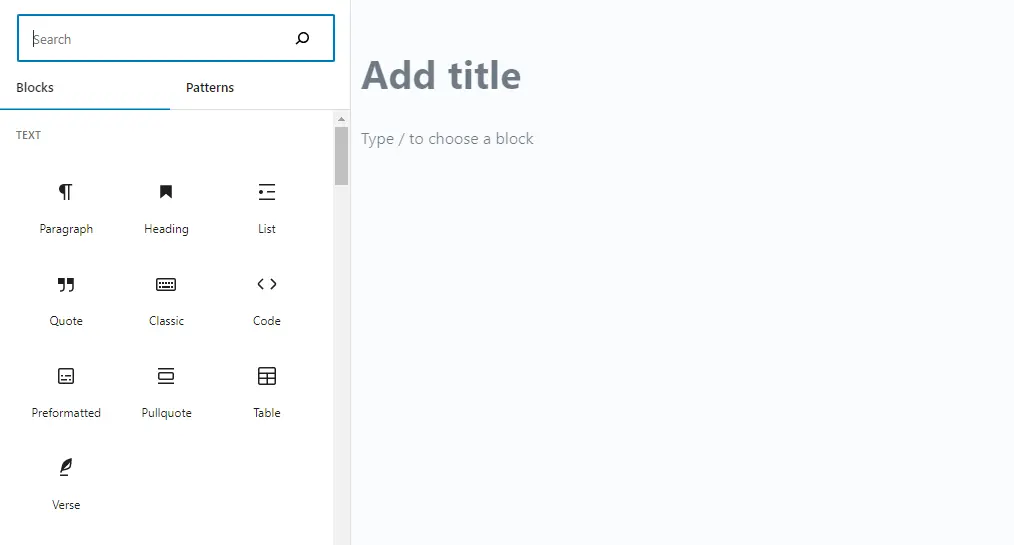 If you don't like the default WordPress editor, there are other drag-and-drop page builders available. These page builders are accessible as plugins, and the majority of them have free versions that you can check out to determine which one you like.
Most of these page builders provide pre-made designs that you may use on your site, but you can also start from scratch and develop a fully unique design.
GoDaddy: Ease of use
While WordPress has a small learning curve, the GoDaddy website builder is built with simplicity in mind. There is also a free trial period so you can see if it is right for you.
GoDaddy will walk you through the process of constructing a website when you create an account.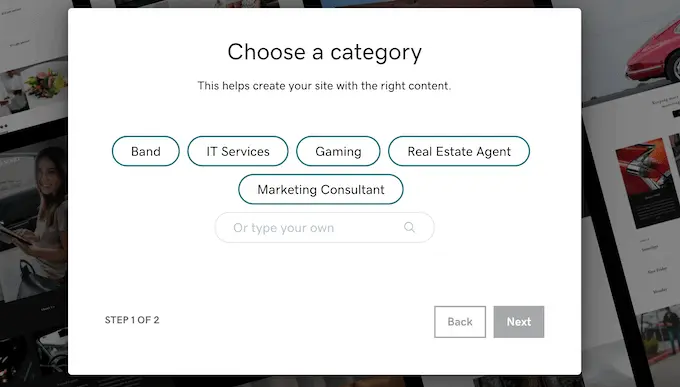 GoDaddy will produce a website for you once you submit some information about the sort of website you wish to establish.
Simply click to change any aspect of your site. GoDaddy will then display all of the section's options.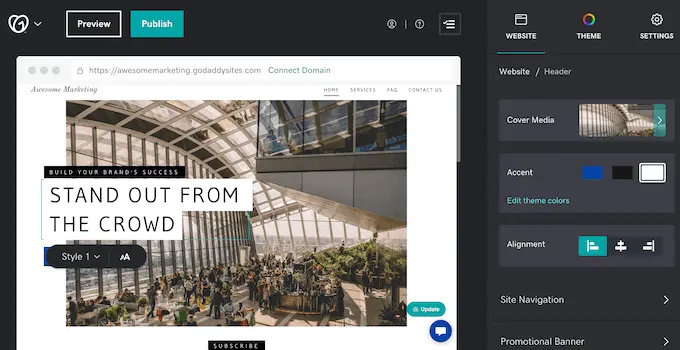 You can select a new theme, modify the color palette of your site, change the typeface, and more. This allows you to simply make big modifications to the look of your website.
As you can see, GoDaddy allows you to set up a basic website in minutes. However, you are restricted to the tools, themes, and settings provided by GoDaddy. This might feel constraining, especially if you already have a website design in mind.
Winner: WordPress
About the ease of use between WordPress vs Godaddy website builder, WordPress is the clear victor here since it combines ease of use with extensive functionality to help you expand your business.
WordPress vs GoDaddy Website Builder: Pricing
When selecting a website construction platform, price is also a significant consideration. Let's see how much it costs to develop a website with WordPress and GoDaddy website builder.
WordPress: Pricing
WordPress is a platform that is both free and open source. You will, however, need to purchase a domain name as well as a web hosting provider.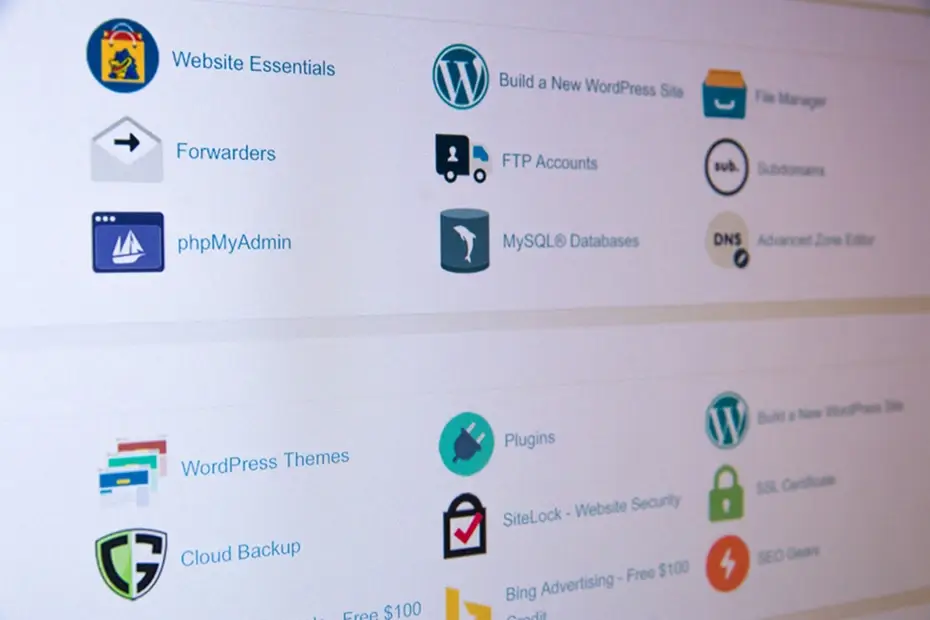 Prices fluctuate, making it difficult to determine how much it truly costs to design a WordPress website. You can save money by reading our articles on the best hosting and where to get a domain name.
In addition to the cost of hosting and domain registration, you may be interested in purchasing premium themes and plugins to personalize your WordPress site. It will also cost you a lot of money, but free themes and plugins are also excellent.
GoDaddy: Pricing
GoDaddy website builder gives you a lot of choices, from free to paid. If you use GoDaddy's free plan, your domain name will have godaddysites in the url, which is quite annoying.
So, if you want to use GoDaddy, we recommend using the free version first and then upgrading to the premium version for the greatest experience.
GoDaddy has four price options, starting at $9.99 per month and rising to $29.99 per month.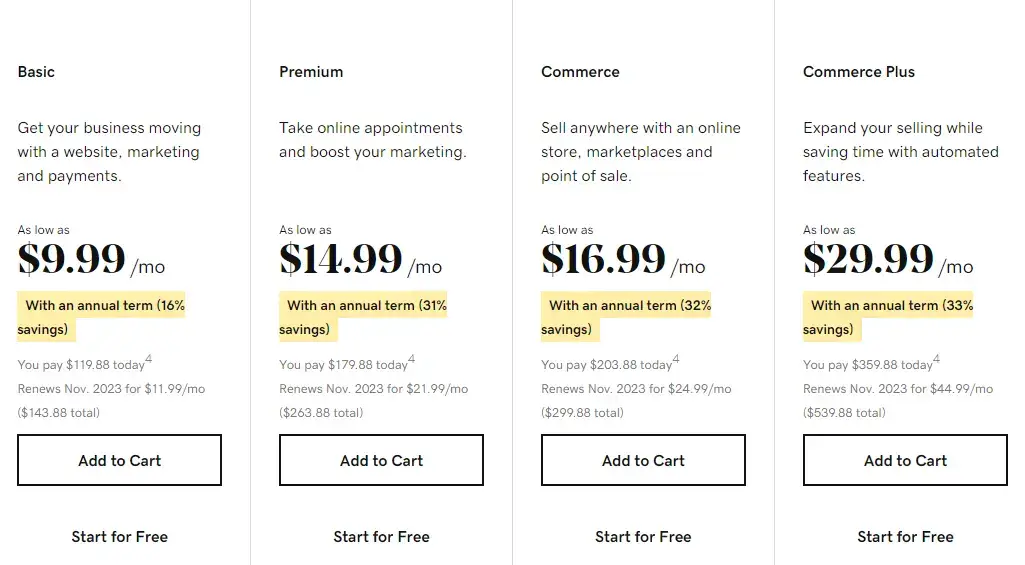 Their options all include an SSL certificate, 24/7 support, and the ability to link a custom domain. However, GoDaddy's Basic package lacks eCommerce functionality and SEO tools.
The Basic plan also restricts the quantity of marketing emails you can send, which may make growing your website difficult.
With that in mind, you should typically choose GoDaddy's Premium ($14.99) or higher plan. If you want to sell items or services, you'll need to take it a step further and purchase their special eCommerce plan, which costs $16.99 a month.
If you decide to use the GoDaddy website builder, we recommend carefully reviewing the plans to ensure they include everything you want.
Winner: WordPress
In the price war between WordPress vs GoDaddy, WordPress is unquestionably more inexpensive and provides considerably more value than GoDaddy website builder.
WordPress vs GoDaddy Website Builder: Which One Is Better?
According to our research and user ratings, WordPress is considerably superior to GoDaddy website builder since it is more economical, has a vast plugin ecosystem, and provides you with the freedom to develop your business.
If you need to establish a website quickly and don't want a lot of customization, a beginner-friendly tool like GoDaddy is a good option. Their website builder includes everything you need to get started, including hosting.
If you want total control over your website, though, you'll need a configurable and adaptable platform like WordPress. If you want to create an online store or offer courses, WordPress features some of the most powerful eCommerce capabilities available.
We hope that our WordPress vs GoDaddy website builder comparison has helped you understand the benefits and drawbacks of each so that you can make the best selection for your website.