WordPress and Squarespace remain popular solutions for entrepreneurs looking to produce their own website content, launch a blog, and keep control over design elements. Both platforms are suitable for beginners, but their strengths and disadvantages differ based on your objectives.
In this post, we will compare WordPress vs Squarespace so that you can better understand both of these website builder plugins.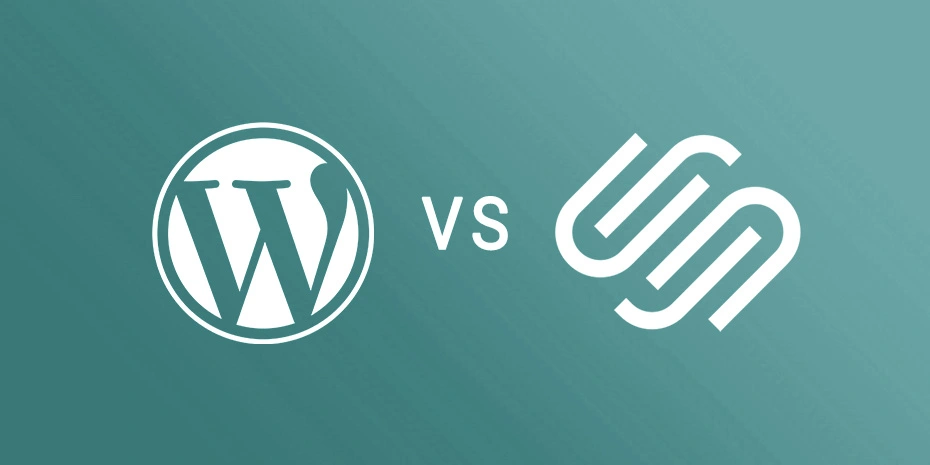 WordPress vs Squarespace: Overview
First, you need to understand what WordPress and Squarespace are before going into more detail about these two platforms.
WordPress: Overview
WordPress is available in two different versions:
WordPress.org
WordPress.com
WordPress.org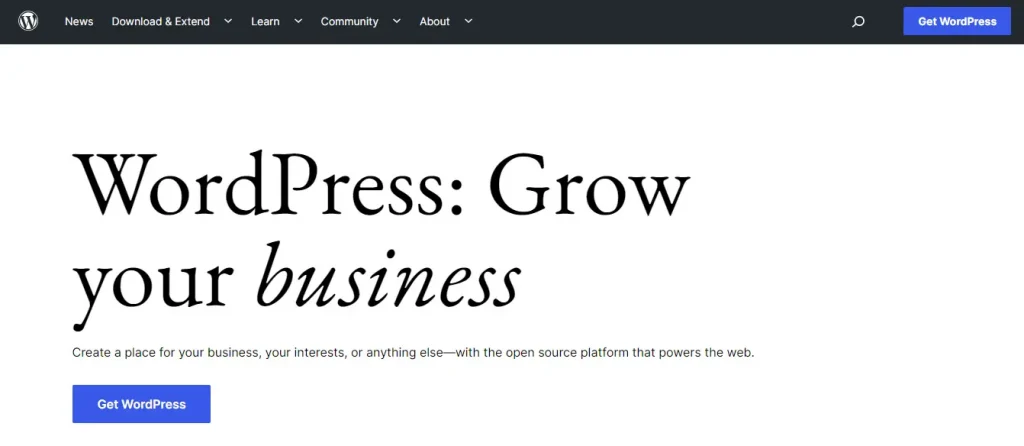 WordPress.org is the version of WordPress that people are most familiar with. It's open source, which means the code is freely available and easily modifiable.
In fact, this means that WordPress sites can be highly customized; it's a very flexible tool that, in the hands of a proper developer or with the installation of a suitable plugin, can be customized to match the needs of almost any website design project.
WordPress can be installed on your server for free, but there are hosting expenses, domain name registration fees, and occasionally plugin or development fees to consider.
WordPress.com

WordPress.com is a blogging platform that Automattic manages. When you use this site, you will be using the WordPress software that has been pre-installed.
Customers that use the WordPress.com service will also use the hosting service on this website. This hosting company only provides WordPress as its core platform.
You can sign up for free or pay for premium services and focus on blogging rather than installation and hosting.
In addition, we have an article that further analyzes the difference between WordPress.org and WordPress.com that you can refer to.
Squarespace: Overview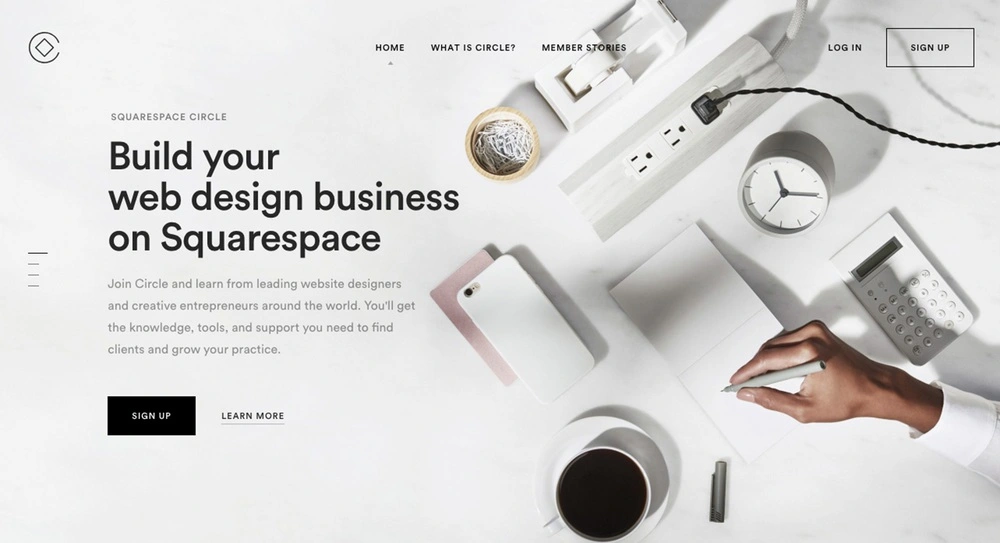 Squarespace was launched in 2004, and according to internet analytics business Builtwith.com, the platform powers over 2.9 million websites.
It is a "software as a service" website builder; you pay a monthly subscription to use it, but the essential tools for building and maintaining your site are included.
The fundamental idea behind this website builder is that it is a "code-free" solution that allows you to build and edit a website without touching any CSS or HTML. Simultaneously, it allows users to upload code snippets to further diversify the user's customizing capability.
So which versions of WordPress and Squarespace is this post comparing?
This WordPress vs Squarespace comparison will pit the self-hosted version of WordPress (WordPress.org) against Squarespace.
The goal is for readers to be able to compare an open-source platform that is powerful but requires more hands-on administration (WordPress) to an "all-in-one," monthly hosted solution (Squarespace).
WordPress vs Squarespace: Ease of Use
When selecting a platform on which to build a website, it is critical that the platform be user-friendly. The more user-friendly the website-building platform, the sooner users can get acquainted and build the website they desire.
So let us see what WordPress and Squarespace have to offer users.
WordPress: Ease of use
It's not difficult to edit a WordPress website once it's been set up. Depending on the hosting provider you choose, setup and configuration can be difficult, but once you're up and running, you'll discover that the WordPress content management system (CMS) is simple to use and very responsive.
When editing a website on WordPress, you don't have the ability to view it directly on the page; you have to preview or publish the page and then review it on the main page.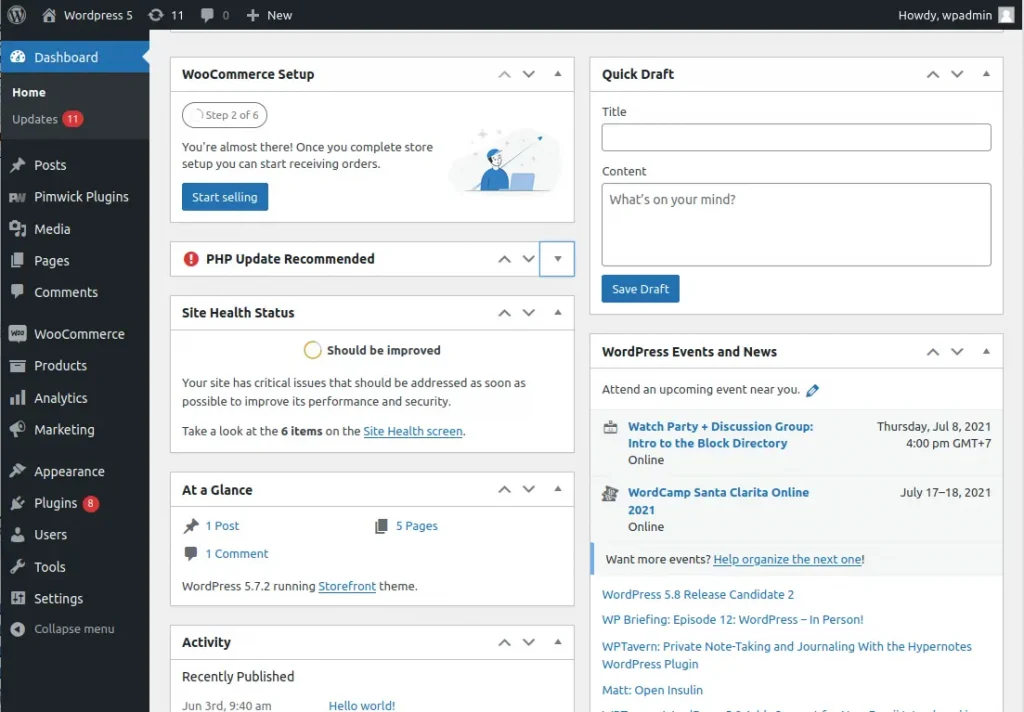 Nevertheless, WordPress has a huge library of plugins that will enhance the user experience. You can create websites by dragging and dropping elements onto the frontend using plugins for website builders, such as Elementor.
However, you should use caution with these as some of them have the potential to 'bloat' your site, which would then negatively impact how well it performs in search results.
Squarespace: Ease of use
Squarespace user interface is incredibly simple to use, and the style editor makes it simple to change fundamental template design elements like font colors and heading sizes.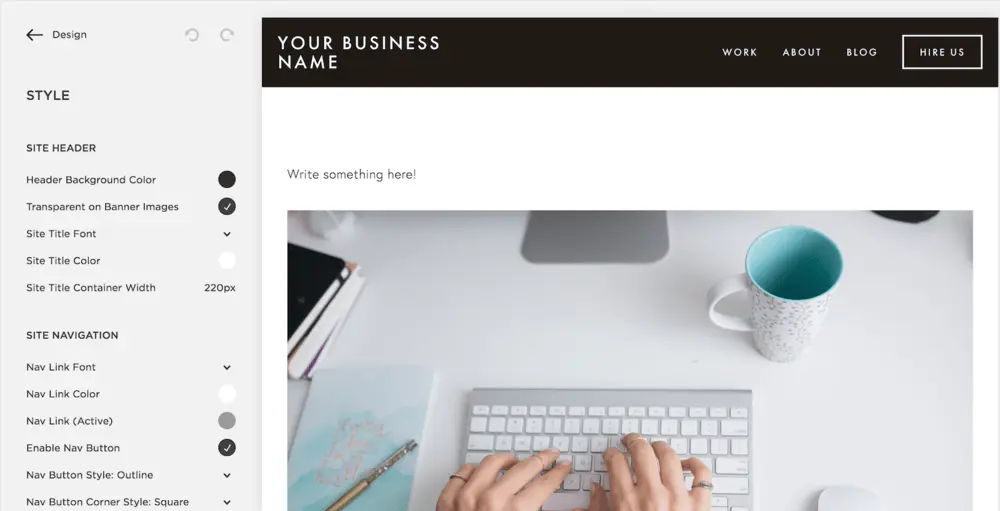 To change certain design elements, all you have to do is point at them and click a few controls. Finding the content you want to change, selecting the "edit" button, and making the necessary changes are all that are required to edit it in Squarespace.
Laying out your content the way you want is simple with a drag-and-drop editor because you can move text and image blocks around a page and drop content from other areas of your website into it.
Winner: Squarespace
Squarespace has a user interface that is incredibly simple to use, and you can drag and drop elements to create websites right on the front end.
However, if you invest some time in learning and installing additional plugins, WordPress will also turn out to be a much better option. With the help of the plugin Elementor, you can create websites on WordPress using drag and drop.
If you just compare ease of use for newbies without spending a lot of time learning, Squarespace will beat WordPress.
WordPress vs Squarespace: Flexibility
Flexibility is also a very important factor to consider when choosing a website-building platform. That platform must allow users to do what they want with ease.
Let's find out what you can do with WordPress and Squarespace.
WordPress: Flexibility
As mentioned above, WordPress is an open-source platform with a huge library of plugins, so its flexibility is great.

You'll discover that there is almost always a suitable plugin available, whether you'd like to add ecommerce features to your site, display an advanced photo gallery, collect data, or show customer reviews.
However, if you are unable to find a WordPress plugin that meets your needs or wish to create a truly customized website, you can always hire a WordPress developer to assist you.
Squarespace: Flexibility
You can use a number of built-in integrations (for well-known services including Mailchimp, Dropbox, and Google Workspace). All Squarespace plans, aside from the "Personal" one, allow you to use these.
Furthermore, Squarespace offers something referred to as "extensions." These add additional features to your website and are simple to install, similar to WordPress plugins.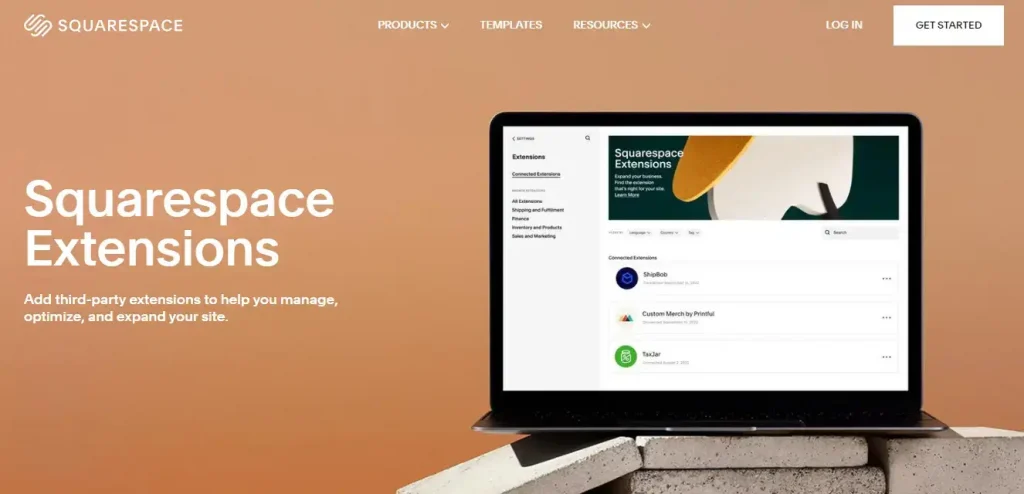 Only 32 Squarespace extensions are available, which is a very small number. This is only an odd number when measured against the total number of WordPress plugins.
Winner: WordPress
Flexibility is where WordPress really beats Squarespace. Owning a huge plugin store makes WordPress do almost everything you want.
WordPress vs Squarespace: Pricing
Price is also a very important factor when choosing a website building platform. Let's see how much WordPress and Squarespace cost to build a website.
WordPress: Pricing
While it is true that WordPress is free, it is also untrue. Because WordPress is open source, the software is free, but you must pay to get hosting and a domain name in order to build a website.
The cost of a simple website to blog on will typically be under $100 per year, depending on the hosting you select and where you purchase the domain name.
You can also spend money on extra-paid themes and plugins to enhance the functionality of your website. You can refer to our article on the best themes for WordPress as well as the plugins you should use to be able to choose the best upgrades.
However, if you only need to create a small website, you can use free plugins and themes after paying for hosting and a domain name.
The following is an example of what a basic WordPress blog might cost.
Domain name (Namecheap): $9.76/year
Hosting from EasyWP (Namecheap): $48.88/year (cheapest plan)
SSL certificate (Namecheap): $5.99/year
So it only costs you less than $70 a year to bring your website to everyone.
Squarespace: Pricing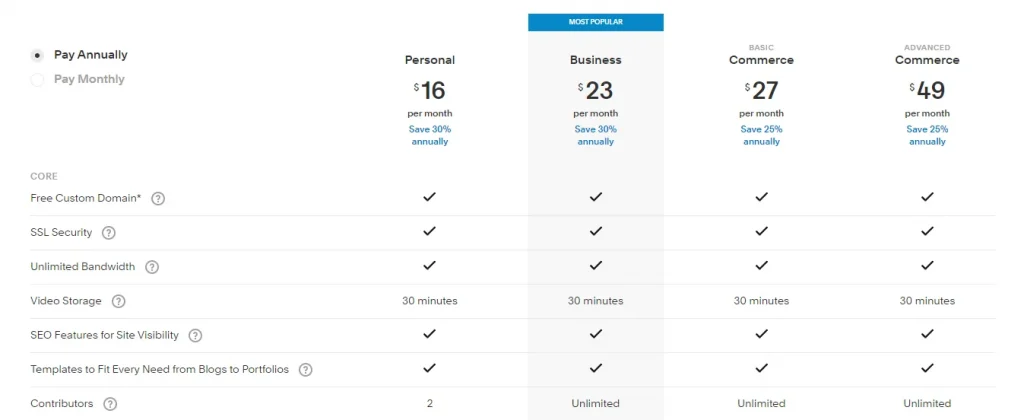 The pricing structure of Squarespace is straightforward; there are 4 options available, and more features are available with more expensive plans. Depending on your usage requirements, prices will range from $192 to $588 per year.
Winner: WordPress
Users can easily know how much they will have to spend with Squarespace's fixed price because it is easy to understand. WordPress, in contrast, does not have a set cost; instead, the cost is determined by the user's needs.
So if you take the time to learn about the hosting, domain name, and paid plugins you plan to use, WordPress will be cheaper than Squarespace.
WordPress vs Squarespace: Which One Is Better?
In the battle between WordPress vs Squarespace, WordPress is probably the better one because of the possibilities it brings to users.
WordPress offers users an effective administrative tool with numerous options for them to freely create a website as they see fit. However, users will need to invest a lot of time in learning how to use WordPress.
Squarespace, in contrast to WordPress, is a very straightforward website builder that enables users to create websites without having to go through a lot of installation steps.
In our opinion, Squarespace is for people who want to build a website quickly without having to learn too much about how to use it. However, if you need a powerful tool for long-term use, you should choose WordPress.