To be competitive in today's digital world, businesses must give great customer service. One approach to accomplishing this is to include a live chat function on your website. This not only provides your consumers with real-time service, but it also helps to enhance client engagement and sales.
WordPress, the most popular content management system, provides a plethora of live chat plugins that can be smoothly incorporated into your website. In this post, we'll look at the top seven WordPress live chat plugins for providing exceptional customer care on your website.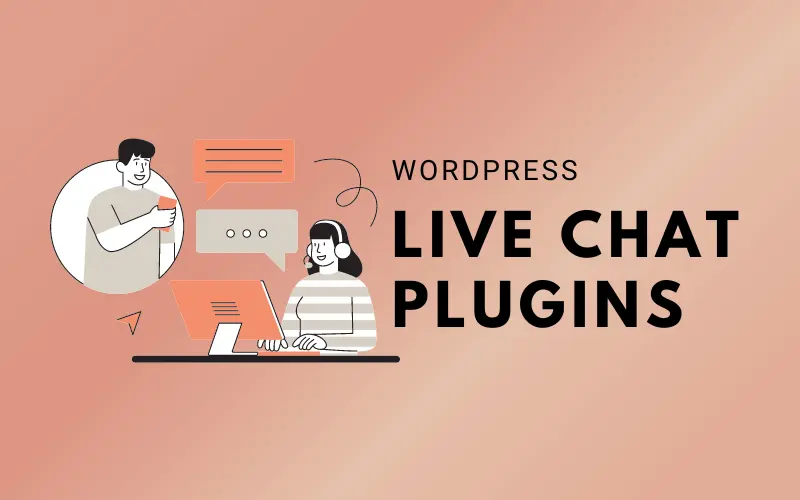 Best WordPress Live Chat Plugins
This is a list of the top 7 WordPress live chat plugins, in our opinion.
Tawk.To Live Chat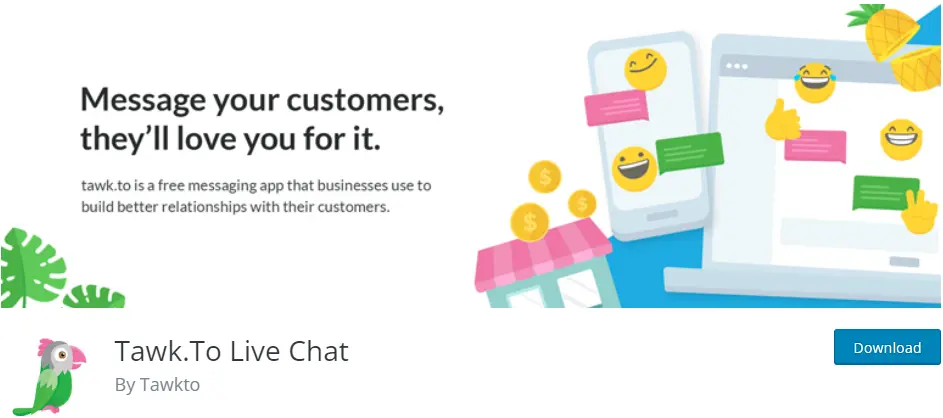 Tawk.to is aimed at boosting the productivity of this business by focusing on managing consumer interactions when they visit the website. This WordPress live chat plugin has comprehensive capabilities for customer chat, accessing history data, preserving guest information on live chat, and so on.
Pros:
Easy installation.
User-friendly, simple.
Support multiple employees to join the conversation with customers.
Support notification when customers chat that you are not online.
Live Chat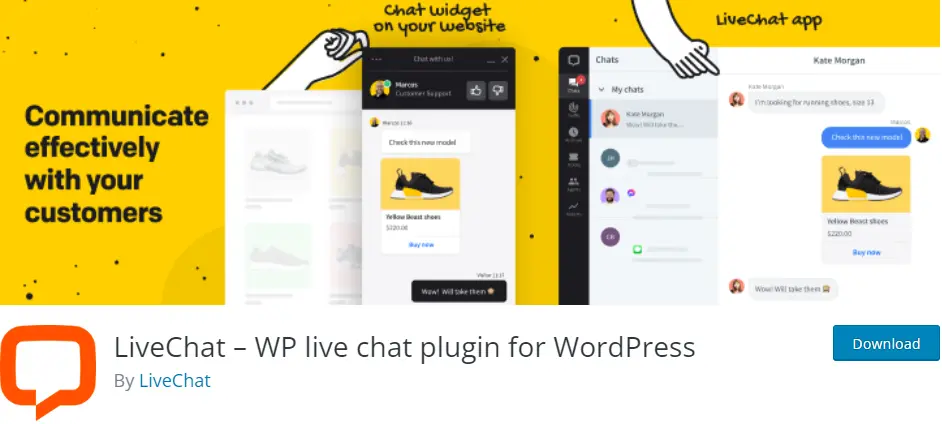 Live Chat is a plugin that allows users to interact with website visitors directly. Companies use this plugin to effortlessly connect with, advise, and answer inquiries from clients in order to deliver the best possible experience.
At the same time, it is feasible to capitalize on client requirements for products and services. As a result, improved commercial operations are possible.
Live Chat offers a feature set that has been thoroughly assessed, including proactively asking consumers to chat so that operators can automatically send customized messages depending on certain situations.
Simultaneously, information on the number of websites visited and the length of time spent on each is provided. Furthermore, the program provides additional capabilities such as real-time interactive monitoring, file sharing, statistics, and in-depth analysis.
Moreover, Live Chat allows users to easily customize to their needs, such as creating a chat window that matches the website's branding.
Pros:
Actively invite customers to join the conversation.
Statistics on the time spent on the customer's website.
Features file sharing and in-depth statistics.
Integrated ticketing.
Facebook Chat

With a popular chat application like Facebook, you can easily support customers quickly and directly on your website. When using Facebook Chat for WordPress, chat history between users and customers is permanently saved.
The advantage of this WordPress live chat plugin is that social buttons have been added; you can use them to encourage clients to join the business's fan page. Furthermore, you can personalize the program by adding a backdrop of your choosing or an advertising bar to present items and services to new customers.
Pros:
Integrates with Facebook Messenger.
Live Chat by Formilla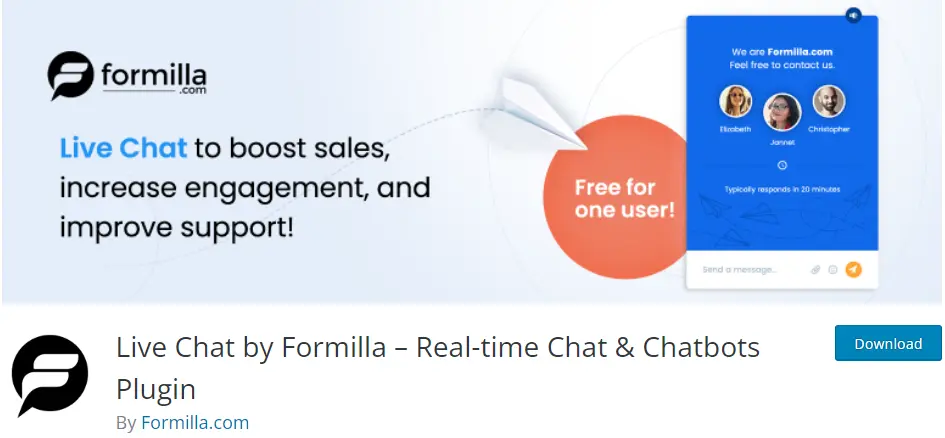 The advantage of this WordPress live chat software is its simple interface, which makes it simple to speak with clients that visit the website. Formilla's live chat is simple to set up and allows you to communicate with your clients straight on WordPress for free.
Furthermore, this WordPress live chat plugin is developed on the operating system platforms of various devices, including computers, tablets, and mobile phones, making it widely used. Furthermore, it enables you to initiate a discussion with clients that visit your website.
Pros:
Improve the ability to find information on the website.
Increase conversion rate.
Install the live chat window according to your settings if desired.
Enables you to begin interactions with website visitors on your own.
Free Live Chat Support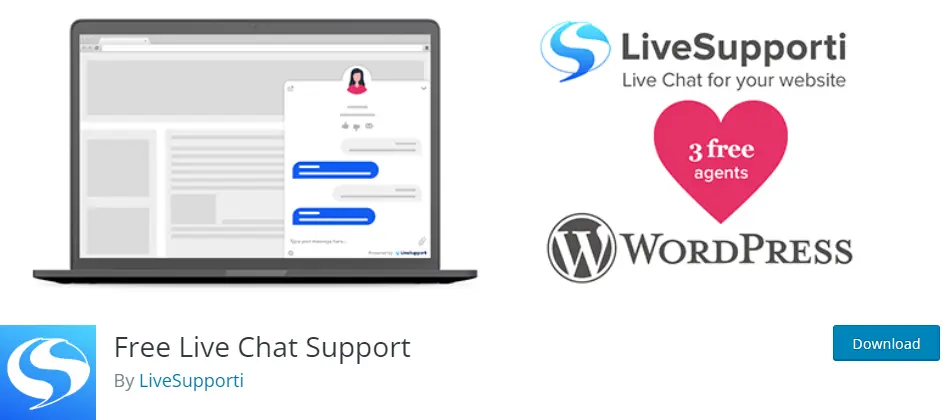 Free Live Chat Support, regarded as the best live chat support software for small enterprises, provides a completely free utility solution for connecting with website visitors. With the advantage of a simple, easy-to-use interface and complete functionality to help you boost the pace of connection with clients rapidly.
Furthermore, Free Live Chat Support allows you to move the chat dialog to any location and, optionally, alter the color of the box. Furthermore, even when the discussion is switched off, the message history is retained, making it simple to handle customer information.
Pros:
The activation procedure is simple, taking about one minute.
Enables you to interact with multiple customers all at once.
Adjust the conversation box as desired.
Olark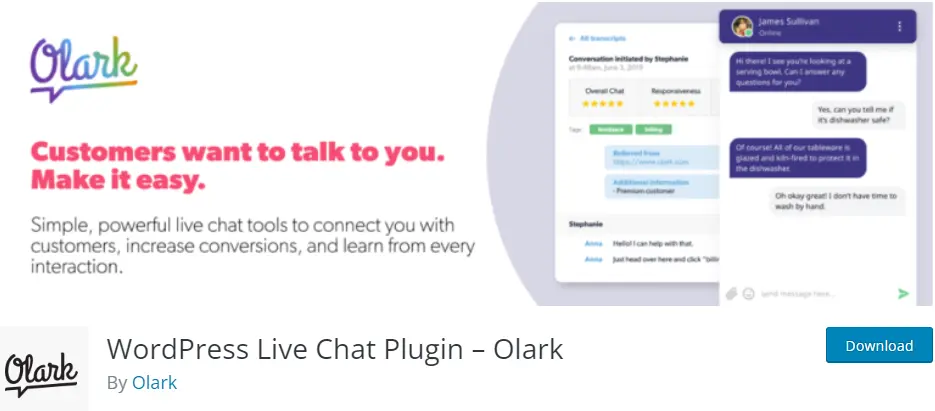 Olark is a simple WordPress live chat plugin solution that allows users to combine other services like Google Analytics and CRM to evaluate customer browsing and product search behaviors when they interact with the website.
Furthermore, this WordPress live chat is compatible with the majority of devices, including PCs, mobile phones, and all operating systems.
Pros:
Easy installation.
Allows integration with other software.
Comm100 Live Chat & Chatbot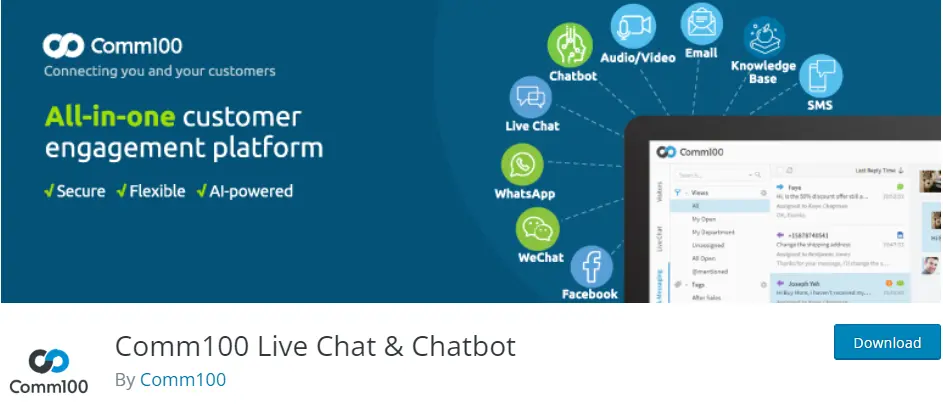 Live Chat Comm100 provides small businesses with quick and easy online chat support. The benefit of this WordPress live chat is that it allows you to simply incorporate online chat into WordPress.
Furthermore, this plugin allows you to evaluate and manage client interactions on your website in real time. You also get an evaluation after each conversation with them. This contributes to higher service quality.
Pros:
Other software integrations include Google Analytics, Zendesk, Joomla, Magento, Shopify, Drupal, and Salesforce.
WordPress Live Chat Plugins Summary
Thus that brings us to the end of our list of the top 7 WordPress live chat plugins. We hope you found this post helpful in selecting the proper plugin.