All WordPress users may utilize WordPress Multisite to build several websites with one installation. This lets you manage all locations from one place, eliminating the need for separate installations. It streamlines and saves time, especially if you maintain many websites.
This article discusses WordPress Multisite, its pros and cons, and how to set up and administer a network of websites.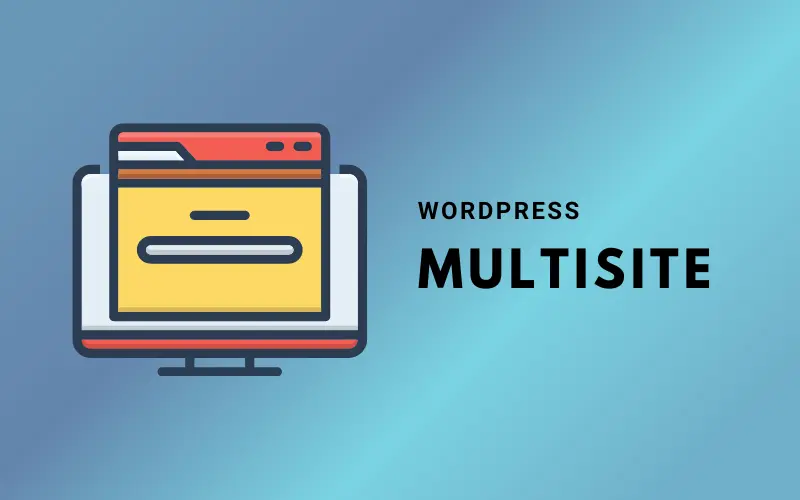 What is WordPress Multisite?
WordPress Multisite lets you construct a network of websites with one WordPress installation. This allows you to build and administer several sites from one dashboard, simplifying site management.
With its release in WordPress 3.0, WordPress Multisite has been a popular tool for managing many websites. WordPress Multisite lets you construct a network of websites that share plugins and themes. Manage user roles and permissions throughout the network of sites.
If you manage a network of websites linked to your company, you may utilize Multisite to establish unique websites for each product or service, even though they will all be on the same domain. So, not installing and maintaining WordPress for each website saves time and money.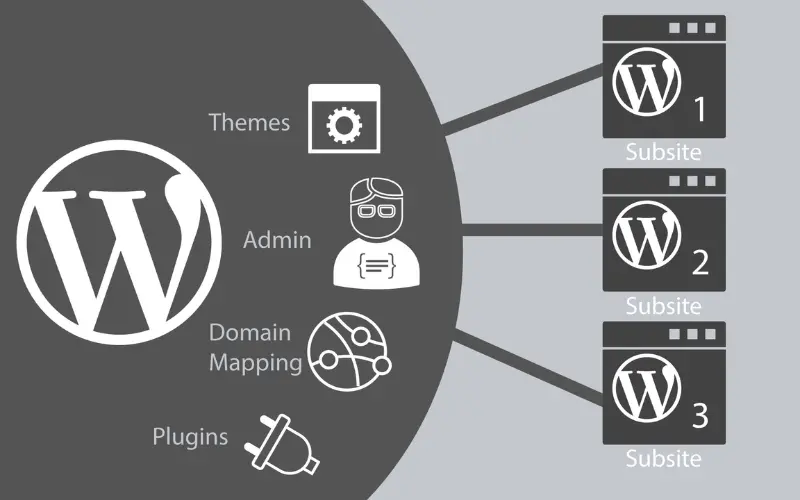 Key features of WordPress Multisite
Centralized Management
With WordPress Multisite, you can manage all of your sites from a single dashboard, making it easier to update themes, plugins, and content across multiple sites.
Shared Resources
All sites in the network share a common set of plugins and themes, which can be managed from the Network Admin dashboard.
User Roles and Permissions
WordPress Multisite allows you to manage user roles and permissions across all sites in the network, making it easy to control who has access to which sites and what they can do on those sites.
Custom Domain Mapping
With WordPress Multisite, you can map custom domains to individual sites in the network, giving each site its own unique URL.
Scalability
WordPress Multisite is highly scalable, allowing you to easily add new sites to the network as your business or organization grows.
Benefits of WordPress Multisite
Cost-Effective
You may construct several sites with a single WordPress installation, saving money on hosting bills, domain registration, and other costs.
Consistency
Your logo, style, and content will be consistent across all of your sites thanks to multisite. This is particularly helpful if you run a number of websites relevant to your company or brand.
Easy to Use
In particular, if you are already acquainted with WordPress, Multisite is simple to use. Without technical expertise, you can establish and administer sites, add users, and set up settings.
Drawbacks of WordPress Multisite
Complexity
Setting up and maintaining a multisite network may be challenging, particularly if you're not acquainted with WordPress. For assistance in setting up and managing your network, you may need to employ a developer.
Compatibility Issues
Some plugins and themes may not work correctly with Multisite, which can cause compatibility issues across your sites.
Security Risks
Multisite can be a security risk if not set up correctly. It's important to keep your WordPress installation and plugins up to date to minimize security risks.
How to Set Up WordPress Multisite
Setting up WordPress Multisite is relatively straightforward. Here's a step-by-step guide to getting started: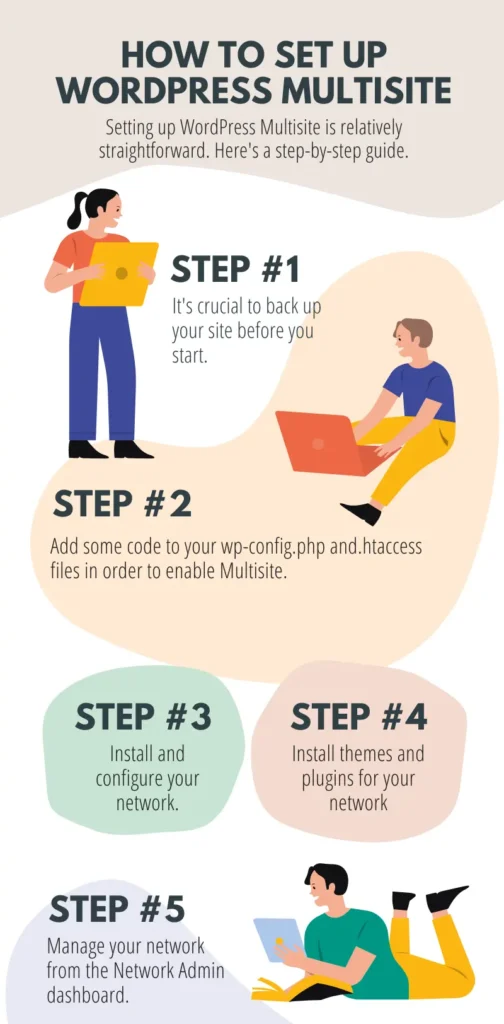 Step 1: Backup Your Site
It's crucial to back up your site before you start. By doing this, you can be confident that you have a backup of your website in case anything goes wrong during setup.
Step 2: Enable Multisite
You must add some code to your wp-config.php and.htaccess files in order to enable Multisite. The WordPress Codex has comprehensive instructions on how to achieve this.
Step 3: Install and Configure Network
Once you've enabled Multisite, you can install and configure your network. You can create new sites, add users, and configure settings from the Network Admin dashboard.
Step 4: Install Themes and Plugins
You can install themes and plugins for your network, which can be activated across all your sites or on a per-site basis.
Step 5: Manage Your Network
You can manage your network from the Network Admin dashboard. This includes adding new sites, managing users, updating themes and plugins, and configuring settings.
Examples of WordPress Multisite
Here are some examples of how WordPress Multisite can be used:
Educational Institutions
WordPress Multisite is an excellent choice for educational institutions like universities or colleges. Each department or faculty can have its own site, all managed from a central location. For instance, a university could have separate sites for the admissions office, student services, and individual departments like physics or literature.
News or Media Sites
News or media sites that cover multiple topics or regions can use WordPress Multisite to create separate sites for each topic or region. For example, a news site could have separate sites for local news, politics, sports, and entertainment, all under the same domain.
E-commerce Sites
E-commerce sites that sell multiple products can use WordPress Multisite to create separate sites for each product or category. This can help with branding, as each product or category can have its own design and branding. It can also help with SEO, as each site can target specific keywords related to the product or category.
Non-Profit Organizations
Non-profit organizations can use WordPress Multisite to create separate sites for different programs or initiatives. For instance, an animal rescue organization could have separate sites for animal adoption, volunteer opportunities, and donation campaigns.
Conclusion
WordPress Multisite is a powerful feature that can save time and money for those who manage multiple sites. While it can be complex to set up and manage, the benefits are well worth it, especially for those who manage a network of sites that are related to their business or brand.
With the ability to manage all sites from one central location, WordPress Multisite is a great choice for educational institutions, news or media sites, e-commerce sites, and non-profit organizations.