You are looking to build your own blog but still do not know the difference between WordPress vs Blogger, the two most popular blogging platforms on the internet. While both can meet the needs of building a blog very easily, the ways WordPress and Blogger work are quite different.
In the article below, we will detail the pros and cons of each platform, compare WordPress vs Blogger, and determine which is the best platform so you can choose the one that best suits your needs.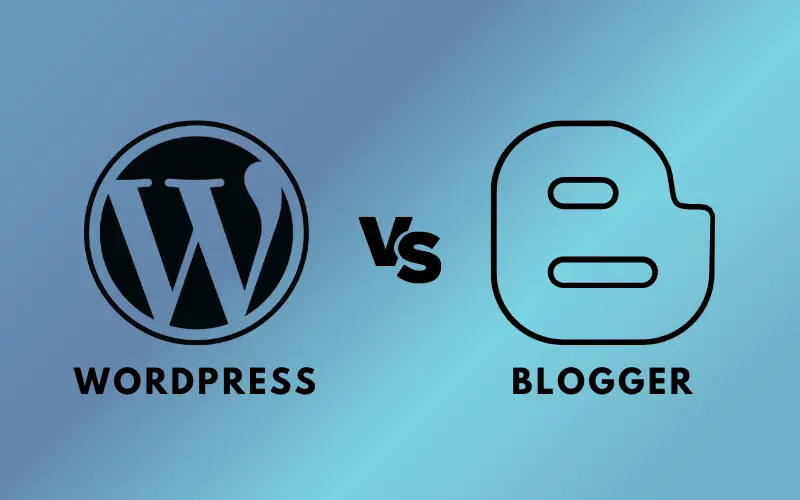 Criteria for Comparing WordPress vs Blogger
If you are looking to choose a platform to build your own blog, before comparing WordPress vs Blogger, let's take a look at some of the following criteria:
Ease of use: For beginners who do not have much experience in designing a blog, it is best to use a simple platform that is easy to set up.
Ease of customization and upgrading features: Choose a user-friendly platform that allows you to easily add new features to your blog or customize its design.
Integration of platform-based income-generating features: Nowadays, earning money online through blogs is becoming a trend and is being widely practiced. When your blog achieves stable daily traffic, you can also earn money through these platforms.
Support feature: For new users of blog-building platforms, they may need support in creating, designing, and managing their blog. Therefore, the support feature in platforms is very necessary.
In addition, there are some other features to consider, such as integrated SEO optimization tools, multiple design options, and most importantly, the cost you need to pay to own the platform's services.
Overview of WordPress and Blogger
According to data from BuiltWith, a very famous technology blog, WordPress is currently the most widely used blogging management software in the world. It is the #1 CMS in the world and accounts for 81.97% of blogs.
Meanwhile, Blogger is far behind, ranking second and being used by about 0.71% of blogs on the internet.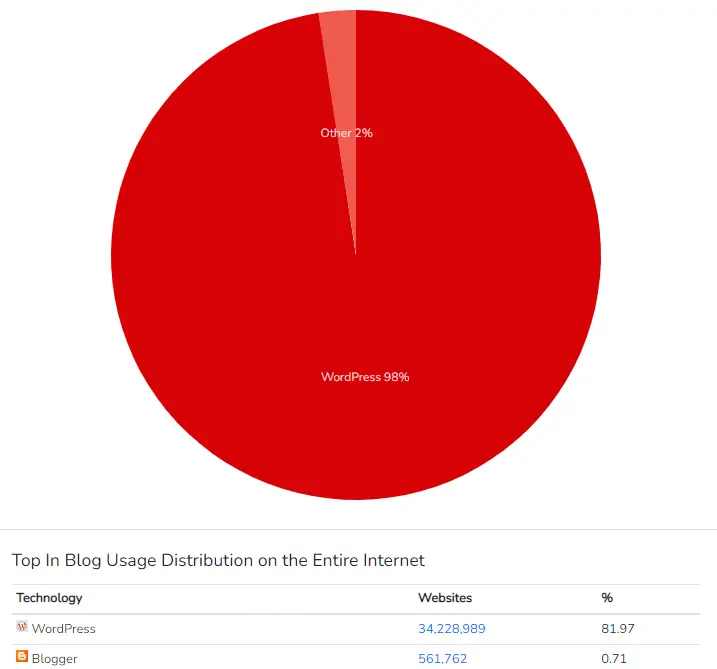 What is WordPress?
WordPress is a popular and free open-source content management system (CMS) used for building websites, blogs, e-commerce sites, and more. It was first released in 2003 and has since become the most widely used CMS in the world.
WordPress is designed to be user-friendly, allowing users to easily create and customize their websites with various themes, plugins, and widgets. With its flexible and powerful platform, WordPress is suitable for a wide range of websites, from personal blogs to large-scale e-commerce sites.
It also offers a range of features such as SEO optimization, mobile-responsive design, and multi-language support. Additionally, WordPress has a large and active community of developers and users who contribute to its development and provide support through various online resources.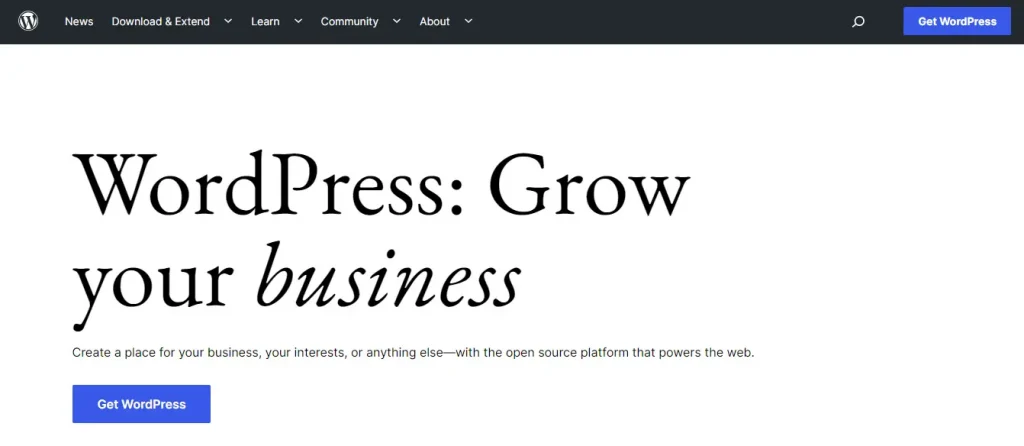 What is Blogger?
Blogger is a Google-owned, free blogging platform that allows users to create and publish blogs online. It was founded in 1999 and has since grown to become one of the world's most popular blogging platforms.
Blogger is user-friendly and straightforward to use, with a basic layout and a variety of configurable templates. It also includes features like integrated analytics, mobile-responsive design, and connection with other Google services.
Users can build and manage numerous blogs, alter their layout, and effortlessly post their material online using Blogger. It also has a strong user community that shares ideas, tutorials, and assistance via numerous online sites.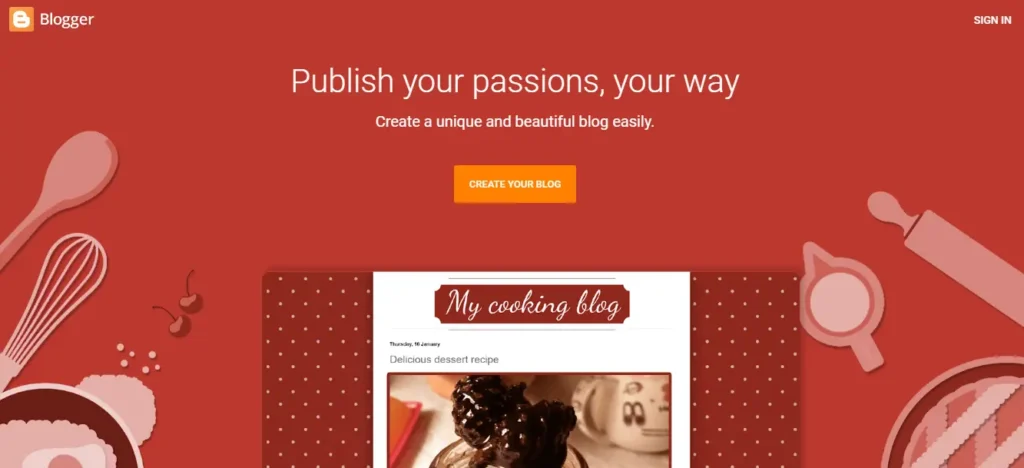 Compare WordPress vs Blogger
| Criteria | WordPress | Blogger |
| --- | --- | --- |
| Pricing | The platform allows you to use it for free, but you need a domain name and hosting | Free |
| Customization | Highly customizable options | A few options |
| SEO Optimization | Lots of free SEO plugins | SEO tools are not integrated |
WordPress vs Blogger: Ease of Use
Most users, particularly those who are new to technology, wish to begin by creating a simple and straightforward website without the use of code. As a result, ease of use is unquestionably one of the most important factors to consider when selecting a blog-building platform.
WordPress
Building a blog with WordPress is incredibly straightforward and quick, thanks to simple drag-and-drop operations.
To begin developing your first blog, you only need to select a free theme from the WordPress.org library. The next step is to add many more valuable features to your site by installing the relevant plugins.
Users can easily add and edit content through the block editor without any difficulty. Moreover, WordPress's ability to be customized is also one of the most outstanding features of this platform.
Blogger
For Blogger, this platform allows you to create a page in just a few minutes through your Google account. Firstly, you need to go to the Blogger website, click Create New Blog, and choose a display name, title, address, and theme for your blog. Finally, configure some settings for your blog or customize the layout as needed.
Creating a blog post on Blogger is also relatively easy. However, if you want to customize the theme, users are required to use some HTML languages, so this step may be quite complicated for beginners who have no experience in coding.
WordPress vs Blogger: Flexibility
Another important feature to consider when choosing between WordPress vs Blogger is the flexibility of each platform. Flexibility here means that users are allowed to freely customize the design of the website or add any features they want to the site.
WordPress
WordPress is open-source software, so users have full control over their website. Users can add any feature from the library of plugins on the WordPress admin page.
Currently, WordPress supports over 60,000 free plugins for users, not to mention the tools provided by third parties.

Blogger
Because Blogspot was designed to be a basic blogging service, the capacity to develop and design blogs is fairly limited.
This platform allows users to add features like advertising, subscription links, and contact information via gadgets, but the functionalities are still very limited, making design more complex.
Users can only utilize Google's features; thus, they can't add beneficial tools like eCommerce or pop-up windows to their blog.
WordPress vs Blogger: Design
The interface and design of a blog are one of the important factors to attract and retain readers, increase traffic, engage users, and increase conversion rates. Therefore, choosing a platform that offers many design options will bring many advantages.
WordPress
WordPress offers over 10,000 different free themes, not to mention premium themes for users. Additionally, most WordPress themes are suitable for various types of websites, rather than being specific to one particular niche.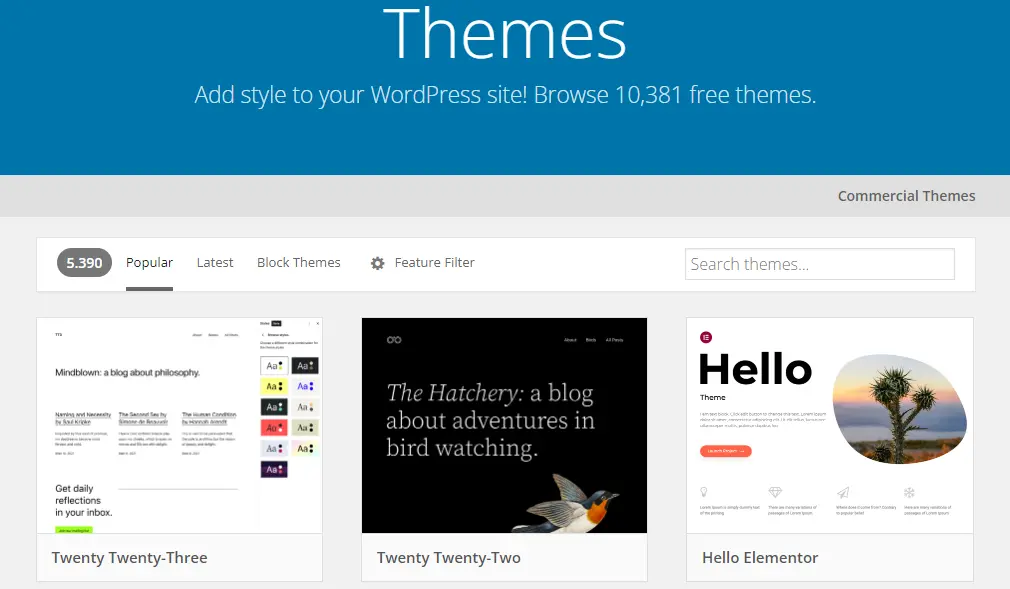 Blogger
Blogger only provides a limited number of templates for users, which are relatively restrictive. Users can change colors and layouts using the available tools. However, they cannot create their own templates or customize templates according to their preferences.
WordPress vs Blogger: Security
Security is a crucial factor when choosing a platform for your blog. If your website is unfortunately attacked, all blog posts, information, and data can disappear in an instant. The analysis below will definitely help you realize which platform, between WordPress vs Blogger, provides better website security.
WordPress
Basically, the security capability of WordPress is relatively good. However, WordPress users will have to protect their websites themselves. Currently, there are also many high-quality WordPress security plugins available, such as UpdraftPlus, VaultPress, and Sucuri.
Blogger
Blogger users can take advantage of Google's strong security capabilities and not have to worry too much about managing server resources, protecting their blogs, or creating backups for their websites. Of course, if Blogger is unfortunately taken down, all of your data will also be lost.
WordPress vs Blogger: Support
Choosing a platform with good support capabilities can be very helpful if you encounter any difficulties during the website setup and installation process. Let's compare WordPress vs Blogger in terms of user support capabilities.
WordPress
As the largest CMS platform in the world, we cannot ignore the incredibly vast user community of this platform. In addition to thousands of detailed instructional documents and videos created by developers and members on WordPress, users can also receive support from their hosting service provider.

Blogger
Blogger has relatively limited support capabilities, with only a basic set of documentation and a forum for users. This is quite understandable, as Blogger is only a free tool, so Google finds it difficult to provide one-on-one support to each individual.
WordPress vs Blogger – Which Is Better?
WordPress and Blogger are two of the most popular blogging systems available today. The platform of choice is mostly determined by the demands of each individual user.
Blogger is a good option if you want to create a personal blog to share basic stories. Users who wish to develop a professional blog as a major source of revenue, on the other hand, should consider using a solid, strong platform like WordPress.